When it comes to finding the Best Dermatologist Websites, there are a number of things that you should keep in mind. You want your site to be attractive and professional. You also want visitors to know all about what services you offer and how they can contact you for an appointment or consultation. We've searched far and wide to bring you the 40 best dermatologist websites with great design and functionality.
1. Calabasas Dermatology Center
Why it works: Calabasas Dermatology Center has a full-page hero image that is engaging. The layout is aesthetically pleasing with easy to find information thanks to sections, thumbnails, and navigation. They also provide images of diverse people with different ages groups which indicate who they serve and their target demographic.
calabasasdermcenter.com
2. Institute of Dermatologists
Why it works: This site is easy to navigate and there is a lot of information about the doctors. The office and doctors' pictures as well as their custom video adds credibility and integrity to this clinic.
instituteofdermatologists.ie
3. Scarletred
Why it works: All of the important information is clearly presented. The layout and design make the site attractive. Subtle movements throughout the website gives it life.
scarletred.com
4. Skin Practice
Why it works: The colors are muted and pleasant, and the layout is easy to follow. The information is well-written and easy to understand. The simplicity of the layout and colors makes you focus on the images more which in turn makes the information easy to understand.
skinpractice.nz
Best Dermatology Websites
5. Hawaii Dermatology & Plastic Surgery Centers
Why it works: Hawaii Dermatology & Plastic Surgery Centers has a user-friendly interface. The well-organized navigation and layout, along with the imagery of smiling faces and bright colors give the website an inviting feel.
hawaiiderm.com
6. Skin • Science • Soul
Why it works: The black-and-white pictures add an elegant, sophisticated touch to the site. All the important information is clearly presented, and the patient testimonials build client trust.
skinsciencesoul.com
7. Skin MD
Why it works: SkinMD has an informative dropdown menu. The office picture makes you feel like you are physically there. Nice graphics and the colors are easy on the eyes.
skinmdpllc.com
8. Aesthetics Biomedical
Why it works: Aesthetics Biomedical has a bold and modern look. The choices of colors on the home page are great, and it does an excellent job presenting their information.
aestheticsbiomedical.com
Top Dermatologist Websites
9. DermPhysicians of New England
Why it works: DermPhysicians of New England's use of muted blue is well suited for their brand. There are top-level navigation sections on the home page that make Information easy to locate.
dermphysiciansne.com
10. Facile Dermatology + Boutique
Why it works: Facile Dermatology + Boutique's use of pastel colors and chic graphics is precisely what their demographics need. The simple layout and the use of iconography make the site's information easy to assimilate.
facileskin.com
11. Retief Skin Center
Why it works: At a glance, Retief Skin Center shows what kind of services they offer. They include links to Yelp reviews and their Instagram feed, giving potential clients a better understanding of what the center offers.
retiefskincenter.com
12. Acne Concierge
Why it works: Acne Concierge's use of simple layout and color helps visitors focus on the images to understand what the company is all about. Their sticky navigation is perfect for ease of use when exploring their website.
acneconcierge.com
Best Dermatologist Websites
13. Smarter Skin Dermatology
Why it works: The Smarter Skin Dermatology's hero image indicates that they give importance to diversity. The group of call to action strips helps visitors navigate through their pages. The main page features a contact form, for information and questions.
smarterskindermatology.com
14. Paula Moynahan MD
Why it works: The simple animation together with the clear and pleasing image gives life to the full page, no scroll home page. The home page's call to action clearly gives the visitor an idea that aside from consulting, the site also features an online shop.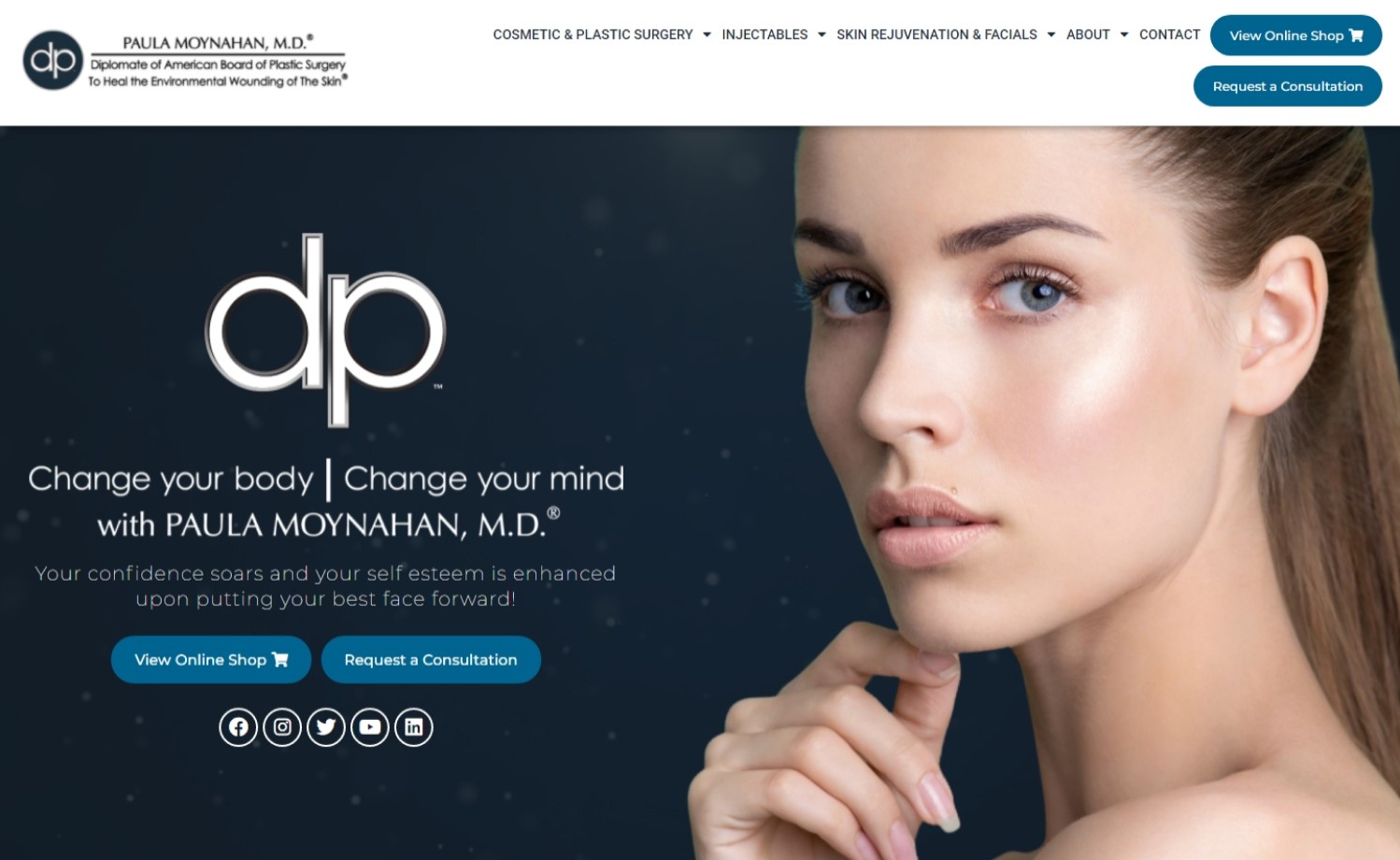 paulamoynahanmd.com
15. Facial Aesthetics
Why it works: Facial Aesthetics' black and white imagery is added elegance to the website. The award badges on the hero section make this facility credible and trustworthy. The picture of diverse and happy people with varying ages indicates their demographic, service, and friendliness as a company.
facialaestheticsinc.com
16. Skin Associates of Southern Florida
Why it works: The Skin Associates of Southern Florida website makes you feel as if you are right there in their office. The physician's pictures present on the homepage adds integrity. The sticky navigation helps a lot in terms of website exploration, and having a form for visitors or client's questions helps with interaction.
skinassociatesfl.com
Best Dermatology Web Design
17. Ren Dermatology & Laser Center
Why it works: Ren Dermatology's thumbnail images help visitors understand what kind of services they offer. The clinic's photos, dermatologists' photographs and having an Instagram on the front page increase the integrity of the center.
rendermatology.com
18. Bellezza Beauty Clinic
Why it works: The hero slideshow helps visitors make a sense of what Bellezza Beauty Clinic is all about. The video tour of the clinic is a very personal approach to showcase their clinic. The services thumbnails that serve as a portal are essential for the visitor to explore the different services they offer.
bellezza.ua
19. Dilworth Dermatology & Laser
Why it works: Dilworth Dermatology & Laser has an interesting layout and overall design. The logo's design elements and colors were used throughout the website. The added third color is not invasive and goes well with the brand's colors. The use of scroll-activated animations is not distracting as oppose to animations that are constantly moving.
dilworthdermatologyandlaser.com
20. Lewis Dermatology & Associates
Why it works: The hero section with pictures of their team and Dr. Lewis is meant to provide credibility for the clinic, as well as testimonial sections providing reviews. The website's navigation and service thumbnails make it easy for visitors to find what they're looking for.
amyblewismd.com
Dermatologist websites for inspiration
21. Dermatology & Hair Restoration Specialists
Why it works: This website comes with a refreshing feel. The sticky navigation, services section, and the call to action sections are designed to make it easy for visitors to explore the website.
santamonicaskin.com
22. Tanya Kormeili Dermatology
Why it works: The website is designed with appealing aesthetics and eye-catching images. There are sections that display the credentials of the owners and testimonials from satisfied clients. Visible before/after photos are provided for potential visitors to see Dr. Kormeili's work in detail.
drkormeilidermatology.com
23. Laser and Skin Surgery Center of New York
Why it works: The way the information is disseminated on the home page is well thought out. The before and after section makes the website's purpose more meaningful as it provides credibility to what they can do. All of the sections presented are with an important purpose; to either provide credibility or as a portal to their most important pages.
laserskinsurgery.com
24. Pura Dermatology
Why it works: The way Pura Dermatology presents its services makes it easier to find what you are looking for. Contact details and a "book an appointment" call to action are also easy to find on the site.
puradermatology.com
Dermatology websites for inspiration
25. LKMD Dermatology
Why it works: LKMD Dermatology has a simple website that is easy to navigate. The services they offer are clearly presented on the homepage as thumbnails section. Also, LKMD's objective is well presented and in its own section on the homepage.
drleonardkim.com
26. Knott Street Dermatology
Why it works: The home page of Knott Street Dermatology serves as a portal to their offering, resources, products, and other important pages. The video preview and video popup help visitors understand who they are and what they do which is important to target specific visitors and their interests. Also, there is multiple sections that boost their credibility like the before and after section and the team section.
knottstdermatology.com
27. Sherber + Rad
Why it works: The clinic's and doctors' images and videos are obviously of high quality and very well presented which is very important to gain a reputation in this line of service. The service images clearly serve their purpose which is to focus on the procedure and its result.
sherberandrad.com
28. DC Derm Docs
Why it works: The overall structure of DC Dem Docs' website is excellent, one can easily find important information on the home page. The hero section has on-point images that easily show their specific services.
dc-dermdocs.com
Top Dermatologist Website design
29. The West Institute
Why it works: The use of their logo's design element throughout the site makes it feel more custom and personal. Overall, The West Institute's website feels unique and modern. As for its ease-of-use, you can easily find important information on their home page which is excellent.
westskinlaser.com
30. Alamo Heights Dermatology
Why it works: The color theme of Alamo Height Dermatology's website together with the elements used complements the company's branding. The services section helps users find what category of services they are interested in and the simplicity of the site makes it easy to use.
alamoheightsderm.com
31. Texas Dermatology and Laser Specialists
Why it works: It's always pleasing to have branding's color theme complement the website's color theme, it makes the website feel more personal. Though this site has a lot of content, visitors will be able to find what they need since the structure is arranged effectively.
texasdls.com
32. Beleza Med Spa
Why it works: Beleza Med Spa's home page features a captivating video banner and a front and center call to action button. There is a section for the main service categories along with other important information like the clinic's awards and affiliations. Overall, the website looks clean and organized.
belezasurgery.com
Best Dermatology Websites
33. Central Texas Dermatology
Why it works: The images used in the Central Texas Dermatology website are attractive and engaging. The navigation is clear and the information is strategized and categorized in a way that visitors can easily follow.
centexderm.com
34. Arizona Premier Dermatology
Why it works: Arizona Premier Dermatology uses high-quality images for its hero section and all throughout its website. The site uses pastel and earth tones for its color theme which is calm and relaxing.
azpremierderm.com
35. Physician Skin Solutions At Arrowhead
Why it works: Physical Skin Solutions at Arrowhead has an interesting design and layout. There are before and after pictures to the bottom of the page, and patient reviews can be found right underneath.
physicianskinarrowhead.com
36. La Jolla Skin
Why it works: Despite being content-heavy, La Jolla Skin's website is well structured and easy to navigate. The use of high-quality images and simple but nice typeface also helps with information clarity.
lajollaskin.com
Top Skin Dermatologist Websites
37. Bellaire Dermatology
Why it works: The website design is based on their brand color and logo, giving it a personalized feel. It also has a before and after section that showcases results of treatments from the doctors.
bellairedermatology.com
38. A Children's House for Pediatric Dermatology
Why it works: The website design uses large images of children and vibrant colors to build the impression they are a pediatric dermatology clinic. This is an effective approach that will reach a targeted audience.
achildrenshouse.com
39. Clear Lake Dermatology
Why it works: Clear Lake Dermatology has an interesting page design that uses diagonal sections. The information about their clinic, doctors, and services is presented on their home page well enough. It's easy to navigate and find information with the help of their sticky navigation bar.
clearlakederm.com
40. Dundee Dermatology
Why it works: This dermatology clinic uses colors and typefaces that look great with the high-resolution images. The website is easy to navigate, and all of the most important information is well presented.
adeankingstondermatology.com
Conclusion
The websites included on this list are aesthetically pleasing, informative, and function well to provide excellent user experience. If your site needs a new redesign or is just in need of some updates you're in the right place.
We will design a custom mockup of your new website before you sign or pay for anything. There is nothing to sign and no payment information will be taken. If you like our design for your business we can move forward working together. If not, there are no hard feelings and no other obligations.
That's right. There is no hassle and no risk. What do you have to lose? To find out what's possible, just click below and learn more about our Free Mockup Offer.