This post is a list of the Best Interior Design Websites that we found on the Internet. They are all unique and offer something different, which can help you to find what style of design you're looking for.
1. Amy Lau Design
Why it works: This website features a strong emphasis on its portfolio. A simple and accessible user interface with minimal scrolling can be found here. High contrast text makes it easy to read, too.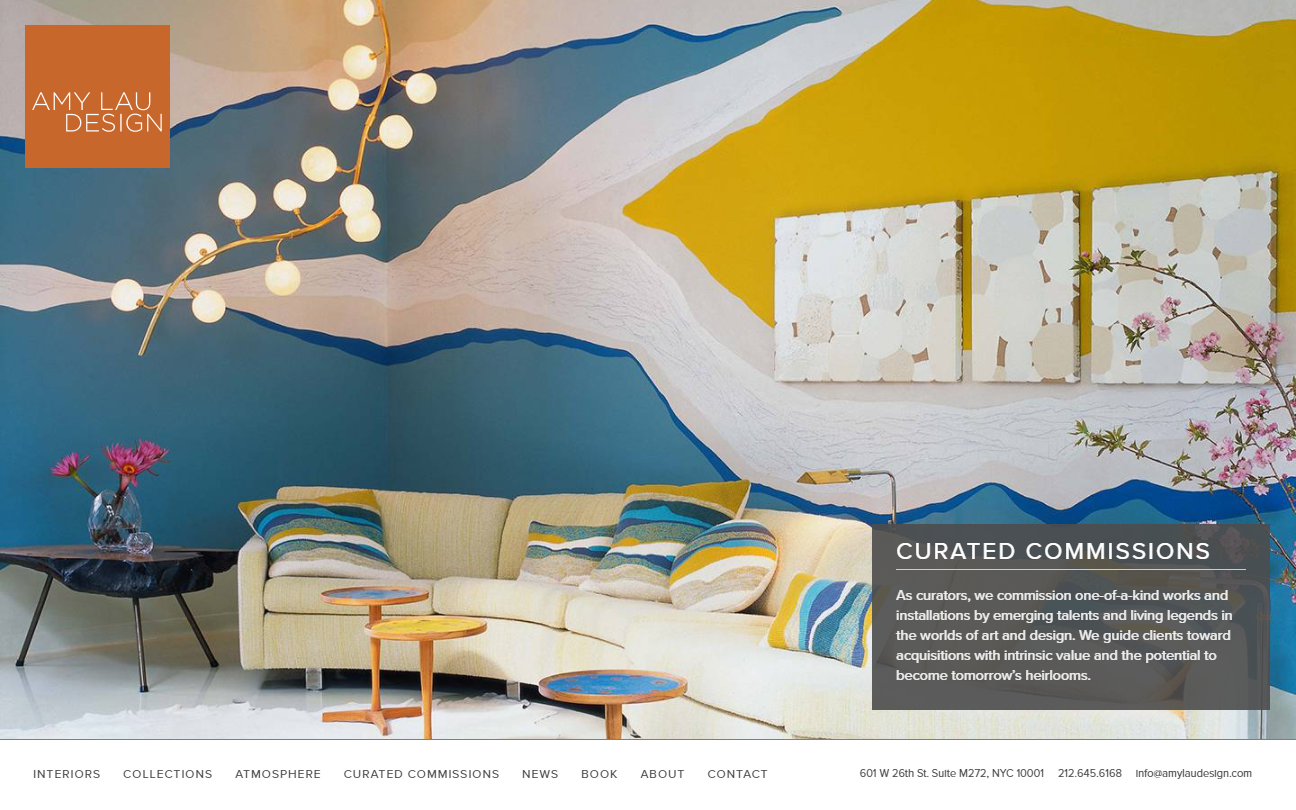 2. Grant Design Group
Why it works: Creative treatment of photos with simple transitions. The color scheme is consistent, and the inner pages are clean. There are high-quality photographs on the website.
3. Karim Rashid
Why it works: This is a site focused on the interior designer. It uses loud, trendy colors and shapes throughout the website. Large heading fonts and large fullwidth photos are also present.
Best Interior Design Websites
4. Nest Design Co
Why it works: The design of this website is clean and elegant, with a minimal use of colors. The subtle hover effects, animation features, quality visuals, sleek fonts and sharp lines all stand out in the best way possible.
5. Old Brand New
Why it works: The website itself uses very little color but despite this, the site remains full of color because of the numerous photos used. The alignment is immaculate as well as the spacing of the elements in columns and rows.
6. Abel Design Group
Why it works: The site is sleek, clean and modern. The use of whitespace was effective and beautiful along with the stylish fonts. Each project in their portfolio features a bevy of curated photographs showcasing great interior design.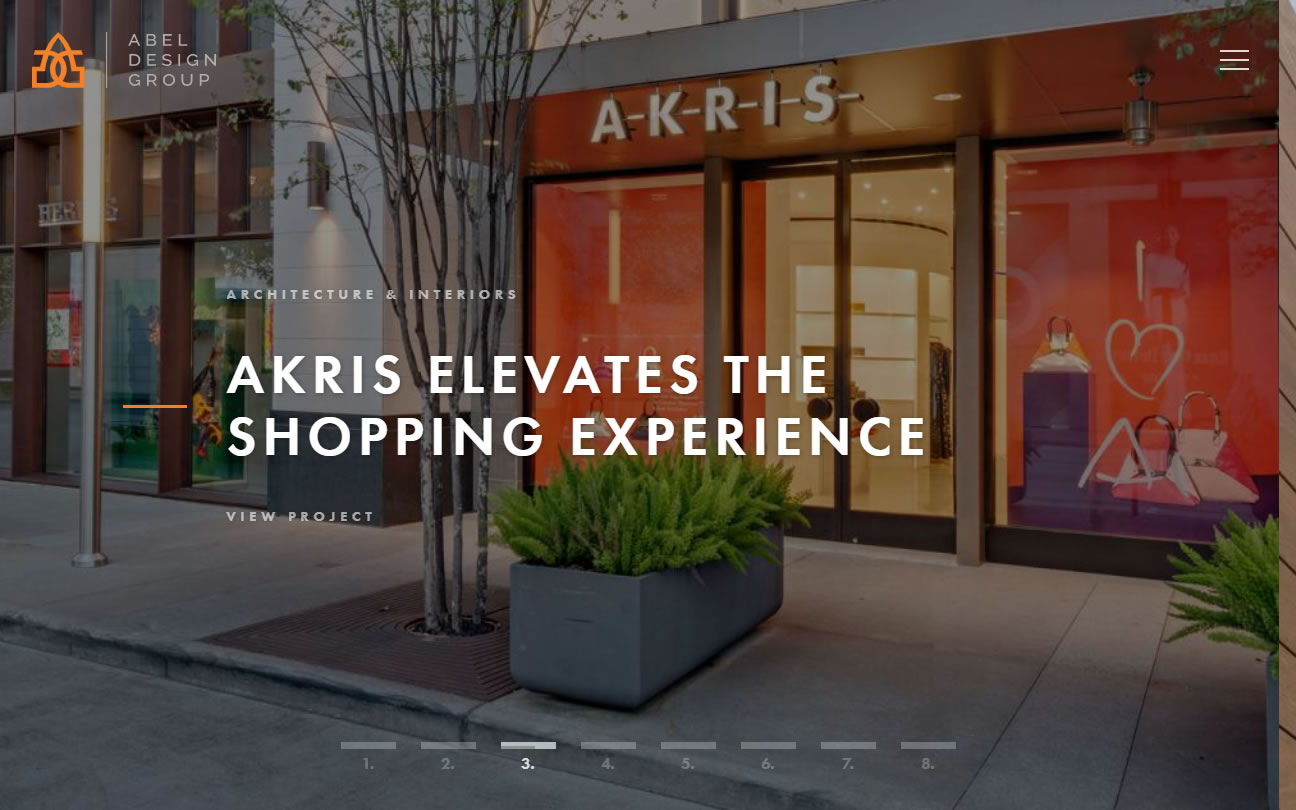 7. Ciatti Design
Why it works: The colors, fonts, and images create a polished and sophisticated appearance. The testimonials and membership badges adds credibility to the site.
Interior Design Websites
8. Duet Design Group
Why it works: Clean, sleek fonts and lots of whitespace make this website visually appealing. Quality photos and icons really set them apart from other websites.
9. Giorgi Girl Design
Why it works: Beautiful photography and elegant colors are used to great advantage in this site. The portfolio pages also use a before and after widget to demonstrate their work.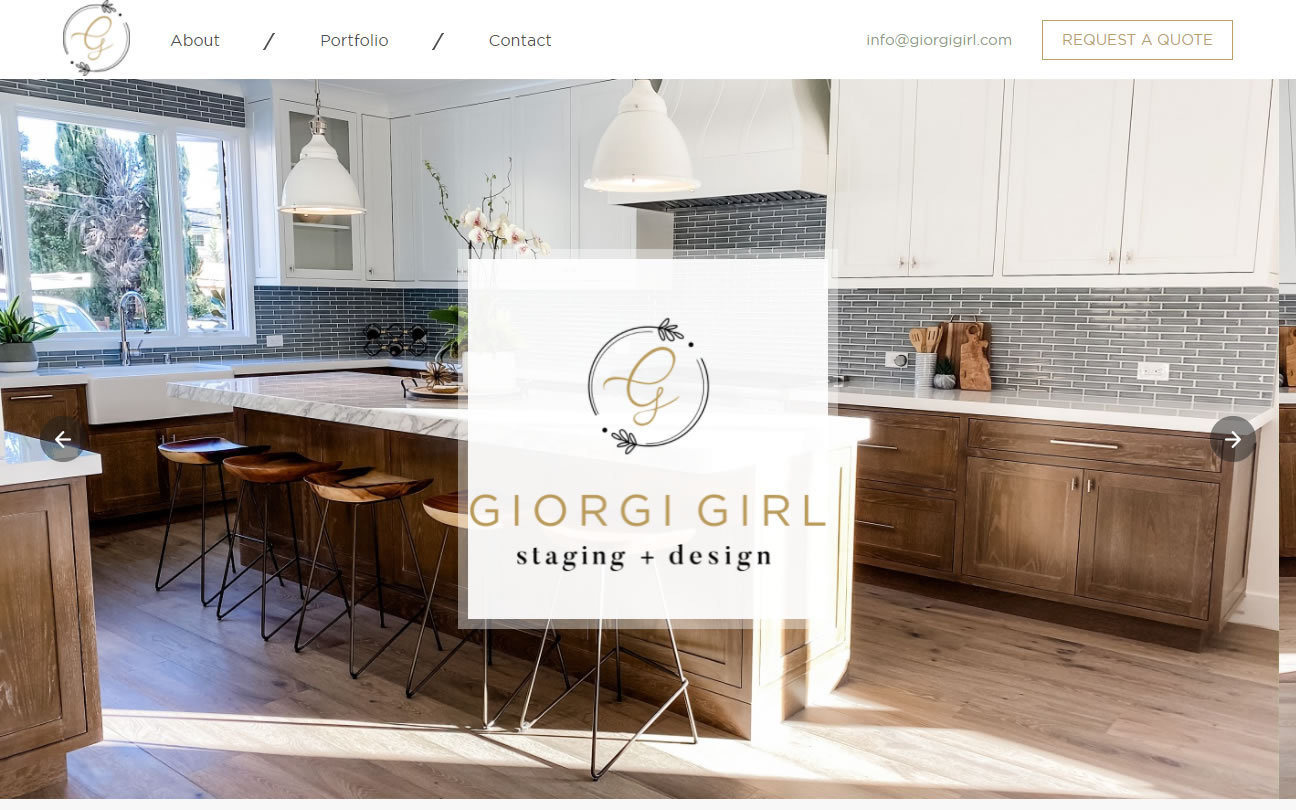 10. Golvhuset
Why it works: The website's homepage does an effective job with its fonts, colors, icons, and animations. The contact page is well organized which also includes the individual team members.
11. Havenly
Why it works: The use of illustrations to explain their process and the style quiz makes this site unique. Great way to use of testimonials from clients and popular social media outlets.
Best Interior Design Website
12. Hopdeco
Why it works: Unique hero section overlays and transitions coupled with an architectural feel provide a rich user experience.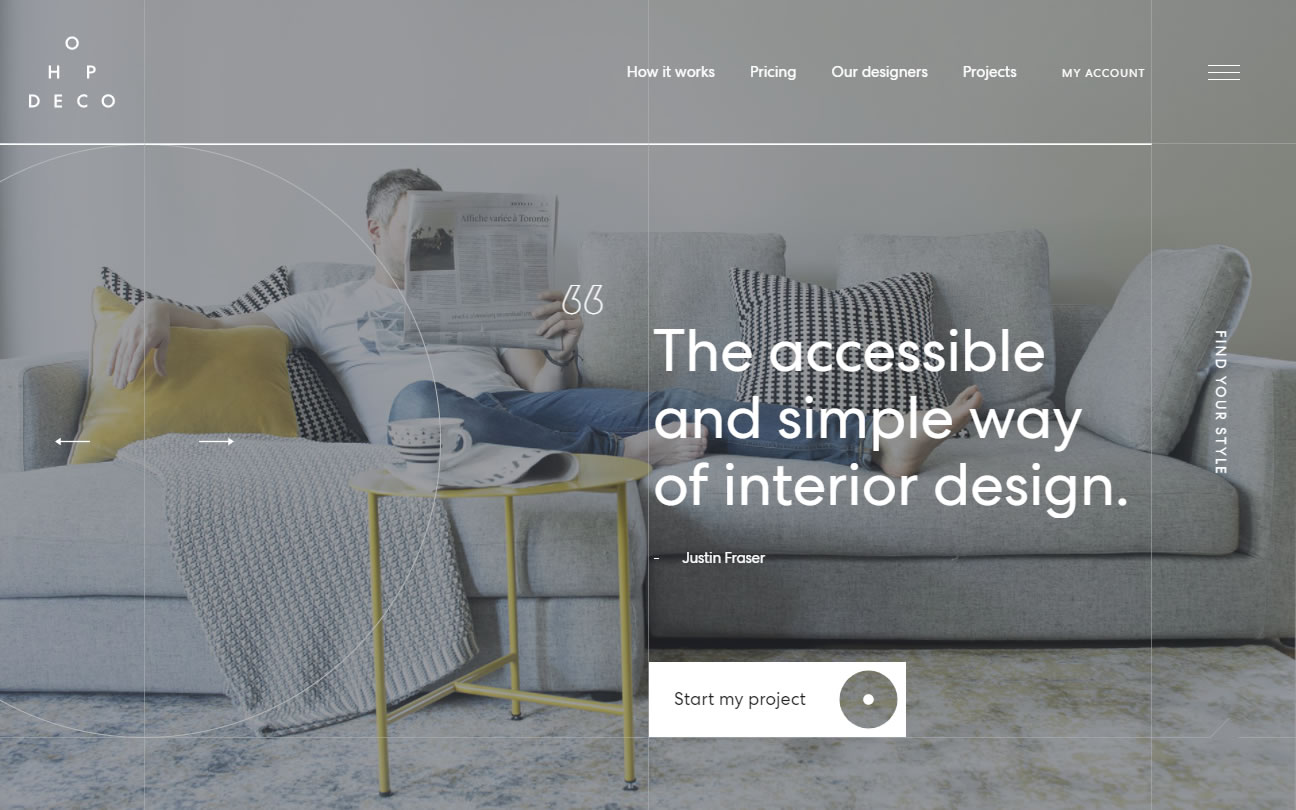 13. James Thomas
Why it works: The whole website is professional and inviting, as dark-sectioned photographs alternate with light in large, full-width images. The fonts used are elegant and stylish.
https://jamesthomaschicago.com/
14. Jayne Design Studio
Why it works: The hero section has a unique animation and framing. Subtle animation effects on scroll adds flair to the site. The about page features accolades over the years.
https://jaynedesignstudio.com/
15. Jova Construction
Why it works: The creative and memorable style of this site provides a quality experience. The high-quality photography shows off their eye for detail, which is key in interior design.
Top Interior Design Websites
16. Laura U Design Collective
Why it works: The homepage presents a simple yet stylish professional design. The sections are divided by white space which creates better contrast.
https://laurauinteriordesign.com/
17. Love Décor
Why it works: The design of the site is easy on the eyes, it has clear divisions and well organized pages. It uses high quality photos.
18. Margaret Winters Interiors
Why it works: The website has high quality photos that focuses on the interior designer and her work. Colors are used minimally, fonts are clean with plenty of white space.
19. Nate Berkus
Why it works: The website makes great use of animation effects and video in the content section. The interface is light and delicate, but the colors are bright enough to draw visitors in.
Best Websites for Interior Design
20. Silvana Lehn
Why it works: This site is fresh and creative. It has a friendly vibe thanks to the curved elements, corners, buttons, and its use of pastel colors.
21. Andrey Sokruta
Why it works: The unconventional scrolling in combination with full-screen transitions make this site stand out. The split screen transition on the homepage provides interest to the portfolio photos.
22. Victoria Hagan
Why it works: The hero section features scrolling testimonials and a simple hero video background which greatly impacts credibility.
23. Wolfe Interior Design
Why it works: The website has a minimalistic color scheme, simple navigation, and prominent social evidence.
Top Interior Designer Websites
24. Anoushka Allum Design
Why it works: Eye-catching hero section which focuses on the interior design industry. The website is classy and stylish from top to bottom.
https://www.anoushkaallum.com.au/
25. Avery Cox Design
Why it works: Simple website elements but with a strong focus on portfolio projects. The splash screen is interesting.
https://www.averycoxdesign.com/home
26. Bold Interior Group
Why it works: The homepage is well-organized with large heading fonts. Sections alternate on the homepage and call-to-action buttons are strategically placed. Subtle animations, and transition effects are used to differentiate between sections without being distracting.
https://www.boldinteriorgroup.com/
27. Celene Interiors
Why it works: A website design that doesn't take away creativity and innovation while being functional and easy to use.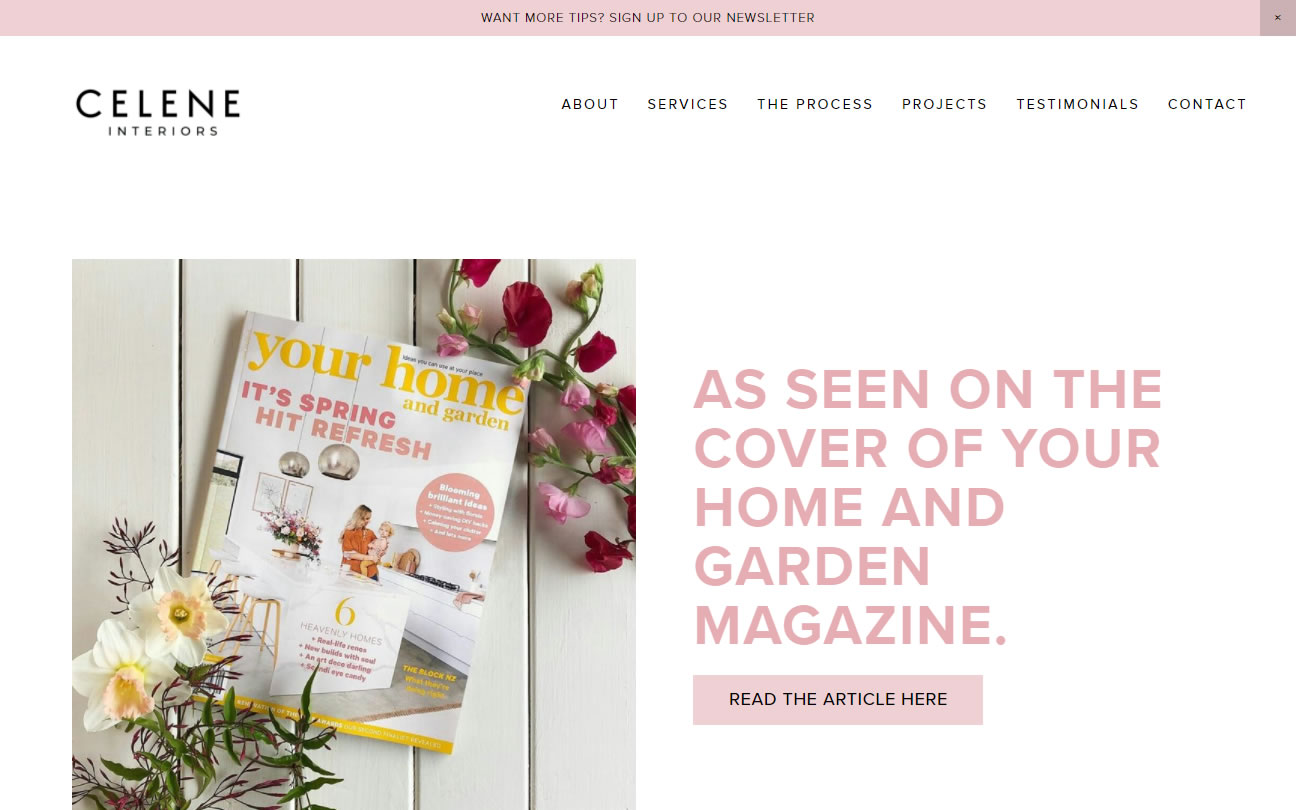 Interior Design Websites
28. Jean-Louis Deniot
Why it works: Smooth and pleasing experience as the result of smooth animations. The custom transition effects and mouse pointers makes this site unique.
29. Donna Mondi
Why it works: The website has large full-screen photos against minimalistic use of colors and black text on a plain white canvas to give greater emphasis to the photographs.
30. Henge
Why it works: The website offers plenty of beautiful scroll-transition animation, large title fonts and images. Colors used are stylish and elegant.
31. HKS Inc
Why it works: Clean borders between different information blocks. The content is well-organized and the hover effects are subtle.
Best Interior Design Websites
32. Iconic Modern Home
Why it works: Top-notch photography, minimal use of colors and simple fonts makes this site elegant. The grid alignment and spacing between elements are impeccable.
33. Laurel & Wolf
Why it works: A user-friendly website with elegant fonts and consistent colors. The site is simple to navigate, uses social proof, and includes a contact form on the homepage.
https://www.laurelandwolf.com/
34. Modsy
Why it works: The site is easy to use and functional. Very informative as their service is clearly explained on the homepage.
35. Powerhouse Company
Why it works: The homepage is unconventional and unique. The individual pages contains large images with detailed descriptions and content.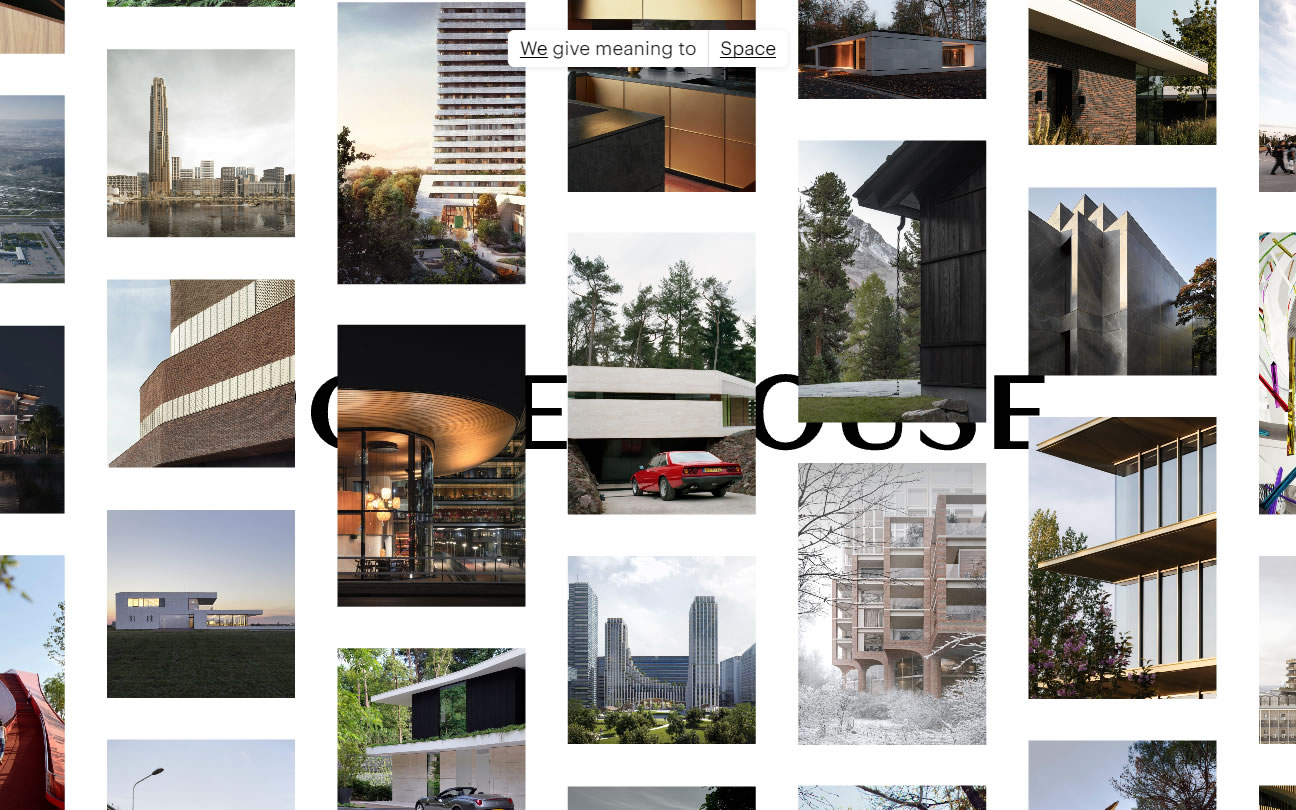 https://www.powerhouse-company.com/
Best Interior Design Websites
36. Sonya Cotter Design
Why it works: This site is very sleek and professional. It features clean fonts, a sticky navigation bar, and a comprehensive portfolio page.
https://www.sonyacotterdesign.co.nz/
37. Studio B Designs
Why it works: This website features a seamless parallax scrolling feature in the homepage. The portfolio page is curated with high quality photos of their beautiful work.
https://www.studiobdesigns.com/
38. Studio Ilse
Why it works: This site is simple and beautiful. Large photos and videos are creatively placed with minimal use of colors, elegant fonts, and a simple layout.
39. Taylor Howes
Why it works: Well-aligned content sections, use of consistent colors and quality photo placement makes these websites aesthetically pleasing.
https://www.taylorhowes.co.uk/
40. Zuzana Fontaine Design
Why it works: A single-page website helps keep things straightforward and easy to navigate. With an organized layout, clean typography, creative use of space, a balance between color and empty white space makes this site something worth mentioning for its eye catching design elements.
https://zuzanafontainedesign.com/
Conclusion
In this list, we have compiled the 40 best interior designers websites that you can find on the web. We have also included a brief description of each website and what makes it stand out among others in its field. If you're looking for help with your interior design website project, you're in the right place.
We will design a custom mockup of your new website before you sign or pay for anything. There is nothing to sign and no payment information will be taken. If you like our design for your business we can move forward working together. If not, there are no hard feelings and no other obligations.
That's right. There is no hassle and no risk. What do you have to lose? To find out what's possible, just click below and learn more about our Free Mockup Offer.