We've searched the Internet to bring you the best manufacturing websites available. If you're looking for inspiration for your next manufacturing website design project, you're in the right place. In the examples that follow, we share the latest trends and best practices in website design for manufacturing company websites.
1. TextTech Industries
Why it works: Texts are very easy to read, the above-the-fold section felt catchy and at the same time straightforward in presenting the industries they cater to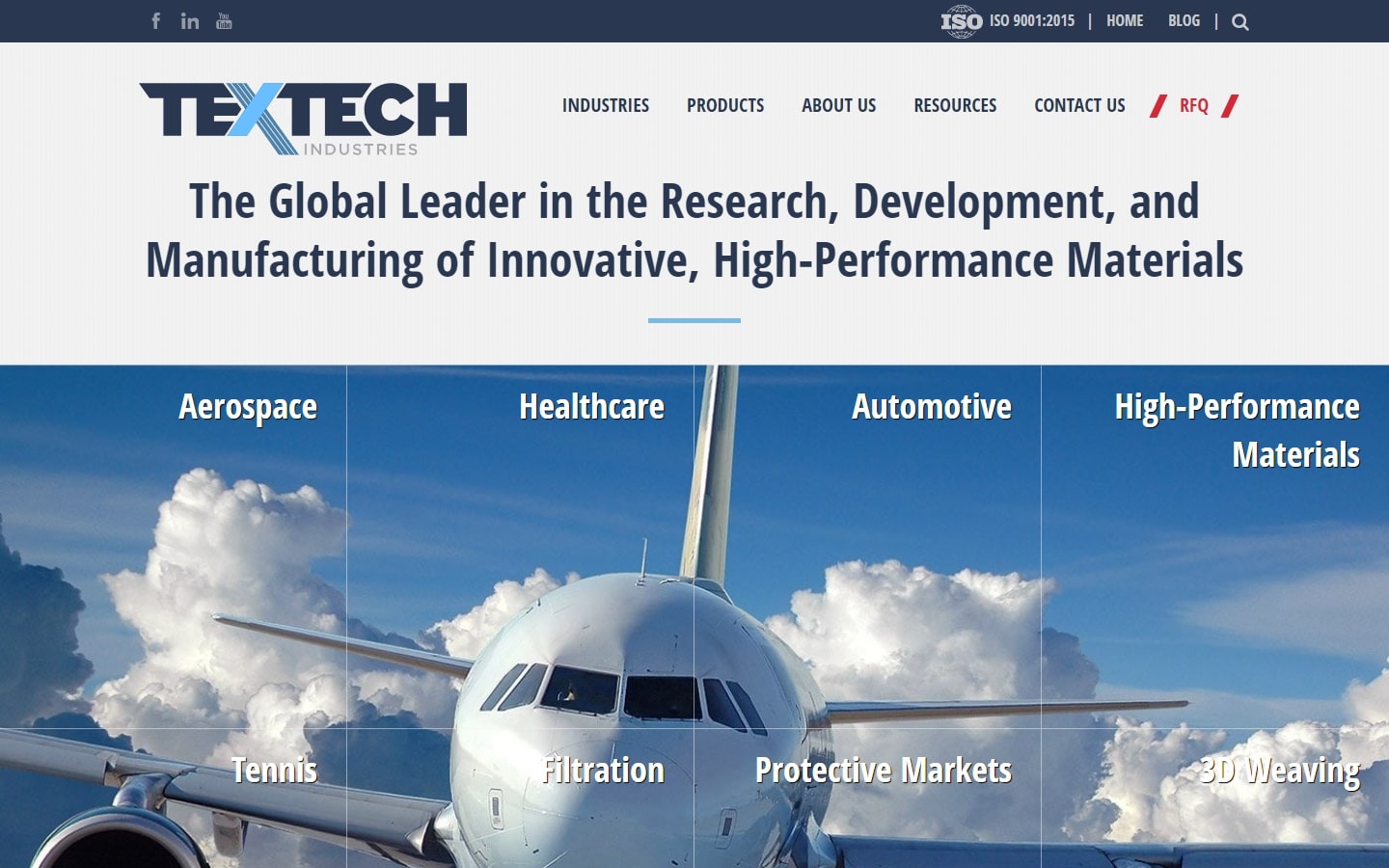 2. Plex
Why it works: A very well-made video of their process sits on their hero section, creating an outstanding impact. The layout and the graphics are also very trendy and modern
3. Graco
Why it works: One of the cleanest websites in the list, but with the right splashes of colors and images here and there to look more lively. The texts are also very legible throughout
https://www.graco.com/us/en.html
4. Titan Systems
Why it works: The hero section of the website has a very catchy text against a graphic-heavy background. The navigation design is simple yet very visible. The layout is very tidy and well-organized.
5. Marion Body Works
Why it works: A very catchy landing page with a robust tagline set centerstage. The images and graphics scattered throughout the site look gorgeous and neat.
6. American Alloy Fabricators
Why it works: Strong navigations design, cool and consistent animations and hover effects, very professional feel, design is a perfect match to the material they fabricate
7. NTS Unitek
Why it works: A cool hero section with dynamic slider that makes the website feel alive. Particularly love the services section where the steps/items are in tab form featuring compact body of text and quality images
8. Cisco
Why it works: A big brand with a very modern feel to their website. We love how the sections and divided into clear chunks/boxes of their own. The addition of graphics really boosts their website experience as well.
https://www.cisco.com/c/en/us/index.html
9. SPC
Why it works: A very neatly laid-out website design featuring generous amounts of high-quality product images. The design is very easy to the eyes and very easy to use
https://www.sharrettsplating.com
10. AngloAmerican
Why it works: Featuring a very powerful hero section, very clear visual hierarchy on typography and sections, and original quality images, this website is a true standout
11. CST Tires USA
Why it works: What we particularly love about this website design is that it is not short of high-quality action images that pushes their product to the front
12. AvinED
Why it works: Not every colorful website is appealing, but this website by AvinED has colors all in the right places. The overall layout also feels professional and classy
https://www.avinedtechnicalfurnishings.com
13. MAC Instruments
Why it works: Simple but very effective design, buttons and the navigation are very bold and clear, a subtle touch of graphics/icons adds a very original feel to the website
https://www.macinstruments.com
14. Anduril
Why it works: One of the most modern websites in the list, Anduril's site features a no-fuss design that focuses on strong imagery and well-planned typography
15. Rockwell Automation
Why it works: A very sleek and professional website design that has a futuristic techie feel. The beautiful transition animations is a real welcome feature of the website.
https://www.rockwellautomation.com/en-us.html
16. John Deere US
Why it works: At first glance one could easily know what they do and their products. Unlike usual websites, their products take a stronger presence than any other elements in the site
17. Rice Lake Glass
Why it works: Very catchy video background for the hero section. The tabbed interface above the fold attracts engagement and interaction.
18. Weima
Why it works: Another modern website design with an out-of-the-box layout. What makes this website unique in this list is its employment of 3D animations to quickly showcase their products
19. Lear Corporation
Why it works: Sleek, modern, yet minimalistic. We also love the choice of fonts used in this website, making the design something worthy or praise
20. Chrome Industries
Why it works: A trendy website design that features tons of high-resolution images to complement their products. Can't say enough of how important product imagery is.
https://www.chromeindustries.com
21. Mattei
Why it works: A website designed to properly showcase their products, particularly love the strong typography that matches the engineering industry
22. Dyson
Why it works: Despite the compact size of the website, what we love in this web design is the minimal application of graphics but still looking modern and futuristic.
23. JCB
Why it works: For a big company, it's very smart to see their website looking very compact and making all the texts easy to read. Everything one might need can also be easily found.
24. Symtec
Why it works: Symtec's website design is a good example of simplicity while maintaining strong adherence to their branding.
25. Caterpillar
Why it works: A world-renown brand's website that features strong contrasts in between elements, striking colors, bold typography, and crisp images
https://www.cat.com/en_US.html
26. MarkForged
Why it works: Ultra sleek dark-themed website that not only features high-quality graphics and images, but also big bold typography that catches viewers' eyes
27. PMI
Why it works: A great collage-type of website design featuring several graphics complementing each other. Despite the combinations of colors and graphics, the buttons still look cool and stands out very well
28. NEORig
Why it works: Being the 'Future in Manufacturing', their website also has futuristic elements with animations that boost that feel
29. DuPont
Why it works: A very clean and minimalistic website that courageously strips away ornaments and flourishes to push content to the center. The colors are also ample enough to make the site look less boring without breaking the brand
30. Molecular
Why it works: It's hard to gauge if this site design is simple or intricate, but the features are mouth-watering; the video-on-hover effect on the home page alone is top-notch
https://www.molecularproducts.com
31. DCA
Why it works: The 'Free Project Analysis' has a catchy shining animation, the overall feel of the design is calm and airy and light, the website navigation is quick and simple too
https://www.dehumidifiercorp.com
32. Avient
Why it works: A good example of what a 'home page' should be, Avient's home page houses all the most important and relevant links in the most friendly manner without being monotonous
33. Tungco
Why it works: A superb website design that features a great mix of graphics, imagery, and subtle animations. Particularly love the big red arrow at the bottom pointing to the CTA button
34. Viking Electronics
Why it works: Despite the use of a bright red color, the website design managed to look clean without being overpowered. The products are also laid out in a simple but effective manner
https://www.vikingelectronics.com
35. GE
Why it works: GE website designs includes modern aesthetics, high-contrast elements, and smooth parallax transitions between sections
36. Fairlawn Tool Inc.
Why it works: The icons used in navigation is attractive and matches the rest of the site design very well. Despite the unusual layout, scrolling through the website felt natural and easy
37. Aalberts
Why it works: A red-themed website that creates a very strong presence once visited. The use of soft curves on the custom geometric shapes adds a unique personality and a futuristic feel to the overall design
38. Dow
Why it works: We love the availability of the search fields for visitors to quickly find what they're looking for. Each section is also properly showcased and categorized
39. Oxiteno
Why it works: We love the very custom design applied to this website, particularly the different colors in harmony with each other, and the geometric graphics and illustrations
40. Glauber
Why it works: Despite the standard layout and traditional look, what we love about this website design is the very straightforward approach to what they offer and what they do.