If you're looking for inspiration for your next moving company website design project, you're in the right places! We've scoured the web for the best moving company websites out there to give you a glorious glimpse of what's out there. We also share the best practices and latest trends in design for moving company websites. So buckle up and enjoy the ride!
Table of Contents
Moving Company Website Design Inspiration
1. CareMore Moving and Storage
Design Highlights: Professional and clean, real customer reviews from Yelp, contact number always visible, free instant quote offer – bold and upfront.
2. San Francisco Moving
Design Highlights: Bold value proposition, form and eyecatching CTA button above the fold, chat functionality, bold colors and imagery.
3. Corrib Moving and Storage
Design Highlights: Friendly appeal because of the custom graphics and colors used, free instant virtual quote offer, clear indication of services.
4. Bekins
Design Highlights: Hero background video of actual moving crew in proper uniform, contact number always visible on top of every page, has many pages but is not obvious – organized.
5. Pure Moving
Design Highlights: Use of images featuring actual crew in uniforms, custom-created video, client logos and testimonials, quick quote form up top.
6. Graebel
Design Highlights: Use of quality images, trendy and upbeat colors, video testimonials, custom, and unique inner pages.
7. Flat Rate Movers
Design Highlights: Stylish design elements, trendy, custom graphics, inclusion of social proof in the form of news and social projects, quick quote form up top.
8. Imperial Movers
Design Highlights: Beautifully crafted design, clean overall look, nice color palette, great visuals with on-scroll animations and mouse over effects
https://www.imperialmovers.com
9. Esquire Moving Boston – New York
Design Highlights: Simple but professional look, nice gallery of previous work, dedicated page for achievements and awards, chat function on every page
https://www.esquiremoving.com/boston-new-york-moving
10. Pronto Moving and Delivery
Design Highlights: Professional and clean looking website, consistent use of color palette, contact form is above the fold.
https://prontomovinganddelivery.com
Effective Features and Functions in a Moving Company Website
1. Focus on Conversion – Ability to Get Leads and Close Sales
The most important function or purpose of a moving company website is its ability to get leads and close sales. Best way to get leads is to use quotation forms. Forms should be present on all pages. A CTA (call to action) button that leads to a more robust form is also effective.
2. Mobile Responsive Design
More than fifty percent (>50%) of internet viewers are using mobile devices because of convenience and portability. A mobile responsive website adapts to any screensize to properly display the contents of your website. There are several online tools you can use to check this.
3. Search Engine Optimized
The most beautiful website becomes useless if it cannot be found by prospective customers. A well designed and developed website with SEO (search engine optimization) will help moving company websites appear on the top sections / pages of a search results.
4. Engaging Content
Well crafted moving company websites entices engagement to convert visitors into customers. This is achieved by using engaging user experience and properly placing call to action buttons, links, and contact numbers.
5. Social Proof – Testimonials, Association Membership and Awards
Most prospective customers of moving companies rely on word of mouth and recommendations from others. The moving industry relies on quality service and trustworthiness. This can be achieved by displaying social proof in a moving company's website.
6. Free Estimate Offers / Quotes Using Virtual Tools
Advancements in technology have enabled video chat to be available to anyone with a smartphone and an internet connection. A moving company can provide a very close estimate for a moving job by using a convenient video survey.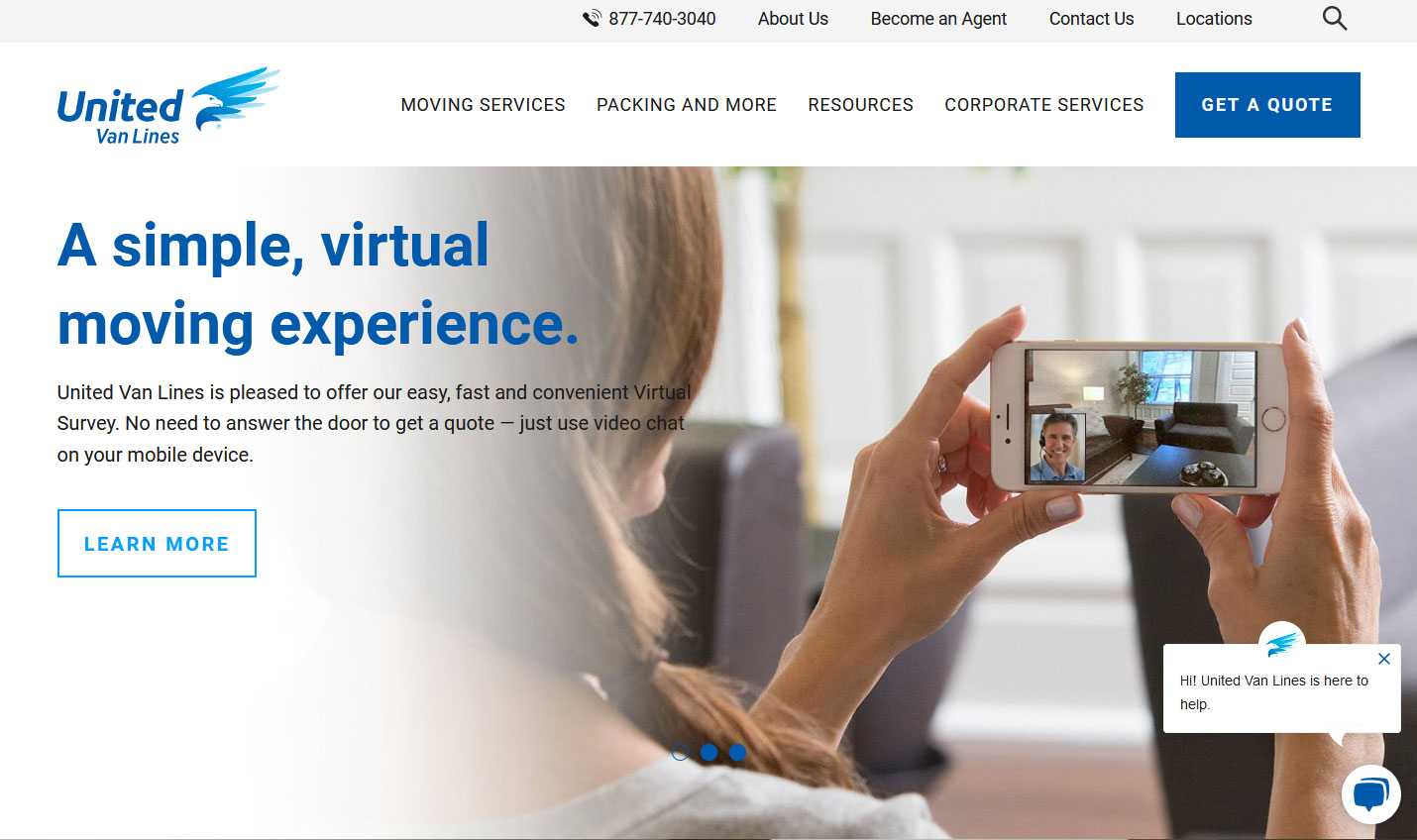 7. Visible Contact Information / Chat Function
It is a good practice for service oriented businesses to always have contact numbers visible on screen. Typically placed at the top right and at the page footer or somewhere near a contact form. A chat bot can also be utilized as a means to have a direct engagement with prospective clients.
8. Use of High Quality and Actual Photos and Videos of Crew
High-quality videos and images of the actual moving team, their fleet, and equipment convey a sense of trustworthiness to prospective clients. It also enhances a website by giving it that personalized touch which is missing from moving company websites that use stock photos.
Benefits of Having an Effective Moving Company Website
1. Increased Sales – Maximized ROI
A moving company website provides more bang for your buck. You just need to set it up right once and with little maintenance, your website promotes your services to thousands of prospective clients. A website is always accessible as compared to print media, radio and tv ads, and is greatly cheaper in the long run.
2. Adds Credibility and a Good First Impression
A professionally built website adds credibility to a moving company. By displaying information about your company publicly coupled with social proof means you are a legit company. This can be further reinforced by using actual photos and videos, by displaying awards and membership to accredited and trusted organizations such as BBB, Yelp, AngiesList, and more.
3. A Website as a Means to Educate Customers
Easily updateable website content like videos, blog articles, FAQ pages, services pages provide information that helps in educating customers about the moving industry and your business specifically. Customers will learn about the intricacies in the moving industry and through this, you can set your company apart by providing unique and specialized content.
4. Expands Your Company's Visibility
A website is viewable twenty-four hours a day seven days a week (24/7). Prospective customers can learn about your services and your company at any time and from anywhere. Websites also help in communication i.e. you can send emails and newsletters to clients/subscribers about changes in your company, new services, and other important updates.
5. A Means to Showcase Your Capability
A professionally built moving company website can enable you to highlight your services and show what makes you better than competitors. This can be achieved by utilizing high-quality images and videos, curated and up to date content, and other means.
6. Ability to Compete With Big Companies Using SEO
Having a prominent position in search results through SEO (search engine optimization) can enable small moving companies to compete with big companies in the industry. When backed by a professionally designed and developed website, your website can rank higher in search results. Thus giving you more chances of acquiring new customers.
7. Improve Customer Service and Save Time
Websites allow customers to communicate with you to learn more about services and offerings. Autoresponders, chatbots, and online forms can process customer requests. The availability of FAQ pages and organized content can assist customers in making the best-informed decision.
8. A Website Builds Your Business
Websites give you a platform to showcase your expertise and experience. It is also a way to share your story, your values and ideals. Websites are used not only to get clients but also to find people to help you run your business.
Conclusion
Having a website and being online is a matter of survival. It is clear that having a website in this day and age has become a requirement and could mean having a profitable business or not.
We can say that everyone has a website these days but the question is are you making a profit from your website? What you need is an effective moving company website that can increase your sales, get more leads, add to your credibility, expand your company's visibility, improve customer services, and build your business.
Free Custom Mockup Offer
We will design a Free Custom Mockup of your new website before you sign or pay for anything. We create your design, at no cost, and with no obligation. There is nothing to sign, and no credit card information is taken. If you like the design, we can then move forward in working together. If not, there are no hard feelings and no further obligations. So, if that sounds like something that might be of interest to you, click the link below.