A chiropractic website should be designed to educate potential patients about the benefits of chiropractic care. It should also provide information about the various services offered by the chiropractic practice, as well as the benefits, team, contact information, and location details. In addition, an amazing chiropractic website features testimonials from satisfied patients, which can help to build trust and credibility. Moreover, the website should be easy to navigate and should have a modern, professional design. SEO(Search Engine Optimization) friendly content is also essential for helping current and potential patients find the website when they conduct an online search on google or other search engines.
To help you get started, we've put together a list of 40 of the best chiropractic websites that we could find. These websites feature all of the important elements that we mentioned above, and they serve as great examples for anyone looking to create a high-quality and best chiropractic website.
1. Cedar Hill Sports Therapy
Why it works: This design perfectly balances graphics, images, texts, and colors. Website visitors and potential patients or clients who land on this website will immediately feel the excellence of their services.

https://www.betterback.ca
2. Atlant Health
Why it works: The hero header is primed to make an impression on site visitors, and current and potential patients with its eye-catching image, prominent CTA buttons, and attention-grabbing headlines. The introduction to the company services, which includes the contact form, is also designed with cleanliness and simplicity.

https://atlantchiropractic.com
3. Northeast College of Health Sciences
Why it works: Although not precisely offering chiropractic treatments and services, this college's website has a look everyone would love. The clean design is pleasing to the eyes of the patients and other chiropractors, from bold text, color scheme, and simple layout to very personal-looking images.

https://www.northeastcollege.edu
4. Advanced Chiropractric Relief LLC
Why it works: An award-winning chiropractor's website should be top-notch, and luckily we have a solid entry here. We love how straightforward the navigation is, how the buttons look crisp and visible, and the generous amount of images throughout the site. All of these benefits the online marketing strategy of their services.

https://advancedhoustonchiropractor.com
Chiropractic Websites
5. Stine Chiropractic Clinic
Why it works: This website's design scores highly in user friendliness and usability thanks to its focus on keeping features clean, simple, and straightforward. All text and buttons are conveniently placed for easy online readability and navigation.

https://www.stinechiro.com
6. ChiroLouie
Why it works: ChiroLouie's website greets visitors, current, and potential patients with a full-width hero image, with a distinct CTA above for quick appointments. The design is also colorful while maintaining the readability of the texts.

https://chirolouie.com
7. Mission Hills Chiropractic
Why it works: Modern, fresh, and simple, this design has many points to emulate. The buttons are also very distinct and visible for visitors, new patients, and clients of all ages. Featuring the image of a team boosts online marketing.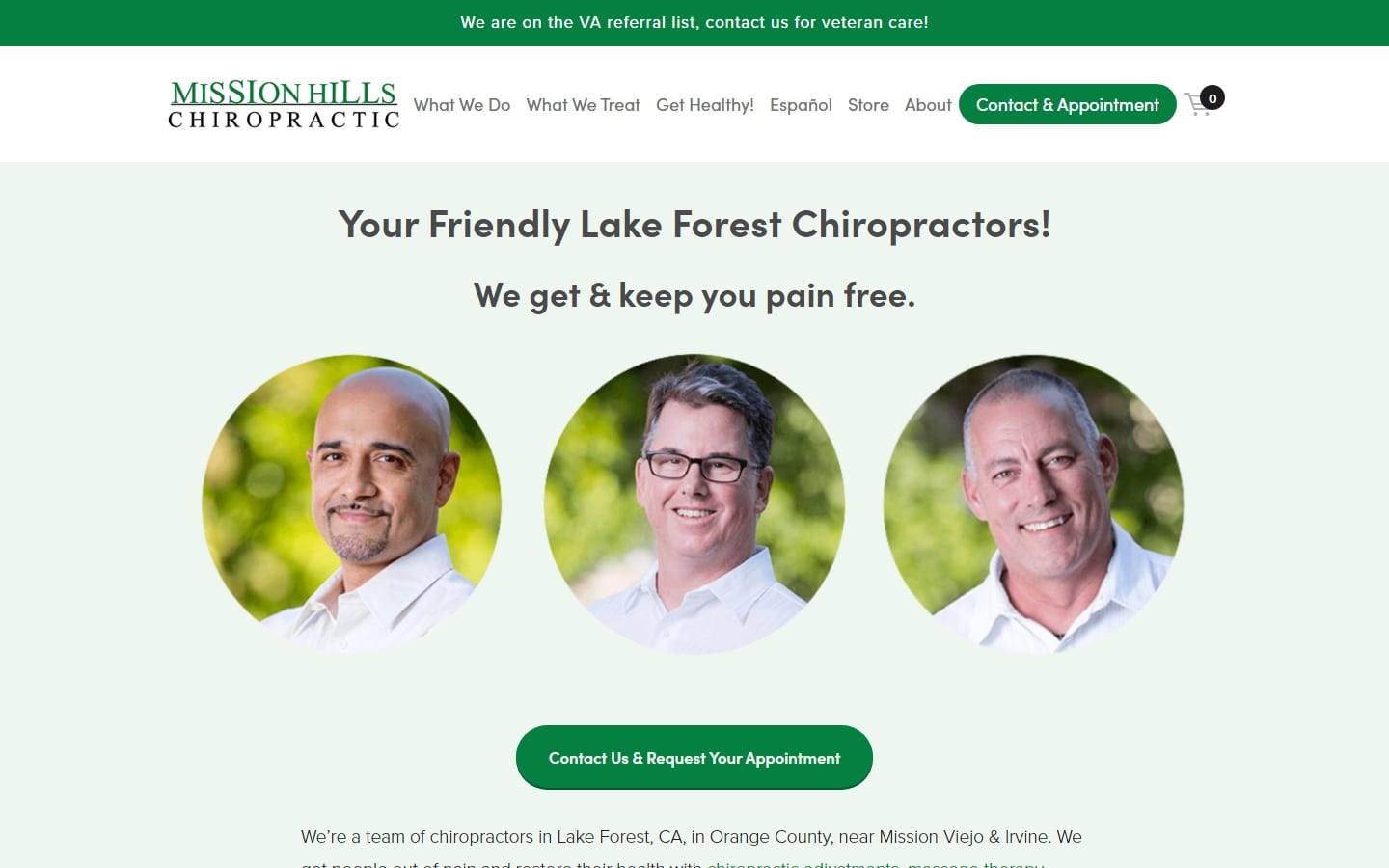 https://www.missionhillschiropractic.com
8. The Joint Chiropractic
Why it works: A lot of designers worry about boxy designs. However, when executed correctly, boxes can be strong elements in a website layout, providing structure, rhythm, and clarity. This best chiropractic website design of The Joint Chiropractic sets a good example in this regard.

https://www.thejoint.com
Best Chiropractic Websites
9. Chiropractic of Naples
Why it works: There's a lot to love in this amazing chiropractic design, but one particular thing is how each section looks gorgeous without looking cluttered. This chiropractic treatment website also provides a generous amount of information for new patients or clients within the inner pages. Their practice and treatment are also very visible to guests and patients to see.

https://chiropracticofnaples.com
10. Greystone Chiropractic
Why it works: The shade of blue used on the website makes their services look sharp and professional. Services and treatments are also listed on the homepage, making them quickly evident to potential clients and new patients.

https://www.greystonelexington.com
11. Denver Colorado Chiropractic
Why it works: It's clear that this best chiropractic website has put much thought and care into its website because it's a cutting-edge masterpiece that shows off the quality of its chiropractic treatment and care. In the hero header, every visitor sees a bright and delightful image that stands for a healthy way of life.

https://denvercoloradochiropractic.com
12. Wellsure Chiropractic
Why it works: Instead of the usual edge-to-edge hero images, this website features utilities above the fold, making clients and more patients feel at ease and comfortable with the health services they are marketing.

https://wellsure.com.au
Website Design for Chiropractic
13. MVP Chiro & PT
Why it works: Probably one of the best chiropractic design inspirations to visit when you've finished your chiro web design project. Its homepage has an attention-grabbing headline and significant call to action (CTA) that draws a potential clients in.

https://mvpchiro.com
14. International Chiropractors Association
Why it works: The website's overall design is minimalist. A slider highlights hero scene photographs. Well-organized features and elements gain refinement through the use of white space.

https://www.chiropractic.org
15. 528 Chiropractic
Why it works: This good website makes it easy for new patients to quickly land on pages or items they require, such as patient forms and appointments. The fancy iconography and blue color are undoubtedly a nice touch in the site's overall online branding.
https://www.denverchiropracticdowntown.com
16. Bellara Chiropractic
Why it works: Not exactly the catchiest, but the website for Bellara Chiropractic looks very clean, fresh, and minimal. Contact information, menu items, and a map are also provided on the homepage.

https://bellarachiropractic.com.au
Chiropractic Web Design
17. Australian Chiropractors Association
Why it works: The website of the Australian Chiropractors Association is an excellent representation of the company's professionalism in the field of chiropractic practice and care. The main call to action, filtered image, and headlines are all in the hero header, which increases online conversions.

https://www.chiro.org.au
18. Ozark Clinic
Why it works: We really like how the heroes of the story, the clinic's team, are there to welcome online visitors and patients to their website. Using rounded typefaces for headlines is also a clever move to put more new patients at ease. Services offered with a brief description are also worth mentioning.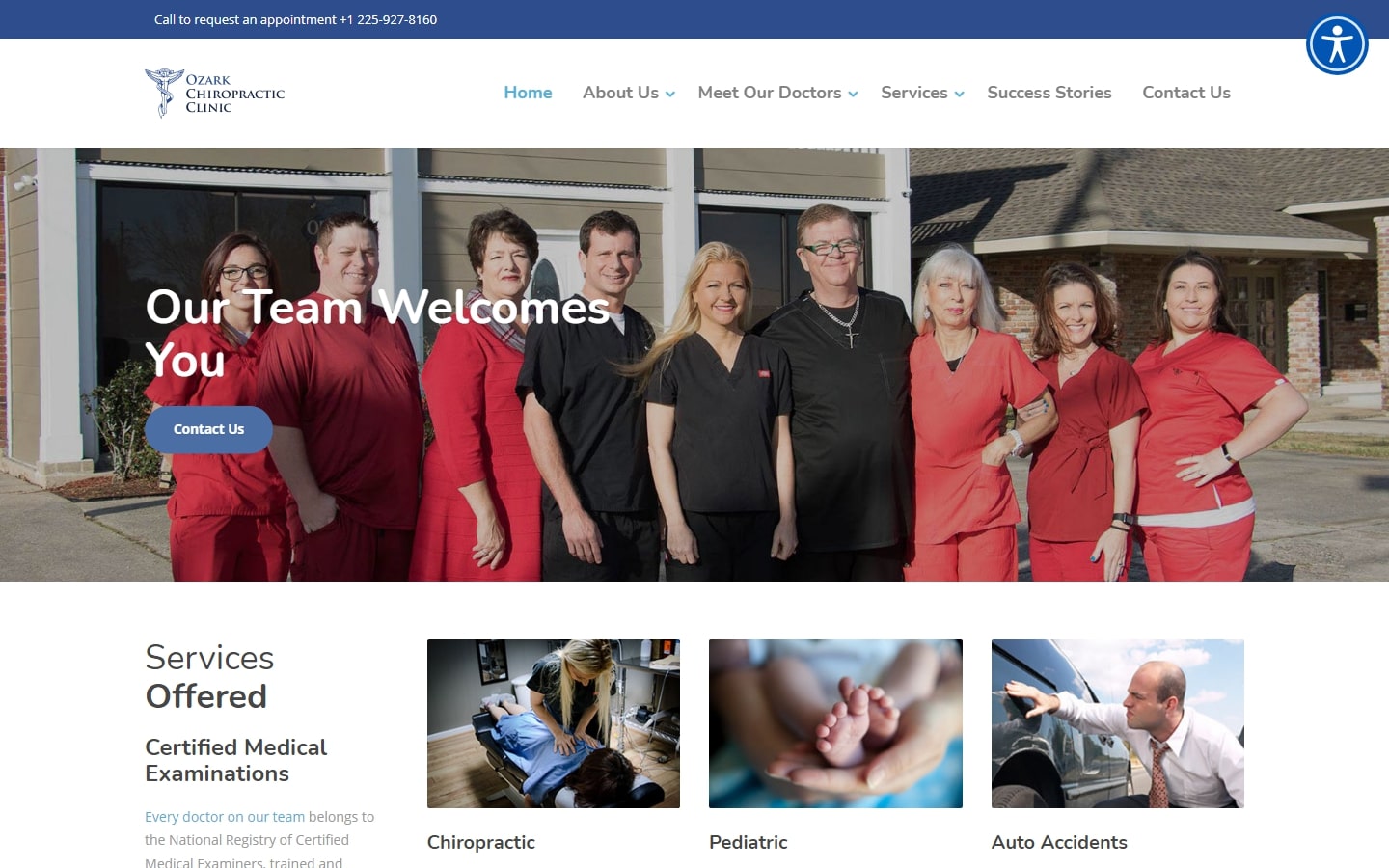 https://www.ozarkclinic.com
19. ABC Chiropractic
Why it works: ABC Chiropractic's website prominently displays contact details for speedy inquiry which converts visitors to clients. The homepage and other pages are well-organized and easy to read, further enhancing the patients' user experience.

https://www.abc-chiropractic.co.uk
20. Vitality Chiropractic
Why it works: Instead of the usual boxy designs, this website's homepage features a lot of shapes that add spice to it. CTAs are also widely scattered all throughout the site for more conversions.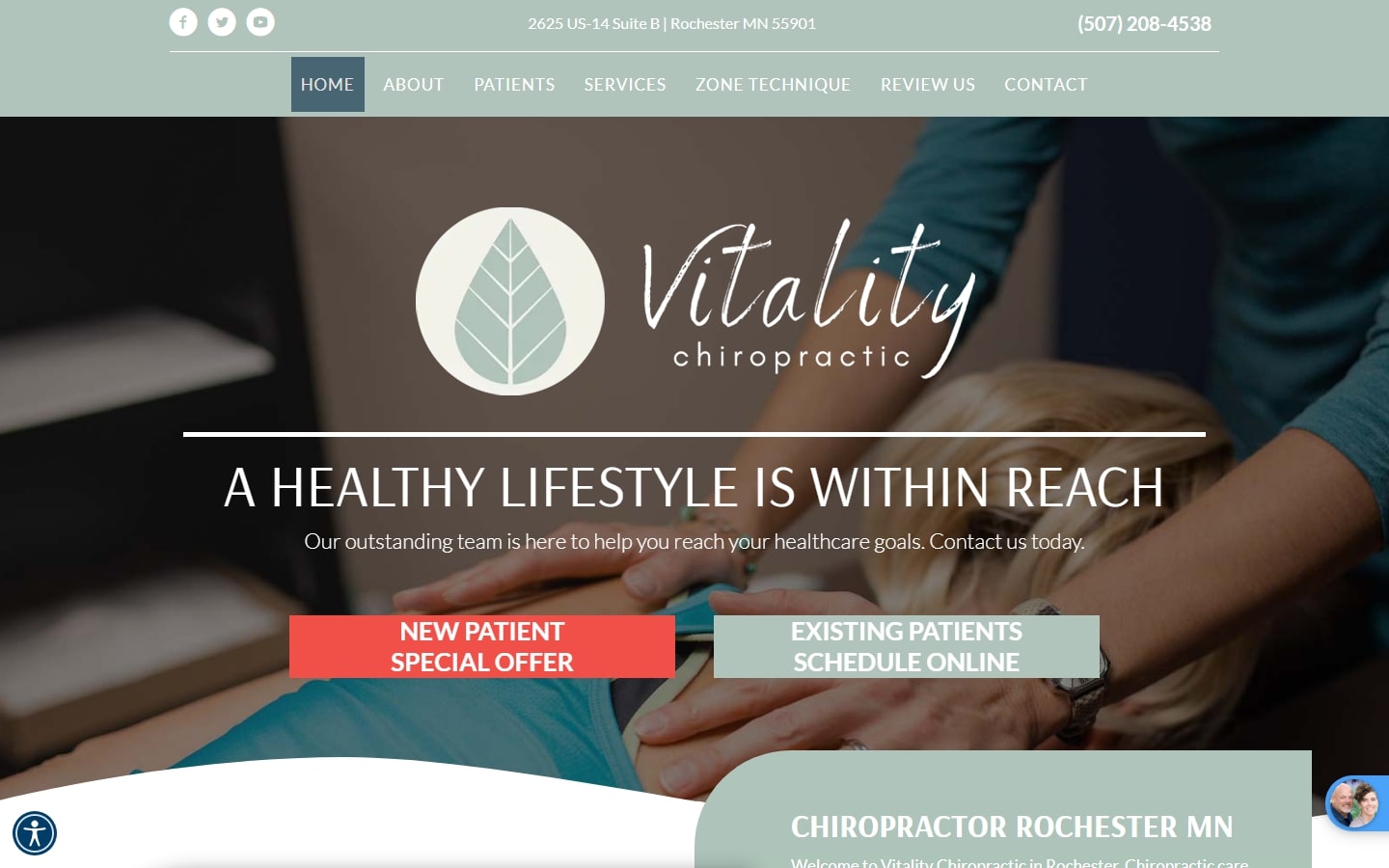 https://www.vitalityrochester.com
Website for Chiropractor
21. Chiropractic Chicago
Why it works: Big, bold text makes this website look original and professional. Adding to this, we also have those gorgeous curves and shapes that create further uniqueness in the chiropractors' site design.

https://www.chirochicago.com
22. ChiroCenter Chiropractic
Why it works: ChiroCenter's homepage instills a feeling of positivity and compassion without sacrificing its serious business professionalism. We think it's a bold approach that they're employing big icons to illustrate their chiropractic practice and services.

https://www.chirocentermn.com
23. Pure Health Chiropractic
Why it works: This website layout makes extensive use of call-to-action buttons, which increase user participation. When executed properly, the usage of shapes to introduce essential interruptions is also a smart move.

https://www.purehealthchiropractic.net
24. Goodyear Chiropractic Health Center
Why it works: Colorful, playful, and spritely, this site design is rich in visuals that patients and visitors would surely enjoy. We also like how the different colors of the buttons help keep the site's style the same all over.

https://www.goodyearhealth.com
Chiropractor Website
25. Spine Pain Relief Center
Why it works: This website's design is as original as it gets, employing an uncommon color palette of orange and black. Additionally, the layout is straightforward enough for users of all ages to utilize their health services.

https://sfchiro.org
26. Nokomis Chiropractic
Why it works: In this clinic, curious customers are greeted with kind faces and information about the chiropractic services available. In addition, the design of this chiropractic site is flawless right down to the last detail, which adds a level of professionalism that users appreciate.

https://www.nokomischiropractic.com
27. South Loop Chiropractor
Why it works: This website's design is simple yet striking. The background video integration in the hero section immediately gives life to the user experience. There's also no shortage of CTAs on every page.

https://www.southloopchiropractor.com
28. Almaden Chiropractic & Wellness
Why it works: The website design of Almaden is best described by the terms simple, straightforward, and highly effective. Additionally, we appreciate the unique iconography and color scheme that adds flair to the design.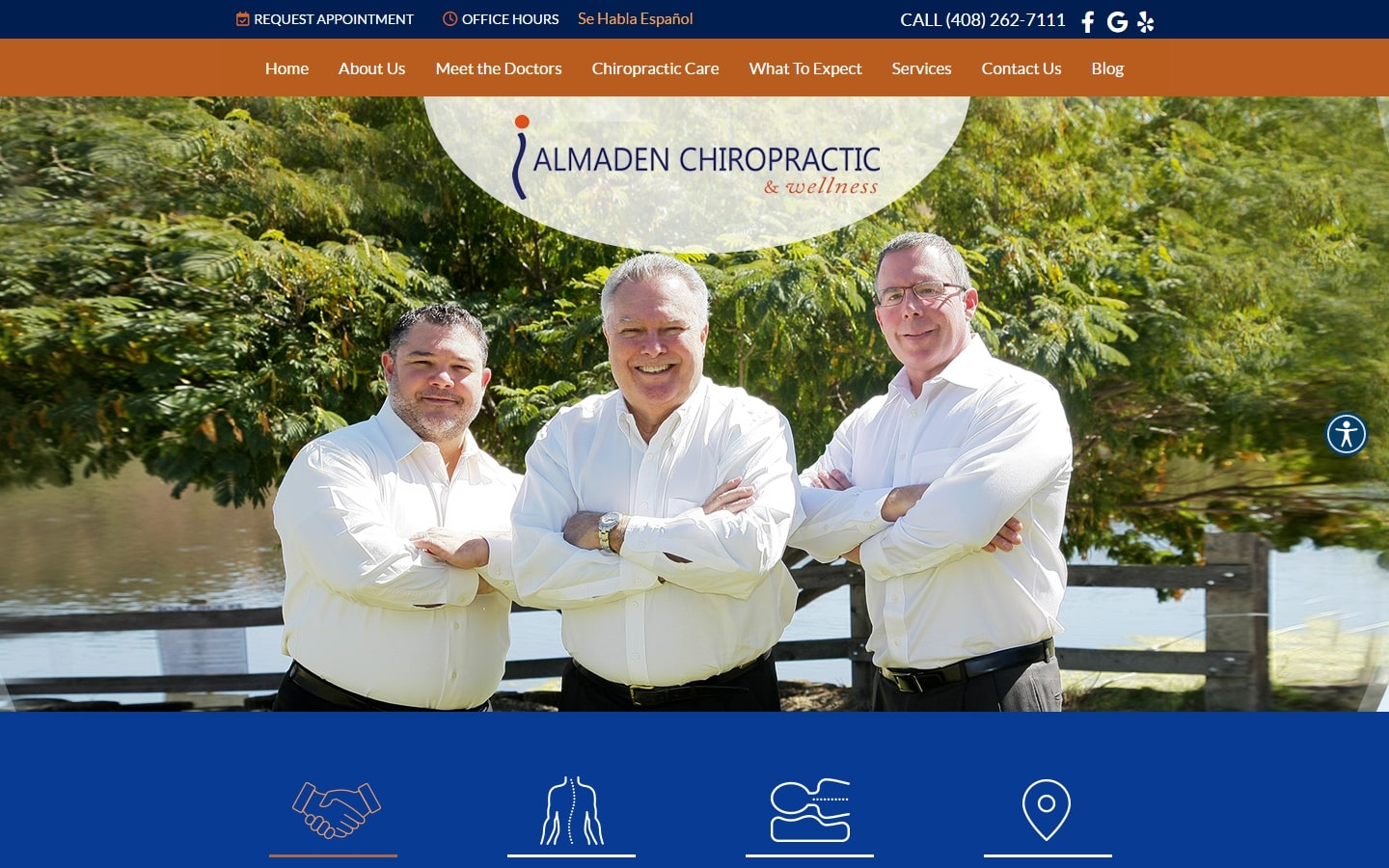 https://www.almadenchiropracticandwellness.com
Best Chiropractor Websites
29. Lakes Holistic Care
Why it works: Special offers and services are given by Lakes Holistic Care in the chiropractic industry; these chiropractic services and other wellness services are acupuncture and massage. This is made very clear by the immaculate layout of the website provider, which pushes content above everything else.

https://lakesholisticcare.com
30. Chiropractic House
Why it works: What stands out from this website design is the beautiful photography of the clinic they're trying to feature. And despite a load of text, the design doesn't feel cramped.

https://www.chiropractic.house
31. Chicago Chiropractic Center
Why it works: While it's true that this website isn't the most aesthetically pleasing option on our current list, we nevertheless find ourselves favoring its design due to its streamlined presentation of content. The images employed are also not too intense, which contributes to the overall success of the visit experience.

https://www.chicagochiropracticcenteronline.com
32. River Oaks Chiropractic
Why it works: A very professional-looking website with just the right mix of graphics, colors, and icons. All important details can also be easily found, thanks to the very tidy layout of the website.

https://www.riveroakschiropractic.com
Websites for Chiropractors
33. Shorewood Family Chiropractic
Why it works: Serving the youth population is a heavy burden. Shorewood Family Chiropractic is prepared for anything by maintaining a website that is both professional and suitable for young visitors. Large buttons also increase their visibility and potential for click-throughs.

https://www.shorewoodfamilychiro.com
34. Wallingford Family Chiropractic
Why it works: Another well-executed website that successfully combines form and function. The usage of stock photography isn't immediately noticeable in the design, and it doesn't detract from the overall aesthetic because the images flow smoothly with the rest of the site.

https://www.myseattlechiropractors.com
35. Spine & Injury Medical Center
Why it works: Compact and easy to use, we also like the bright yellow buttons that stand out from the page without breaking the design. You can also read more patients' testimonials that attest to their services.

https://spineinjurysj.com
36. Chicago Chiropractic
Why it works: There's a lot to love about this website, but a few things stand out: the very calming tone of the design; the catchy CTAs above the fold; and the floating 'Contact Us!' button on the lower right of the screen. This online marketing solution creates more leads and eventually more patients. The visible button for appointments made it easier for more patients to schedule online.

https://www.chicago-chiropractic.com
Website Design for Chiropractors
37. Atlas Chiropractic
Why it works: This amazing chiropractic website design may appear ordinary and uninteresting at first glance, but guests should not overlook the candid photographs that demonstrate sincerity and compassion. The sticky header is also really useful because it displays the navigation and contact information all at once.

https://www.atlasspinecare.com
38. Take Care Chiropractic & Wellness
Why it works: The use of Ken Burns effect on the hero area adds drama to the story they try to tell. Using credibility agents like reviews and badges helps push the company's authority to the front and convert visitors to more new patients.

https://www.takecarechiropractic.com
39. Downtown Chiropractic Clinic
Why it works: Clean, intuitive, and straight to the point, this website's design and layout focus on usability and functionality rather than employing distracting ornaments. Making an appointment on their site is a breeze.

https://www.chiropractorindowntownminneapolis.com
40. Modern Chiropractic Chicago
Why it works: The perfect design of this website is lively and exciting, with parts that burst with personality and panache. This also applies to the readability of the texts. Lastly, we adore the sticky header that permits visitors and patients to get in touch with the business without wasting time.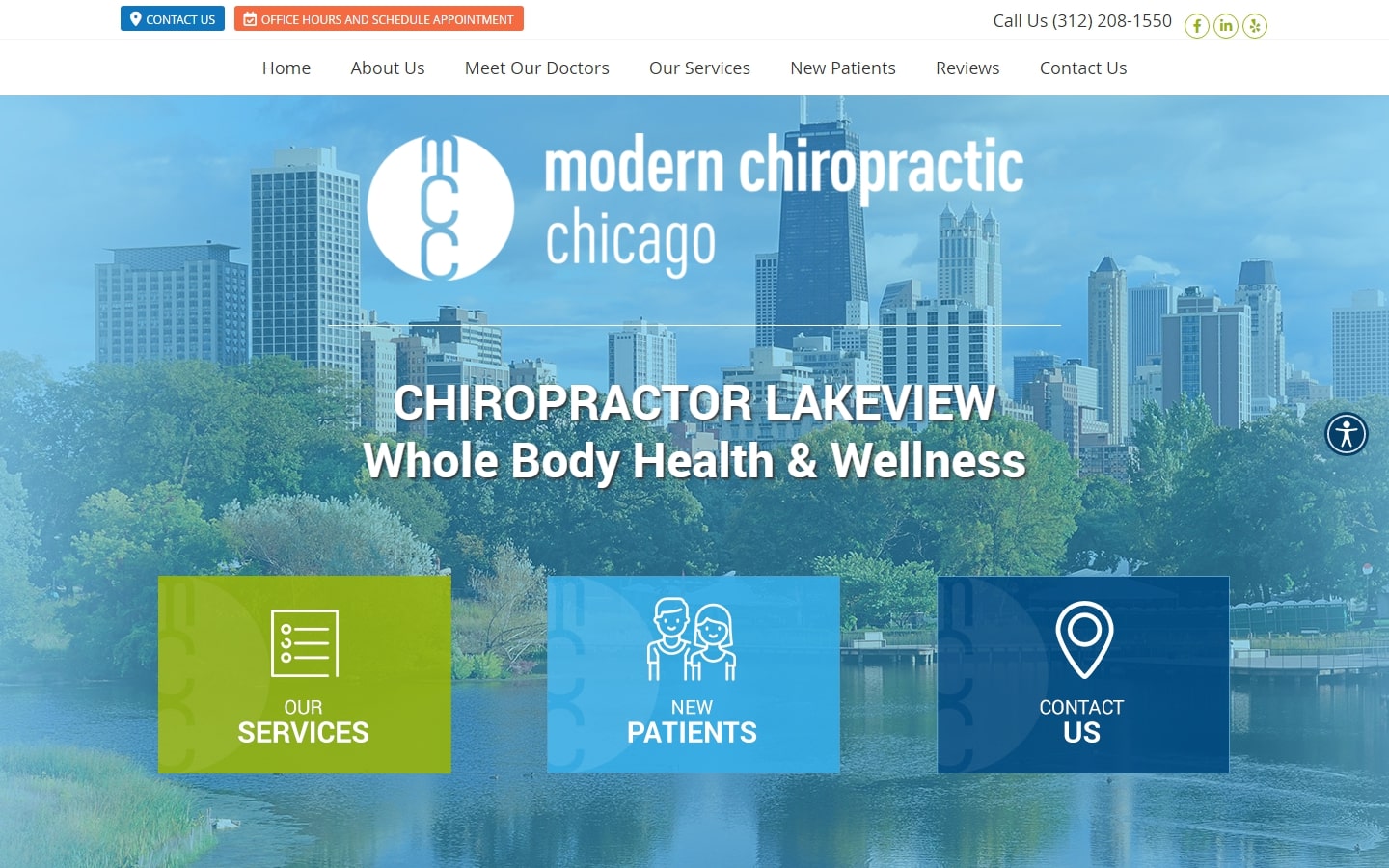 https://www.modernchiropracticchicago.com
Conclusion
With so many great chiropractic websites to choose from, you're bound to find one that suits your needs. These custom websites have a variety of different styles and designs – whether it's clean minimalism or playful graphics with an emphasis on user-friendliness! All the sites we list here would be perfect for someone looking in this field as well: they are informative and aesthetically pleasing too!
If you're ready to invest in the best chiropractic websites, then Thomas Digital will create a custom mockup of your new website before signing or paying anything. We want it done right from start-to-finish with designs that speak volumes about who you are as well as an indication of how sophisticated and professional our workmanship is.
Get started today and see the difference a well-designed company website can make in your business! That's right. There is no hassle and no risk. What do you have to lose? To find out what's possible, just click below and learn more about our Free Mockup Offer.
Chiropractor Website Design