There are many factors to consider when choosing funeral home website designs. If you're in the process of planning a funeral industry, you may be wondering what the best funeral home websites are and what makes them stand out.
When in search of beautiful funeral home websites you should take into consideration your branding, budget, and target audience. In this roundup, we will showcase the 40 beautiful funeral home website designs to inspire your marketing.
We also share what makes each website effective so that you can take away some inspiration and get started on creating your own stunning website.
1. Tulip
Why it works: Tulip Cremation is a new kind of funeral home website that is focused on providing simple and affordable cremation services. Their great website is clean and modern, with a focus on the clients' pleasant experience. You can quickly get an idea of the pricing or cost of their business services, and they even offer a free and instant quote.
www.tulipcremation.com
2. Gathered Here
Why it works: Gathered Here is a cool website that offers a lot of resources for everything related to end-of-life planning. They have a section on their website devoted to funeral homes, with info on choosing the right services and what to expect.

www.gatheredhere.com.au
3. Bethel Funerals
Why it works: Bethel Funerals is located in Melbourne, Australia. Their company website is simple and to the point. Blue colors are associated with trustworthiness and calmness, providing a feeling of ease as you browse their web pages.

www.bethelfunerals.com.au
4. InvoCare
Why it works: It is a wonderful website designed for a funeral home in New Zealand. Notice how the webpage has a section for each different type of funeral service they offer. This helps to make a great user experience more streamlined and efficient.

invocare.co.nz
Funeral Home Websites
5. Funeral Studio
Why it works: This site has big fonts and an easy-to-understand layout perfect for all clients of all ages. It has big images and an easily digestible amount of text, which help to make this website one of the best websites out there.

funeralstudio.com.au
6. Sibuns
Why it works: A modern-looking site using bold imagery to capture the customers' attention. Sibuns Funeral has a detail-oriented approach to user experience, with info about the funeral process and features broken down into easy-to-understand sections.


sibuns.co.nz
7. Gardenia Funerals
Why it works: This great website is designed with a dark color scheme, which can be seen as somber and professional. The use of white space makes this cool website feel free and airy, providing a sense of peace.

www.gardeniafunerals.com.au
8. Greenwood
Why it works: This funeral home website has a very clean and modern design. It uses a neutral color scheme and simple fonts, which help to create a feeling of peace and calm. The use of white space makes the webpage feel open and serene. They serve families of all faiths and traditions with compassion and respect.

www.greenwoodfuneralhomes.com
Funeral Home Web Design
9. Haisley
Why it works: The home page has a beautiful video playing in the background with pictures of the staff and info about the company and the services provided. They featured recent obituaries for families, friends, and loved ones to view, as well as a link to make online arrangements. Testimonials from clients help with the credibility of their brand.

www.haisleyfuneralhome.com
10. Muzyka & Son
Why it works: This website's features are very sleek and modern. The use of black and white colors with pops of green creates a feeling of sophistication and elegance. They provide a wide range of services to meet the needs and wonderful experiences of every family in the community.

www.muzykafuneralhome.com
11. Cypress Lawn
Why it works: The customer experience is prioritized on the Cypress Lawn website, which is sleek and contemporary. The usage of green, which is connected with nature, growth, and life, is ideal. The availability of a memorial park and funeral services in one location makes it easier for a loved one's life during a difficult time.

www.cypresslawn.com
12. Australian Funeral Directors Association
Why it works: The site offers customer resources, support, and info, as well as a free searchable database of funeral homes. The use of flowers and natural images on the webpage creates a feeling of warmth and compassion for a wonderful customer experience.

afda.org.au
Funeral Web Design
13. Le Pine Funerals
Why it works: They have a site that is simple to use and offers all the details you require as a family when preparing a whole-process funeral. The choice of blue evokes a sense of reliability, while the usage of white space gives the webpage a sensation of spaciousness.

www.lepinefunerals.com.au
14. Simplicity Funerals
Why it works: White space is skillfully used on the homepage to attract the attention of a customer. The best part of this site is the combination of professional-looking images and a calming color scheme that helps people avoid and forget feeling grief.

www.simplicityfunerals.com.au
15. Taffo
Why it works: This website features a very contemporary design that is simple to use and browse. The webpage feels airy and open because of the use of white space. The color red is used sparingly to highlight important and complete info. The website is also mobile-friendly.

www.taffo.com
16. Funeral Homes
Why it works: This funeral website features a search bar where you can search the website's directory of locations of funeral services. A helpful resource to help you prepare and remember. The website's usage of the flowers and the color blue fosters a sense of security and trust in most people and families.

funeralhomes.com
Funeral Home Websites Design
17. Mothe Funeral Homes
Why it works: Large images are used to highlight the different business services that they offer. The color scheme is black, white, and green, which creates a feeling of sophistication. They have local florists to prepare for your flower needs. The video is a great addition to the website.

www.mothefunerals.com
18. Sacred Space
Why it works: This funeral website homepage's prominent obituary is a lovely way to honor a loved one who has passed away. On the webpage, there are resources for support on their grief and healing that can aid in the procedure. The usage of the colors life-lived blue and white fosters a tranquil atmosphere.

www.sacredspacememorial.com
19. Bright Funerals
Why it works: Large graphics are frequently used on sites to draw attention to the variety of services they provide. This is done by Bright to encourage visitors and families to stay and look for the services they require.

www.brightfunerals.com
20. Serenity
Why it works: The custom design of this website has very modern with a clean and sleek look. The use of large images is very effective in showcasing their amenities.

www.serenityfuneralhome.com
Best Funeral Home Websites
21. Busch
Why it works: This funeral website is user-friendly and simple to use. Any customer of all ages can easily navigate web pages. Their amenities and what they offer are extremely effectively displayed through the use of a video.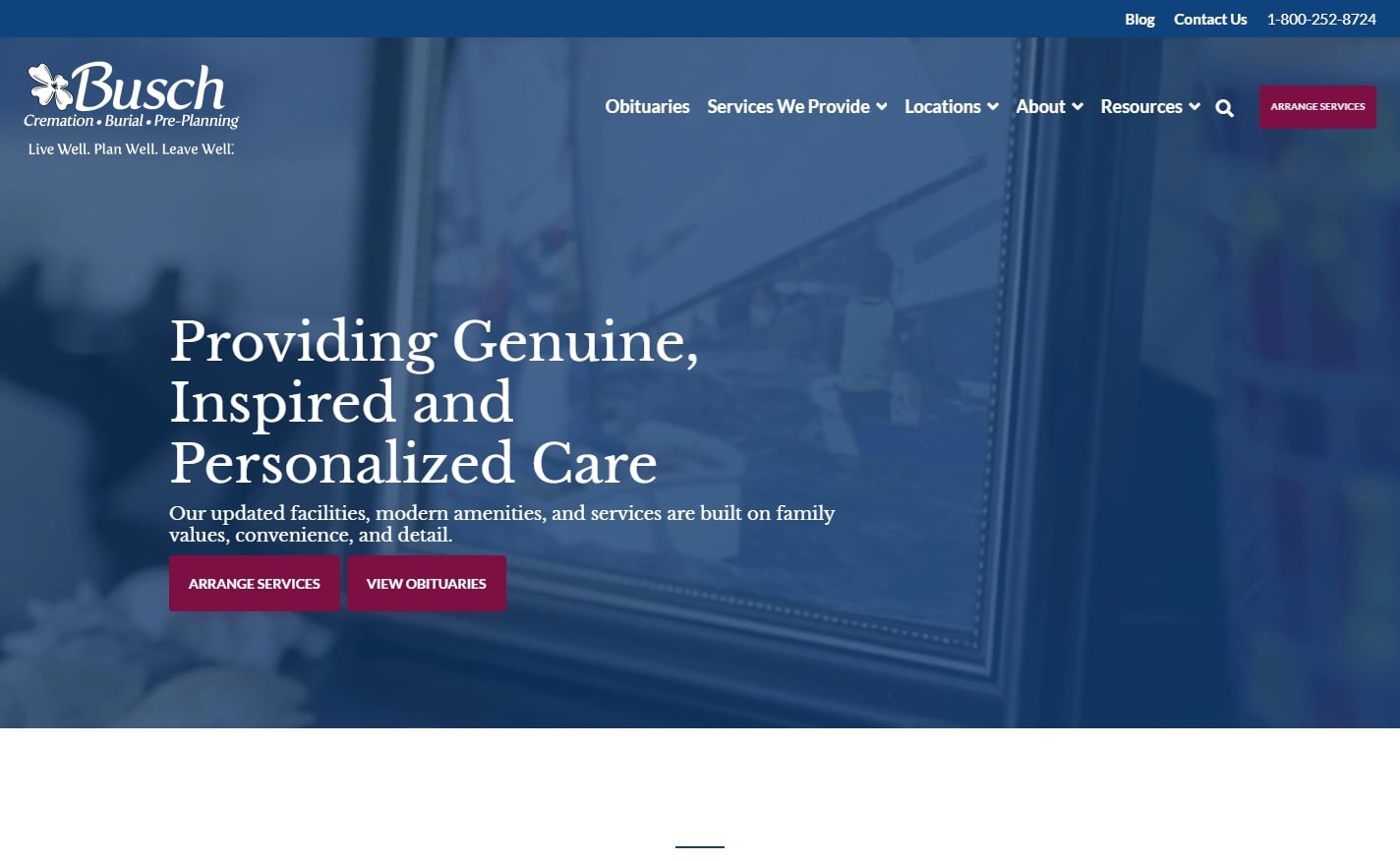 www.buschcares.com
22. Miller
Why it works: This website's simplicity, combined with its modern and elegant design, is something I enjoy. For users and families to quickly find what they're looking for, calls to action are apparent. They can effectively promote their business or company by using a slider banner.

www.millerfuneralhomefolsom.net
23. Benta's Funeral Home
Why it works: I appreciate that they include a section with resources showing support to those who are grieving. I am aware that the color red is associated with strength, yet this website strikes a balance between red and white to encourage users' ability to interact with the service and business they offer.

www.e-bfh.com
24. Hatfield
Why it works: The Hatfield funeral website has a simple, streamlined design that makes it simple to explore. The homepage includes a display of lovely pictures along with details of what they offer and their personnel of team.

www.hatfieldfh.com
Custom Funeral Home Websites
25. Chapman
Why it works: This custom design website is straightforward and well-kept, which is appropriate for a mortuary. The colors of black and white are calm and easy on the eyes. It's simple to browse thanks to large text and buttons. The business's contact number is prominent and easily seen.

chapmanfunerals.com
26. Reynolds Jonkhoff
Why it works: This website for a funeral home should be a haven of peace and comfort, which it is. The user-friendly and contemporary design of the Reynolds-Jonkhoff website makes it simple for visitors and families to locate the info they require. This website nails the user experience, which is crucial for a funeral home website.

www.reynolds-jonkhoff.com
27. Leaf Cremation
Why it works: The color schemes create a somber atmosphere that is suitable for their business website. Leaf Cremation's site is worth the visit. It is simple to cruise and read because of the large text and light color scheme. The flowers in the hero section add calmness and beauty.

www.leafcremationohio.com
28. Moore
Why it works: Bold images and text dominate the home page, which is appropriate given the subject matter. The text on the homepage is large and easy to read, making it a good choice for those who are not internet-savvy.

www.moorefuneral.com
Funeral Homes Website Examples
29. Leak & Sons Funeral Homes
Why it works: Black and yellow are color combinations that are often used in the branding and marketing of most businesses. The colors are eye-catching and can help to create a feeling of warmth and compassion.

leakandsonsfuneralhomes.com
30. March Funeral Homes
Why it works: Large images, clean lines, and a focus on real-life stories make this funeral website unique and the best. It is modern and inviting, with large images of families and friends celebrating life. The webpage also features a beautiful tribute video, which is a moving way to remember a loved one.

www.marchfh.com
31. Alvarez Funeral Directors
Why it works: What initially attracted my attention was the use of pink and delicate imagery. The team, what they offer, and the facilities are all depicted in lovely and tranquil photos.

www.alvarezfd.com
32. Memorial
Why it works: The large imagery and purple color scheme help this website to stand out as a place of solace and support. The webpage provides helpful and complete detail about making funeral arrangements, as well as grief support and counseling services.

memorialfuneralhome.com
Top Funeral Home Websites
33. Dooley
Why it works: The modern look, great use of imagery, and clean design. The home page for Dooley has it all. Current death notices and contact numbers are prominently displayed, as well as an easily accessible link to make funeral arrangements.

www.dooleyfuneralhome.com
34. Springfield
Why it works: Simple yet elegant, the homepage for Springfield is easy to cruise and provides all the details you need upfront. The "Your ceremony, your way" tagline is a great touch, letting visitors know that they will be accommodated no matter their wishes.

www.springfieldfuneralhome.com
35. Heritage North
Why it works: What makes it unique is the large image slider on the homepage with beautiful images of nature. The website is easy to navigate and find what you are looking for. There is a complete information on the website about funeral planning, grief support, and obituaries.

heritagenorth.ca
36. Batesville
Why it works: The use of rounded corners and a minimal yet elegant design creates an inviting feel for the Batesville design. The hero image shows the subdued colors giving the feeling of reverence and sadness. The use of white space allows the content to breathe and makes it easy to scan.

www.batesville.com
Funeral Home Websites Design
37. Harter
Why it works: This web page is worth the visit. It is not a typical design, but it works well for Harter. The green and gray colors work well together, providing a solemn feeling for a visitor or family looking around the website.

www.harterfuneralhome.com
38. Davis Funerals
Why it works: If you're in search of great inspiration this website is worth a visit. The combination of large images and expansive white spaces gives this webpage a straightforward layout and a modern feel. Using great videos to show guests and families the funeral home and its amenities is also a wonderful touch.

davisfunerals.co.nz
39. Dils
Why it works: A clean, professional-looking homepage providing connections to the company's services, products, and contact information. The great layout of this webpage has been changed to make it more interesting.

www.dils.co.nz
40. Morrisons Funerals
Why it works: The usage of pink colors and flower imagery led me to believe at first that this was a webpage for a flower shop. I like it because it makes the spectator and customer feel at ease. The homepage, likewise, uses earthy color choices.

morrisons.co.nz
Conclusion
There are so many great funeral websites for funeral services in the industry. You'll be able to find the perfect one that suits your needs with these custom sites – they have different styles and designs, whether it is clean minimalism or playful graphics paired with well-designed features!
What's important is that visitors, clients, and customers can easily find details about the funeral service, such as the date, time, and location. The funeral home website should also have a way for people to leave condolences or messages of support for the grieving family. You can also add testimonials as social proof that adds credibility to your brand. Last but not least, it is essential to have contact information visible and a website that is mobile-friendly on any device.
Get started today and see the difference an impressive company website can make in your business!
Our web designer will create a free mock-up of your new website. That's right. There is no hassle and no risk. What do you have to lose? To find out what's possible, just click below and learn more about our Free Mockup Offer.
Funeral Website Design