We've searched the website for the coolest HVAC websites following the hottest trends in web design and boiled everything down to these 40 heating & air websites.
1. ACS
Why it works: Very simple navigation, clear appointment options and form, lots of useful information for visitors to learn and take part in the service
https://www.acrepairslasvegas.com
2. Ehlers Heating & Air Conditioning
Why it works: Bright and prominent emergency service, big header contains all the quick info one might need especially in urgent situations, clean layout with easy-to-read texts
3. B&J Refrigeration
Why it works: Bold design elements with clear texts, video testimonials is a plus, the contact/appointment floating button is really catchy
https://www.bjrefrigeration.com
4. Air America AC
Why it works: A strong design with patriotic colors for that familiar American feel, with big phone numbeers, a live chat, lots of promotions, and other elements to complete their online identity
5. Reddi HVAC
Why it works: Compact, modern, and contrasty design, this website is as simple and functional as one can wish
6. NRG Heating & Air Conditioning
Why it works: Vivid colors, beautiful crisp images, clear declaration of services they offer, and a very organized website that makes you want to keep coming back
7. Total Comfort
Why it works: Relaxing and comforting, this site's layout is easy to navigate, is intuitive, and fits the 'just right' description
https://www.totalcomfort-hvac.com
8. Pyramid Heating & Cooling
Why it works: Everybody can really appreciate the special touch with this website design, making it feel very personal with some emotional touch.
https://www.pyramidheating.com
9. Expo Heating & Cooling
Why it works: Intuitive standard layout without looking crowded, clean typography, elegant entrance animations.
https://www.expoheatingcooling.com
10. Carini
Why it works: Outstanding imagery and graphics, with a solid blow of green that doesn't look too much or overpowering. Overall a well-executed design.
11. Flynn Heating and Air Conditioning
Why it works: A slightly unusual layout especially on the header area, but it looks like it just works well in making a bold statement about the quality of service they provide.
12. Peak Heating & Cooling
Why it works: Out-of-the-box layout with diagonal sections and gorgeous graphics, has everything one would need in the homepage alone.
https://www.peakheatingandcooling.com
13. North Town Home Services
Why it works: Clear phone number, the overall design felt like you're in the same plane as websites of the top brands like Samsung and GE Appliances.
14. Los Angles HVAC Repair
Why it works: Clean design and typography, lots of links to social media and other helpful resources, sitemap is compact yet complete.
https://losangeles-hvacrepair.com
15. PV Heating & Air
Why it works: Solid interactive elements especially on hero section, custom illustrations with animations that support well, still very easy to use.
16. Parker Heating and Air Inc.
Why it works: Using a rather unusual layout above-the-fold, the website actually has a system of content that attracts interest while maintaining the professional look it should have.
17. Trademark Mechanical
Why it works: Really love that they used original images rather than stock ones which is very common in their niche, illustration as background in footer fits very well with the website theme.
https://trademarkmechanical.com
18. 1st Class Air Service
Why it works: A very professional-looking design with very modern elements, live chat, accessibility option, and a gorgeous contact form after the hero section.
https://www.1stclassairservice.com
19. Bob Hamilton Plumbing
Why it works: Pink was rather amusing in this case because it blends well with the main blue color and the easy-to-read texts. Lots of success stories that visitors can feast on.
https://www.bobhamiltonplumbing.com
20. Command Comfort
Why it works: A bit unusual but still modern and attractive, good executive of graphics especially on images used, cool color scheme.
https://www.commandcomfort.com
21. Service Plus
Why it works: A very good design with good contrast between elements and texts, custom design on live chat section is a plus, body text easy to read and not too heavy.
22. A-1 Heating and Cooling
Why it works: Catchy color scheme, instant quote form for ease of use, chunks of texts for easy navigation of the website, use of quality original photos.
23. Tip Top HVAC
Why it works: Super clean layout and execution, solid website design theme colors and typography
24. Advantage Heating & Airconditioning LLC
Why it works: A refreshing, spritely approach to HVAC service, this website has everything you need above the fold. Phone number and that 'get started' button at the center-top is surely inviting.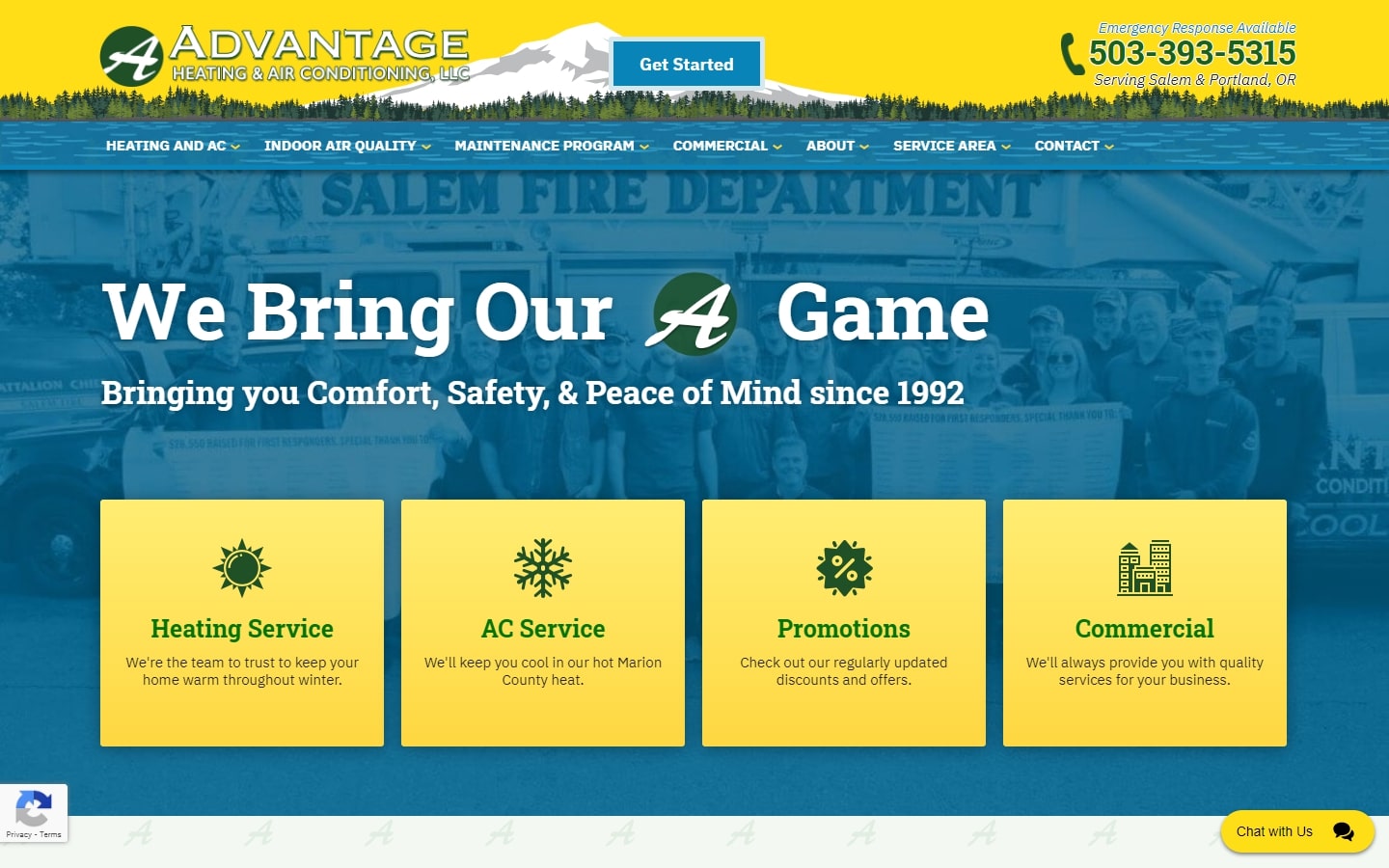 https://www.advantageheatingllc.com
25. Airduct Cleaning-LA
Why it works: Minimalist design without too much fancy elements to distract, 'get a quote' form quickly visible, clear separations of the services they provide.
https://airductcleaning-la.com
26. Service Champions
Why it works: Use of original quality images, the navigation drop-down is a must-see, solid color scheme, 5-star live chat.
https://www.servicechampions.net
27. Williams Mechanical
Why it works: A good mix of both retro-classic and modern design, interesting sticker header, lots of white space but doesn't feel empty.
https://williamsmechanical.com
28. AA-Air
Why it works: Red can be overpowering and blinding, but this site does the job well. The organization of the content is also impressive.
29. RS Mechanical
Why it works: A very contrasty website design with colors that look cool and at the same time pop. Love the elegant contact form and live chat, very crisp high-quality images.
https://rsmechanicalservices.com
30. A. Fagundes Plumbing & Heating
Why it works: Elegance and ease of use in a standard layout, graphical elements around the site surely compliments the site theme, very creative layout.
31. Preferred Home Services
Why it works: Clean layout with an intuitive organization of content, easy-to-see and easy-to-use contact form upfront, live chat, generous use of testimonials and reviews to create more trust.
32. Climate Pro Mechanical
Why it works: Totally love the simplicity of the site without sacrificing aesthetics and function. Browsing the website felt sweet and easy
33. MoreHart HVAC
Why it works: Color scheme—while common—felt very apt for the niche and the overall feel of the site, love the detail navigation and header area, parallax effect is also a welcome feature.
34. Bardi
Why it works: Lively colors with a prominent 'book online' button, use of geometric shapes, dividers between sections clearly defined, all texts easy to read.
35. Jacob's Heating & Air Conditioning
Why it works: Clean and elegant design that makes you feel relaxed and comfortable, a very homey website experience without too much elements being pushed.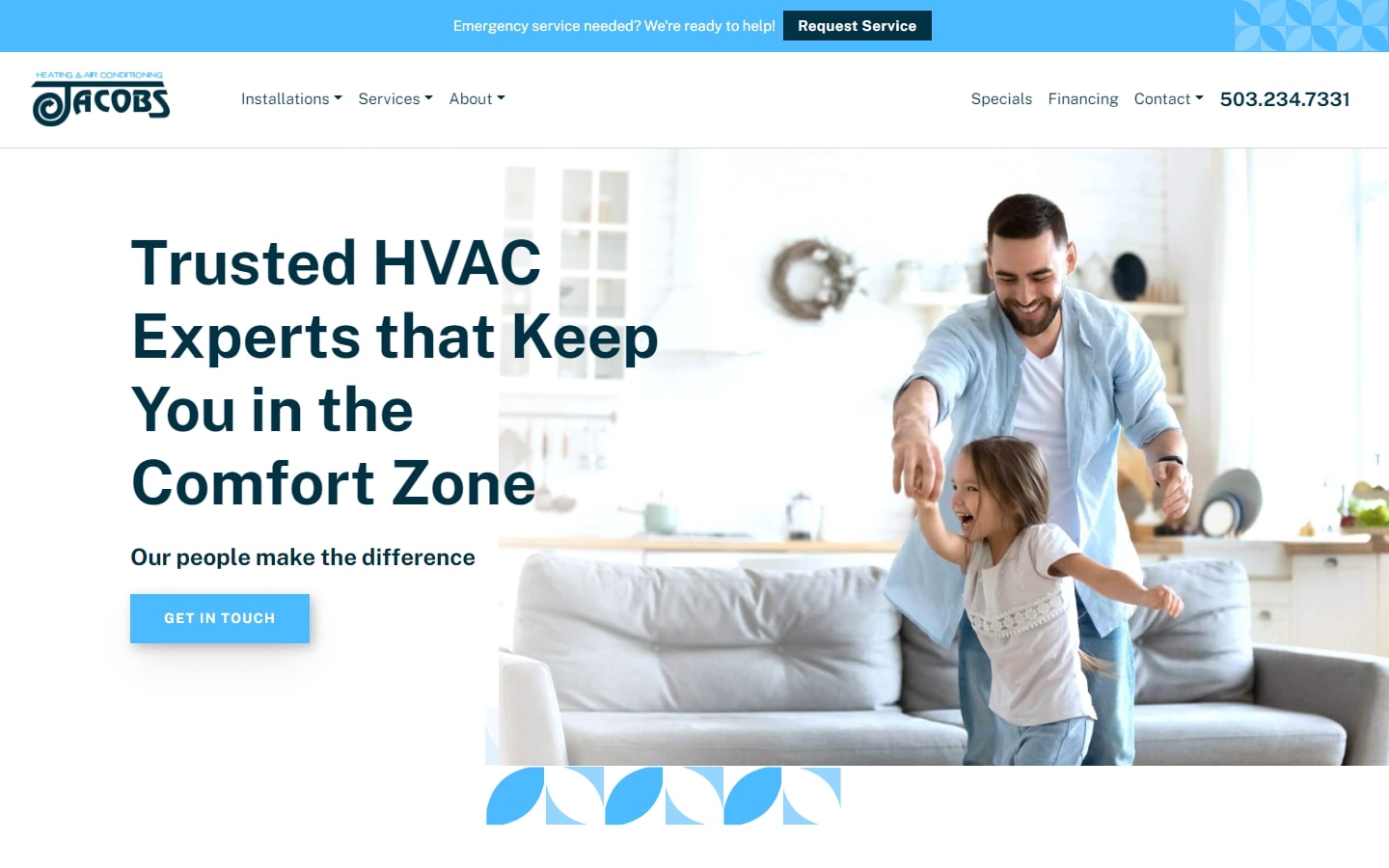 36. Revise
Why it works: A very pleasing website design with the rice choices of color, typeface, and feel. The hover and scroll effects add life to the site very well.
37. Dani HVAC
Why it works: Simple and straightforward website that gets the message across properly without the need for bells and whistles.
38. Healthy Home Heating and Air
Why it works: The logo blends very well on the header, and the color scheme of the site is very cohesive. Also love how they trimmed the body paragraphs for easier reading.
https://healthyhomecharlotte.com
39. Comfort Now
Why it works: Interesting layout with some floating elements and texts that promote their qualities, use of original images, beautiful footer.
40. Mountain Air
Why it works: A very bright, calm, and airy feel on the website that creates an atmosphere with trust, professionalism, and authority.