Looking for inspiring online mortgage lenders' websites? You're in the right place! We've searched the web for the best mortgage website design and have selected the following 40 examples of top online mortgage lenders' websites.
Some of the best online mortgage lenders' websites below use bright colors and images to capture your attention, while others take a more minimal approach. Regardless of their design aesthetic, all of these online mortgages websites are sure to give you some inspiration for your own website design.
1. LoanDrone
Why it works: The Lonedrone website features a very clean and modern design that makes it one of the top lenders' websites out there. The site uses trendy colors, clean spacing, custom illustrations, and a minimalistic layout to give users a great experience. The website is also responsive, so it looks great on all devices.

https://loandrone.com
2. Axxess Funding
Why it works: Sections on the Axxess Funding website, a company offering home loans, are well-delineated and provide a means for site viewers to find the information they need. Website viewers and borrowers can easily select loan products and services without the need to scroll further down the page.

https://axxessfunding.com
3. Better
Why it works: Better.com has a very professional and clean website like other many lenders' websites on this list. Minimal use of colors and images provide focus on multiple calls to action throughout the homepage. The fonts used are easy to read and the contrast is on point on this home loan website.

https://better.com
4. Crown Mortgage Company
Why it works: This online mortgage lender website has a very sleek and modern design. They use professional colors, icons, and fonts. Another great thing about this home loan website that stands out from the other lenders' websites is the spacing between design elements and the very comprehensive footer.

https://crownmortgagecompany.com
Best Mortgage Websites
5. Gantry
Why it works: This online mortgage lender website has subtle animations. Applying for a loan is a large financial decision, so Gantry ensures that its site is informative and easy to navigate for borrowers' online convenience. They also feature high-contrast text and large heading fonts.

https://gantryinc.com
6. Lendedu
Why it works: Lededu's online mortgage lender website is a compact website. Despite the homepage being short at only a few scrolls down, the website is jam-packed with information about loan types, mortgage rates, interest rates, mortgage insurance, mortgage application process, home equity loans, personal loans, insurance, and other financial information.

https://lendedu.com
7. First Bank
Why it works: The First Bank website has a lot of resources to help you understand the mortgage process. Bright and highly visible colors make important sections of the website pop and get attention. You can find detailed explanations of how the mortgage process works from mortgage preapproval to mortgage rates, home equity loans, and more.

https://localfirstbank.com
8. Beeline
Why it works: Bright colors and custom illustrations make this online website stand out from other online mortgage lenders' websites. The site has an explainer video and also uses social proof such as Google reviews and testimonials from clients or borrowers showing customer satisfaction.

https://makeabeeline.com
Mortgage Website Design
9. Movement Mortgage
Why it works: The Movement Mortgage website puts emphasis on stories of real people and their commitment to social responsibility. This is further emphasized by images of different ethnicity and zero stock photos. The bold heading fonts work well with dark and light backgrounds.

https://movement.com
10. Neighborhood Loans
Why it works: The Neighborhood Loans, a firm offering home loans such as purchase and refinance loans, features an easy-to-digest, well-defined section, and consistent use of company colors throughout the website. The loan calculator on the homepage is also a very useful tool to easily calculate fees such as down payment, interest rates, mortgage rates, and lender fees.

https://neighborhoodloans.com
11. Salcey Mortgages
Why it works: The homepage of Salcey Mortgages' website is short but concise. It features information about this best online mortgage lenders company and logos of awards they received. Testimonials are also present that shows customer satisfaction, a team page, and other pages about loan types or loan products and protection like private mortgage insurance and homeowners insurance.

https://salceymortgages.co.uk
12. Silverton Mortgage
Why it works: This loan website has well-defined homepage sections that move on the page with subtle animations as you scroll down the website. The site also features effective use of whitespace and consistent and minimal use of company colors.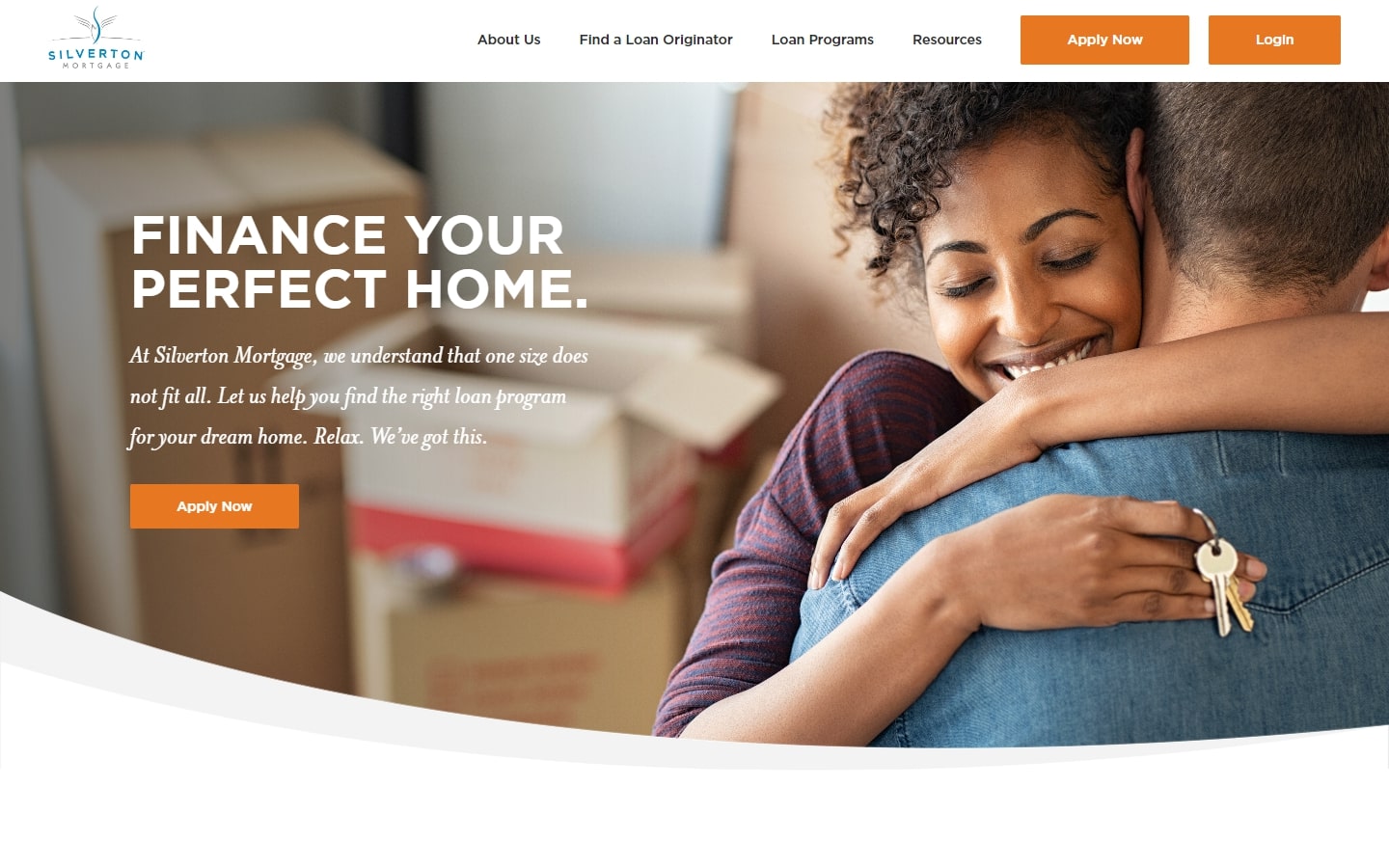 https://silvertonmortgage.com
Mortgage Lending Websites
13. VRM Lending
Why it works: VRM Lending's website has perfectly aligned sections and design elements. The combination of thin and bold fonts adds emphasis to important keywords. The sticky navigation also ensures that website viewers and borrowers can open any webpage anytime.

https://vrmlending.com
14. American Financial Network
Why it works: Despite the heavy use of stock photos, the main features that make this loan website effective are the mortgage payment calculator, finding a local expert by city or ZIP code, a link to a free quote, and regularly updated articles.

https://www.afncorp.com
15. Amerisave
WWhy it works: AmeriSave Mortgage's website features high-quality images, animated gifs, and icons. The hero section image treatment reflects the color and shape of their logo. The inner pages are well-detailed with their loan products or loan options. The website also features language options between English and Spanish.

https://www.amerisave.com
16. Avidia Bank
Why it works: Avidia Bank features unique custom 3d illustrations on its homepage and several inner pages. Tabbed sections also allow the webpage to display a lot of information about loan options and loan types without overwhelming website viewers and borrowers with too much content.

https://www.avidiabank.com
Best Mortgage Website Design
17. BrightPath
Why it works: BrightPath checks out several necessities in a mortgage lending website such as strong calls to action, a clear statement of purpose, mortgage calculators, testimonials, updated articles on loan types, online mortgage pros, payment assistance programs and services, sticky top navigation, contact information, and a comprehensive footer.

https://www.brightpath.com
18. Camelback Mortgage
Why it works: This loan website is both functional and elegant. This is evidenced by the consistently styled images, stylish fonts, subtle transition animations, beautiful mouse-over effects, well-sectioned content, and an accessibility widget.
https://www.camelbackmortgage.com
19. CoreVest
Why it works: CoreVest's loan website is an example of a corporate website characterized by sharp edges and shapes, alternating dark and light sections, clean fonts, and standard colors. Other important items include the top sticky navigation, social proof, and partner logos.
https://www.corevestfinance.com
20. Expert
Why it works: We can see consistent and creative styling throughout the Expert Financial Planning website, from the curves to the image containers. The website has a strong and brief statement of purpose supported by the succeeding sections.
https://www.expertifp.com
Mortgage Lender Websites
21. Fidget JP Partners Financial
Why it works: Fidget JP Financial Partners is straightforward and simple. Very limited use of images, more text, and solid colors. The website's presentation started in the hero section and the secondary call to action near the footer culminates the website browsing experience.
https://www.fidgetjppartners.finance
22. Finance of America Mortgage
Why it works: This loan website does not have the typical header navigation found on most mortgage websites. Instead, they have descriptive titles for links to their inner pages. The site is simple but sincere. It features social proof, mortgage calculators, and a contact form near the footer.

https://www.foamortgage.com
23. GFL Capital Mortgage
Why it works: From the header to the footer, the GFL Capital Mortgage website has good spacing between elements and sections. Aside from containing their catchy statement of purpose and a custom illustration, this section also has a calculator and their main call to action to start an application.

https://www.gflcapital.com/
24. Insignia Mortgage
Why it works: The website of Insignia Mortgage features a large statement of purpose on the hero section together with a window containing current return rates or interest rates. The site also features regularly updated news content. The website has client testimonials and logos of media companies where they were featured.

https://www.insigniamortgage.com
Mortgage Loan Website
25. Ridgewood Savings Bank
Why it works: Ridgewood Savings Bank has a unique and creative website compared to other mortgage lending companies. Aside from the very colorful sections, the hero section is a collage of what looks to be a random image of ordinary household stuff. Moving the mouse over each box reveals common questions about mortgage lending and a link to view answers.

https://www.joyofhomeownership.com
26. Lending Hands
Why it works: Lending Hands Mortgage Brokers has a website that functions similarly to a storybook. Each section leads to the next section via animated transitions as you scroll down. Custom illustrations also appear in each section. A contact form is found at the end of the webpage which gives easy access to borrowers.

https://www.lendinghands.com.au
27. Loansteady
Why it works: This loan website uses quality photos. All their photos contain elements with a similar shade of blue with their firm's colors. The website is not cramped with content text, just a little bit of text to lead borrowers into the different pages within the website.

https://www.loansteady.com
28. Mission Mortgage Colorado
Why it works: The website of Mission Mortgage Colorado is a very light and soft appearance to it. Containers and design elements are rounded or with rounded corners. The website uses a large amount of whitespace which adds emphasis to the alternating content. Micro animations also add to the browsing experience.

https://www.missionmortgageco.com
Mortgage Company Websites
29. MNEY
Why it works: The website of MNEY uses a bright color palette that is consistent throughout the whole website. It also features custom illustrations using the same colors as well. From a design perspective, the website is very similar to several tech firm websites despite this site being a private mortgage market firm.

https://www.mney.ca
30. Mortgage Box
Why it works: Large heading fonts, video backgrounds, and content are the main design features that are utilized in this loan website. Most of the content on the homepage is geared toward presenting information about the firm and how capable they are as a top lender. Other pertinent information to support this are testimonials, social responsibility, and years of service. They also offer free lender fees which is beneficial to the borrowers.

https://www.mortgageboxnv.com
31. Mortgage Hippo
Why it works: Mortgage Hippo's website is well-organized and professionally designed. The website starts out with the benefits they offer and is then followed by sections detailing their mortgage products, services, and features. Images are clickable and extend to fill the viewport once clicked. Almost all of the design elements are blue, however, buttons are colored with a bright pinkish red accent color.

https://www.mortgagehippo.com
32. Mortgage House
Why it works: The website of Mortgage House features a loan application process online form in the hero section. At the end of the webpage, contact information and other call-to-action section are present. Although the site looks compact, it houses important sections like calculators and other mortgage-related resources and services. If you value online convenience this site is worth emulating.

https://www.mortgagehouse.com.au
Best Mortgage Website
33. New American
Why it works: New American Funding's website is short and concise. Website visitors and borrowers can easily find the information they need through the well-laid-out content and their corresponding button links. Awards and testimonials are also present towards the end of the webpage.

https://www.newamericanfunding.com
34.NexBank
Why it works: Not typical for most mortgage websites, NexBank's website uses black and white monochromatic shades throughout their homepage. The animated design elements move in the background together with the text content change as you scroll down the page.

https://www.nexbank.com
35. New Zealand Mortgage & Securities
Why it works: New Zealand Mortgages and Securities' website is an example of a minimalist website. They use minimalist fonts and barely any graphical design element. The video background in the hero section adds movement which cast up to the great online experience of the visitors.

https://www.nzms.com
36. Prosper
Why it works: Prosper has a very professional and clean online lender website. The fonts used are easy to read and the emerald green color works well as they are blended with lighter shades of the same color. The whitespace between sections makes the website look uncluttered.

https://www.prosper.com
Mortgage Websites
37. RecovCo
Why it works: Recovco's website uses creative design elements like the animated isometric illustration in the hero section, unique shape and placement of image containers, and creative section breaks and background shapes. The stylish heading fonts also add a level of sophistication and excellent online experience to the loan website.

https://www.recovcomortgage.com
38. Seasons
Why it works: Seasons Federal Credit Union has a friendly and fun vibe characterized by the use of several bright colors, pictures of happy people, and pictures of people with nature at different seasons of the year. Their website offers online convenience for both lenders and borrowers.

https://www.seasonsfcu.org
39. Umpqua Bank
Why it works: Small but creative design elements and consistent colors are some of the features of Umpqua Banks' website. Sections on the homepage are well defined and use a good ratio of photos, icons, and text. Looking closely, all of the images of people on their best mortgage lenders website are smiling.

https://www.umpquabank.com
40. FHA Loans Maryland
Why it works: FHA Loans Maryland has a professionally built website that houses links to easily find information within the many pages on the site. This further strengthened by the sticky top navigation and the detailed website footer.

https://fhaloanmaryland.com
Conclusion
Whether you need a website for your mortgage lending business or just want to learn more about how it works, we can help.
There are multiple lenders' websites but these are some of the top mortgage lenders' websites we've seen so far. Designing the best online mortgage lenders' websites can be challenging because you need to show off their products and services in the most favorable light for customer satisfaction and provide easy ways for users to get in touch with the lender. But with well-designed online lenders' websites, you can make a great first impression that will give clients, borrowers, and home buyers the confidence to work with you in building, refinancing or purchasing their dream homes.
Feel free to reach out and our team will be happy to help. To find out what's possible, just click below and learn more about our design services and Free Mockup Offer.
Custom Mortgage Website Design