Looking for inspiring plumbing websites? You're in the right place! In this post, we've gathered 40 of the best plumbing websites for your inspiration.
These high-quality plumbing websites come from all over the world and represent a variety of styles. Plumbing is an essential service, and these company websites reflect that with their straightforward designs and easy-to-use functionality. No matter what kind of plumbing business or plumbing services you have, you'll be able to find a professional plumbing website that suits your needs.
So, without further ado, here are 40 of the best plumber websites in the plumbing industry:
1. S&D Plumbing
Why it works: S&D Plumbing's website features creative background patterns, section dividers, and unique image effects. Their creative website has a design not seen on most plumber sites. Great use of color and contrast, subtle hover animations, creative fonts, and contact information for website visitors are visible at all times.

https://sanddplumbing.com
2. The Pink Plumber
Why it works: This plumbing website features light colors, rounded shapes, 3d graphics with motion hover effects. The site gives a friendly vibe mainly because of the colors and free-flowing design. The plumbing website content is comprehensive and well-organized. Call-to-action buttons and links are sprinkled throughout the different sections.

https://thepinkplumber.com
3. American Plumbing Systems
Why it works: American Plumbing System's business website is professional, modern, and sharp. The site features highly visible buttons and links, good color contrast, and well-designed sections. It is easy to find information on the site since the homepage has links to all the inner pages. Plus points for using team pictures, testimonials, and featured past projects of the plumbing company.

https://americanplumbingsystems.com
4. Epic Plumbing
Why it works: The plumbing website of Epic Plumbing has high-quality images of their team and equipment all over their site. The alternating dark and light sections with curved section dividers help to organize their content. The plumbing company's website colors are well-utilized and implemented even on icons, buttons, and image containers.

https://www.epicservices.com
Plumber Websites
5. Paladin Plumbing
Why it works: This plumbing website is clean and professional with a modern design. The illustrations and use of blue shades on white add a "tech" feel. The top sticky "Get a Free Estimate" form makes it easy for website visitors and potential customers to get in touch with the plumbing company. Their specific services like drain cleaning are well-organized and easy to find.

https://paladinplumbing.com
6. Ingram Plumbing
Why it works: The plumbing website of Ingram Plumbing features large and bold heading fonts, bold and strong colors, and an appealing hero section. The site also prominently displays its years of service, accreditation logos, and client testimonials that build trust.

https://www.ingramplumbing.com
7. Tom Drexler
Why it works: Several good features of Tom Drexler's plumbing website include their service area with a map and links, photos of their crew and equipment, sticky top navigation with contact information and a very visible call-to-action button, and their properly categorized/organized list of services.

https://tomdrexlerplumbing.com
8. Tristate Plumbing
Why it works: Despite the dated look of this plumbing website, they have a well-organized content structure, professional colors, and fully functional inner pages. Their beautiful website is user friendly and mobile friendly.

https://triplumbing.com
Plumber Website Design
9. Mr. Rooter Plumbing
Why it works: The ability to contact immediately from the header and a detailed list of services are great marketing tools. This plumbing website has its contact info visible on the header and footer. This website also shows a good way to use the red, white, and blue color palette in a tasteful manner.

https://www.mrrooter.com
10. AJ Buerkle Plumbing
Why it works: This plumbing website features large and bold heading texts in the header, large clear photos, and well-ordered website sections. The combination of red and black works well and helps make the site look professional. The website looks good on a mobile device.

https://www.ajbuerkle.com
11. Johnny Rooter
Why it works: Large heading fonts, patriotic color palette (red, white, and blue), minimal stock photos (plus points for inclusion). Large logo and large contact number. The contact form is on the home page. The website is also user friendly.

https://johnnyrooterny.com
12. My Plumber Limited
Why it works: The main features that make this plumbing website good are the clean and clutter-free sections, proper contrast between text and background, professional colors, readable fonts, social proof that build trust and create more leads, and highly visible contact options.
https://my-plumber.co.uk
Plumbers Websites Designs
13. Benjamin Franklin Plumbing
Why it works: Benjamin Franklins Plumbing's website is creatively presented via uneven split-screen sections. The overlapping of text container and images add visual interest to the website. The blue and yellow hues work well for plumbing websites.

https://www.benjaminfranklinplumbing.com
14. Crucial Plumbing Services
Why it works: This plumbing website is creative and modern. The unorthodox placement of content on the page adds a unique feel to the site. The large heading fonts and phone numbers work well. The widgets like the floating testimonials from happy customers for the best services rendered, social media and contact form, and link help as well.

https://www.crucialplumbing.com.au
15. Roto-Rooter
Why It Works: Roto-Rooter's plumbing website features multiple ways for them to get business. These include a phone number, a schedule online button, and a local plumber locator function. Their website is also peppered with photos and videos of their crew on the job. Customer testimonials are also utilized.

https://www.rotorooter.com
16. Hansen Air
Why it works: Although lacking in whitespace (the proximity of content looks smooshed), the colors, patterns, and illustrations make up to save this business website. From the logo to the fonts used, this plumbing website says "we are your friendly plumbers".

https://hansenair.com
Plumbers Websites
17. American Residential Services
Why It Works: Website viewers can easily find what they are looking for without the need to visit the inner pages of this best plumbing website design. Contact information and a schedule a service form are visible on the very first screen. Their company services are also nicely outlined and organized on the home page using functional tabs.

https://www.ars.com
18. Expert Plumbing Solutions
Why it works: The full-width sections of the homepage provide full utilization of the whole screen real estate to house important content text and images. The lack of whitespace however makes the site look cluttered and hard to read.

https://www.eplumbingsolutions.com
19. Homestead Plumbing & Heating, Inc.
Why it works: This plumbing website is straightforward in providing relevant information and links for new customers. Their value proposition is shared in detail in several website sections including the header. Discount coupons and logos of brands they service add further value to their digital marketing.

https://www.homesteadplumbing.com
20. Cornerstone Plumbing
Why it works: The business website looks like a classic scrapbook with polaroid-like image containers, logo buttons, and an overall color scheme. Very unique header compared to most plumbing company sites.

https://www.cornerstonepros.com
Plumbing Website Designs
21. GM Plumbing Corporation
Why it works: Large heading fonts, large page sections, sharp photos, consistent use of brand logo throughout, and solid alignment of design elements are a few of the things that make this site beautiful.

https://www.gmplumbingcorporation.com
22. Hot Water Guys
Why it works: Consistent branding of the plumbing business, use of actual photos of team and equipment used for plumbing repairs, social proof, use of whitespace. The whole plumbing website is very simple and easy to use. The loading speed is quite fast and the site is mobile-friendly too.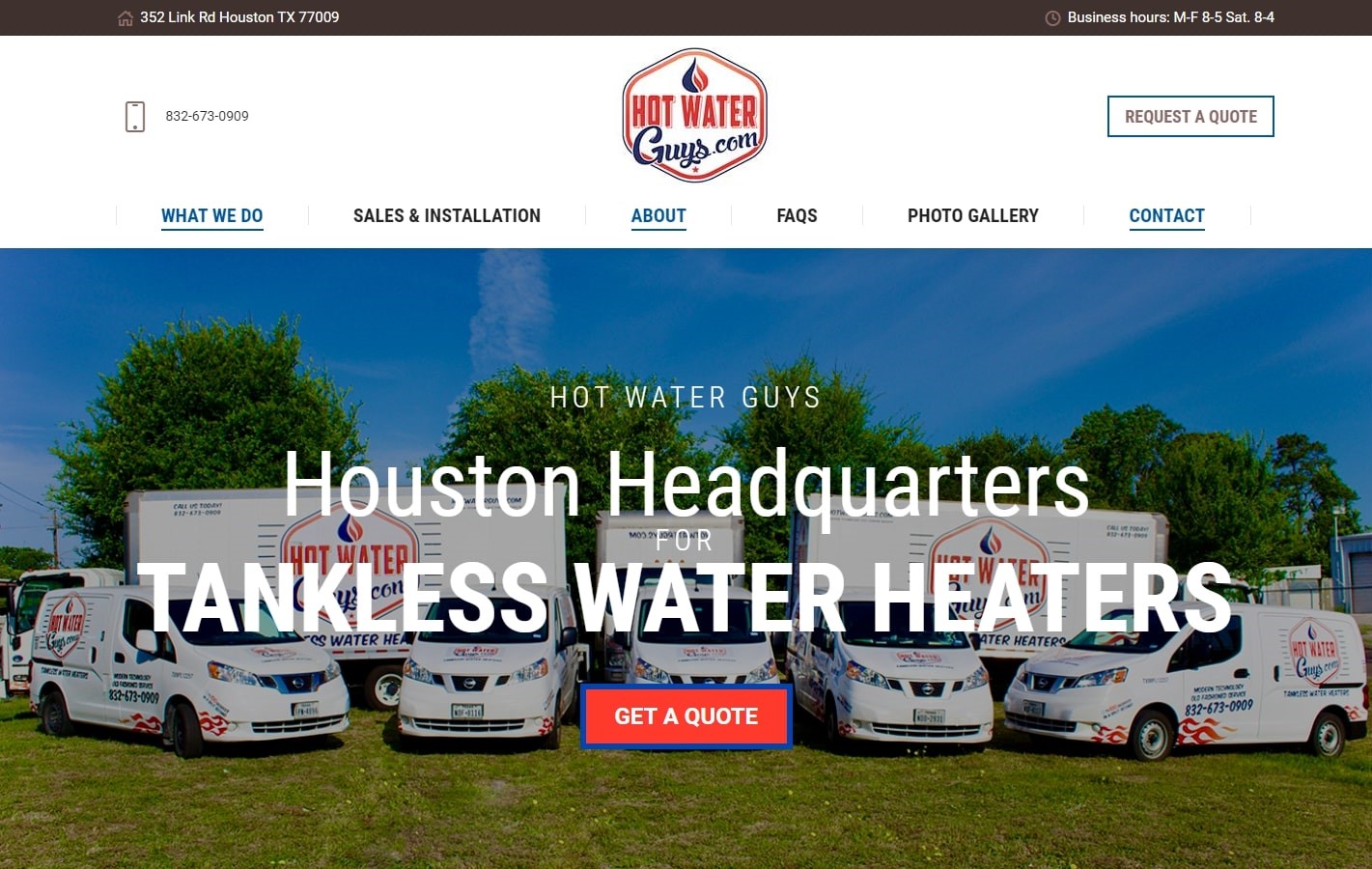 https://hotwaterguys.com
23. Main Street Heating & Cooling
Why it works: Main Street Heating and Cooling's website is sharp but friendly. Despite the images being in grayscale, the people in the photos are all smiling. The color orange also works well with both black and white.

https://www.mainstreetcomfort.com
24. Drain Doctor, LLC
Why it works: Another example of a plumbing website design with no photos or images except for the plumbing company's logo, Drain Doctor's awesome website is brief, concise, specific, and straight to the point. Content is easily digested and provides an easy browsing experience for potential clients.

https://www.draindoctornashville.com
Plumbing Website
25. Yaletown Plumbing
Why it works: Probably the simplest of all other plumbing contractor sites, Yaletown Plumbing mainly has a large heading and a button to start a service booking making it easy for a potential customer to easily contact the plumbing contractor. This style might not work for most plumbing companies and may cater to only a niche.

https://yaletownplumbing.com
26. Waterworks
Why it works: Stylish, chic, and elegant are a few words we can use to describe Waterwork's website. The site almost looks like a fashion magazine. Despite looking like an e-commerce website, Waterworks offer plumbing services as well.

https://www.waterworks.com
27. Friendly Plumbing
Why It Works: Brief and concise – Friendly Plumbing's landing page contains all the necessary information, lead capture, social proof, discount offers, and service locations. Each section is well-organized, clean, and beautifully aligned. Colors are well-matched and sections are divided by alternating shades.

https://friendlyplumbingteam.com
28. Quix Plumbing Service
Why it works: This website has its branding on point. Images they used are of their actual branded trucks, gear, services, and app, all with their logo. The company colors are also used consistently throughout the website.

https://www.quixservice.com
Website Design for Plumbers
29. Texas Plumbing Repair 24/7
Why It Works: The most important website contents for a plumbing website are present on the home page. These are the services offered like drain cleaning, burst pipe, plumbing and heating, service areas especially for local businesses, contact information, and testimonials of previous customers.

https://www.ftwplumber.com
30. Williamsburg Plumber
Why It Works: Williamsburg Plumber's website is characterized by minimalism, simplicity, and elegance. The subtle parallax background works well with the alternating sections of dark images and light sections.

https://williamsburgplumber.com
31. Kruse Plumbing
Why It Works: This plumbing website gives off a manly vibe characterized by crisp heading and content fonts, large buttons, sharp corners, and manly colors. The combination of blue and orange used works well with either dark or light backgrounds.

https://chkruseplumbing.com
32. Plumb London
Why It Works: Plumb London has a clean, simple, and subtle plumbing website design. Site viewers will notice the good use of whitespace / negative space. This gives focus to the content and services, adds clarity, and ease to content presentation.

https://www.plumblondon.com
Best Plumbing Websites
33. Tony LaMartina Plumbing Company, Inc.
Why It Works: This plumbing website design screams elegance and style. From the colors, fonts, images, icons, and alternating page sections. The content and design elements are well aligned and consistent. The inner pages also reflect the quality found on the home page.

https://www.tonylamartinaplumbing.com
34. Levine Bros. Plumbing
Why It Works: In most services-related companies such as plumbers, the use of photos of actual employees wearing their uniforms and doing actual work works well. The colors from the pictures are also the same colors used throughout this great website.

https://levinebros.ca
35. Superior Plumbing
Why It Works: Superior Plumbing's website is artsy and dynamic. The background images work well with the combination of professional and custom display fonts. The services they offer are easily found and a contact form on the homepage prompts site viewers to avail of their services.

https://superiorplumbing.com
36. Rise Up Plumbing Dubai
Why It Works: Upon initial inspection, the homepage of Rise Up Plumbing Dubai looks like a mishmash of design elements. But upon closer look, the awesome website has comprehensive information on their services that will answer even the most curious of prospective clients.

https://plumbing-dubai.com
Web Design for Plumbers
37. All American Facility Maintenance
Why it works: The website of All American Facility Maintenance (AAFM) looks professional, straight to the point, and sincere. Their company website also features graphical design functions like animation and dynamic sticky navigation among others.

https://aafmusa.com
38. FD Plumbing & Heating
Why it works: Despite the dated look of FD Plumbing and Heating's website, they do tick off some positive qualities. Notably the well-organized content structure, actual photos of crew, services, and equipment, social proof, and tons of call-to-action links.

https://fdplumbing.co.uk
39. American Plumbing Services
Why it works: Modern and stylish with a good balance of light and dark colors. Image containers and section dividers use curves that give off a friendly vibe. The whole business website is very informative with very detailed inner pages.

https://www.americanplumbingservices.org
40. Williams Mechanical
Why it works: Williams Mechanical's website is artsy and characterized by custom graphics and custom fonts. The company's phone number and request service button are always visible for easy conversion and quick service.

https://williamsmechanical.com
Conclusion
If you have your own website for your plumbing business or a plumbing company website and you want to redesign it, the examples above should give you a good starting point. this is a competitive industry so you want to make sure that your new website is mobile-friendly, creates a web presence, and will help you with lead generation.
The best plumbing websites are those that are professional, informative, and easy to navigate. Plumbing sites should also feature photos of actual employees, services, and equipment to instill trust and confidence in potential customers.
Consider what colors, fonts, images, and overall style would work best for your brand then find a Plumber website that showcases those elements. Don't forget to include calls-to-action, clear navigation, service area, and SEO which will help you get on top of search engine results.
We would love to help you create a company website that works best for your business! Feel free to reach out Thomas Digital and will be happy to help. To find out what's possible, just click below and learn more about our design services and Free Mockup Offer.
Plumber Web Design