Looking for the Financial Advisor websites on the web? We've got you covered! We've searched high and low to bring you the best of the best in Financial Advisor web design examples.
1. Stash Wealth
Why it works: Consistent use of black and gold color palette all over the website. Images and content text and wording are targeted towards a specific demographic. Use of social proof via reviews and testimonial sites, addition of social media links.
2. Timothy Financial Council
Why it works: Simple and straight to the point. Unique single image / animation on the homepage that changes into an interactive graphic element. The colors used suggest a formal and professional company.
3. Wealthspire Advisors
Why it works: Effective and consistent use of complimentary colors – blue and yellow. Use of angled lines, boxes and design elements in different sections of the website which is based on the angular lines of the company logo.
4. Braun-Bostich & Associates
Why it works: The site guides the site viewer to the specific section they need to be by providing several buttons in the homepage. To most this can add confusion and this is why it is unique to this website.
5. Avantax Wealth Management
Why it works: Clean and professional design, lots of whitespace, large images, large heading fonts. Minimal and effective use of colors – colors used to only highlight clickable elements. The absence of an image in the hero section is quite unique.
https://www.avantaxwealthmanagement.com/
6. Safran Wealth Advisors
Why it works: The fonts used in this website are quite stylish – commonly seen in fashion related websites which makes this site unique when compared to most financial websites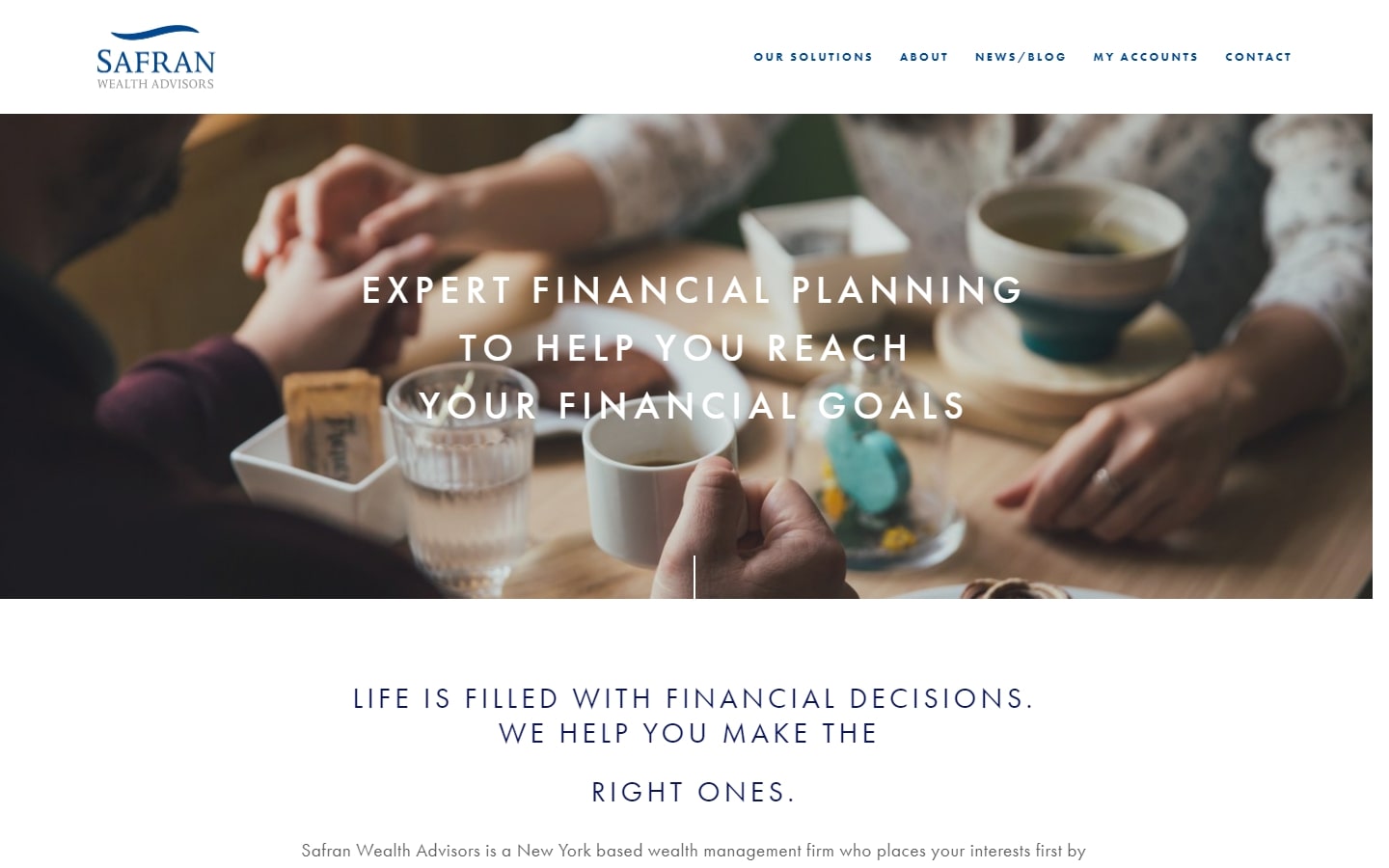 https://www.safranwealthadvisors.com/
7. Madison Bay Capital Partners
Why it works: Clean page design, beautiful spacing between content and design elements. The use of subtle graphical elements over wide images adds a creative flair.
8. Vanguard Group
Why it works: Nicely made video testimonial link section, fast page loading despite the use of large quality images. Very informative website with plenty of content which is well organized and easy to locate using the navigation dropdowns and full blown footer sitemap.
https://investor.vanguard.com/home
9. UBS Financial
Why it works: The completely light website emanates a clean straightforward website. The use of color is limited to red hues that emphasizes the logo and the call to action buttons only. The website also has language specific localized versions.
https://www.ubs.com/global/en.html
10. GSB Wealth Management
Why it works: The use of serif heading fonts and sans serif content fonts in this websites adds a professional feel. This further strengthened by the use of large negative spaces. Parallax scrolling also helps in making the site more attractive.
11. Cavallo Ventures
Why it works: The use of negative space to highlight text is used advantageously on the hero section of this website, the hero font is readable without the need to make any changes to the beautiful hero image.
12. Probitas Partners
Why it works: The functionality of the map on the homepage is very effective in showing that this company is on a global scale. This is further supported by the scrolling images of major locations around the world.
13. Guide Financial Planning
Why it works: The homepage is focused not only on the services offered by the company but also on making themselves credible via the videos, "as seen on section", and logos to affiliates and memberships.
14. Pension & Wealth Management Advisors
Why it works: Clean and well organized in terms of content alignment. The minimal use of only the color blue and its close shades adds to consistency and unity. The sharp fonts adds appeal to the site.
15. Normandy Advisors
Why it works: Use of only one color and its shades – blue in this case makes the website more professional looking. The clean, sharp fonts and the line spacing used also helps in readability.
16. R&J Financial Partners
Why it works: Beautiful hero video. Simple and straightforward homepage. Contact information present on the footer, further strengthened by a large contact form.
https://www.rjfinancialpartners.com/
17. Goldman Sachs
Why it works: Large whitespaces all throughout, sharp and professional clutter free website. Visible call to action buttons strategically positioned in several section, plus the contact form near the bottom of the page.
18. Nelson Financial Services
Why it works: Quality images used. Simple but direct to the point statements. No frills website with focus on the financial advisors and there services.
19. ND Capital
Why it works: The site features the company logos of their portfolio and they also focus on the team members in the home page, this adds to credibility and trust.
20. Sverica Capital
Why it works: Negative or white space is nicely utilized in this design. The simple iconography works similarly to the logo mark. The homepage sections are well defined and organized.
21. Bull Moose Retirement Planning Co.
Why it works: Over-all pleasantly minimal in terms of font use, image selection, and iconography. Email capture near the footer effective for acquiring email list of prospective clients.
https://www.bullmooseretirement.com/
22. Hon-Te Advisors
Why it works: Sharp element corners, sharp fonts and sharp images all help to show a professionally designed website. The homepage also serves to guide the viewer to the correct page that they need to view.
23. A.W. Jones
Why it works: The aptly selected hero images has a clear sky at the top which provides a great clear backdrop for the company logo and the navigation items. Contact information is visible on every page and is displayed in a very minimal and unobtrusive way.
24. Illumint
Why it works: The looping full screen video and changing heading text and logo adds to the unique storytelling of this website. Despite the narrow content section, the content is organized into several blocks which immediately tells a story even if you only read the section headings.
25. Good Financial Cents
Why it works: Good color contrast, large readable and friendly looking fonts, clean from top to bottom. Focus on the actual owner/founder of the company with his picture top with name – adds to credibility.
https://www.goodfinancialcents.com/
26. Krause Capital
Why it works: Attention grabbing hero section – large value proposition heading text, large background image, clear and visible logo and call to action button.
27. Fundamental Capital
Why it works: Clean and simple design in part due to the use of white and very light/subtle shades of gray. The website gives off a friendly vibe because of the colors, smiling people, and playful iconography.
https://www.fundamentalcap.com/
28. Financial Synergies Wealth Advisors
Why it works: The alternate use of dark and light sections visually groups content into bite sized sections which is effective for long scrolling websites. The addition of subtle animation effects when scrolling adds to visual impact and appeal.
29. C.L. Sheldon & Company
Why it works: Patriotic images and colors are used to cater to their target market which are the military veterans. Clean and clear text sections and updated blog content are also a plus.
30. Global Financial Services
Why it works: The high quality hero image of the business capital of Houston, Texas is a wonderful image to be seen on this website and in order to make the hero text be readable a semitransparent block is used. The fonts look professional and suitable for this website.
31. HCR Wealth Advisors
Why it works: The initial animation grabs attention and clicking on the large on-hover arrow section changes the page content that then leads to individual pages when clicked. The inner pages are beautifully organized and the elements are spaced well.
32. Bingham, Osborn & Scarborough, LLC
Why it works: The image blocks despite being asymmetrical still feels organized as they are all bounded in rectangular sections. The same is used for the team section but the images are all clickable and features a mouse over function.
33. Riviera Capital
Why it works: Professional and clean website. Good contrasting colors – use of dark filters over images to make text more readable, text content is still readable despite the condensed fonts used.
34. Newground Social Investment
Why it works: Beautiful hero section – nice full screen image backgrounds. Aside from an intro text, they also have a welcome video which adds to credibility and personal touch. Inclusion of section for partners and affiliates further strengthens this.
35. American Advisors
Why it works: The red, white, and blue colors and imagery used are all related to the name of the company. The use on page clickable sidebars reduces the need to open new pages to display additional content.
https://americanadvisors-llc.com/
36. Bragg Financial
Why it works: Tasteful and subtle animation effects, subtle background graphics and textures. Professional yet friendly looking fonts. Beautiful and actual pictures of the company's location and vicinity.
37. LPL Financial
Why it works: Effective use of alternating dark and light sections. Regularly updated content as seen in their news section. Inner pages are unique compared to most financial websites that only have plain text and white background in their inner pages.
38. The Colony Group
Why it works: Large but contained hero video background with the large hero heading text. Good combination of images and graphic elements interweaving with each other. Navigation is always visible even after a scroll thanks to sticky navigation.
https://www.thecolonygroup.com/
39. Half Dome Capital
Why it works: Visually appealing home page. The use of orange for the call to action buttons and heading text is very effective since the shade of orange they used contrasts to both dark and light backgrounds.
https://californiajudgments.com/
40. Merril
Why it works: Video in the hero section adds visual representation to the headline and sub headline text. Overlapping elements between sections and the use of subtle shadows adds depth and layering to the overall design.