Looking for the best nonprofit websites on the web? We've got you covered. We've scoured the best in nonprofit web design so you don't have to. Nonprofits are looking for ways to engage their supporters and donors in new ways. Nonprofit websites have evolved over the years from an online brochure to a rich experience where nonprofits can tell their story, share updates with followers, engage supporters, and make it easy for more visitors to take action. In this blog post, you'll find resources that every Nonprofit Web Designer should be aware of!
Nonprofit Website Design Inspirations
1. Bill & Melinda Gates Foundation
Why it works: Strong and striking statement on the hero section with clean execution of graphics. Each section narrates a different mood to match a corresponding organization's brand story.
2. WWF
Why it works: The donation and adoption buttons are immediately seen upfront. The use of a masonry grid in displaying information is elegant. The donation form is simple and straightforward.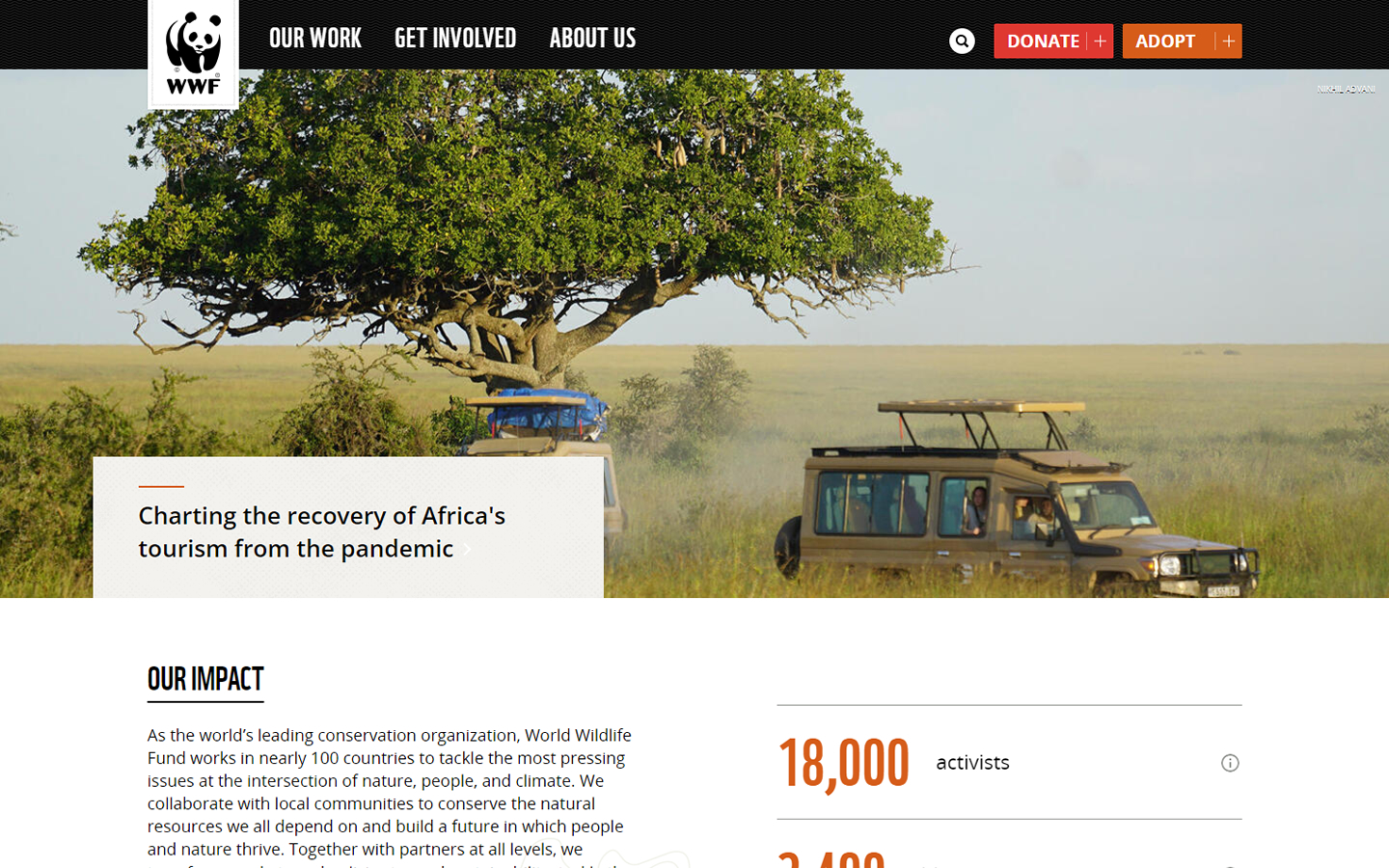 3. Naturally Boulder
Why it works: The hero banner is interesting and creative. The bright, serene hues convey optimism and faith to the target audience.
best nonprofit website design
4. Upstream International
Why it works: This website's design elements incorporate some of the most popular photo filters as a theme. Fantastic photography. Colorful yet clean web design. The donation page of the website is very organized and makes it easy for donors to see where their online donations are going.
5. Acumen
Why it works: The striking pink/magenta color scheme together with the spacious layout makes this website stand out from many websites. The beautiful sans-serif typeface added a touch of class to the visual design of the site.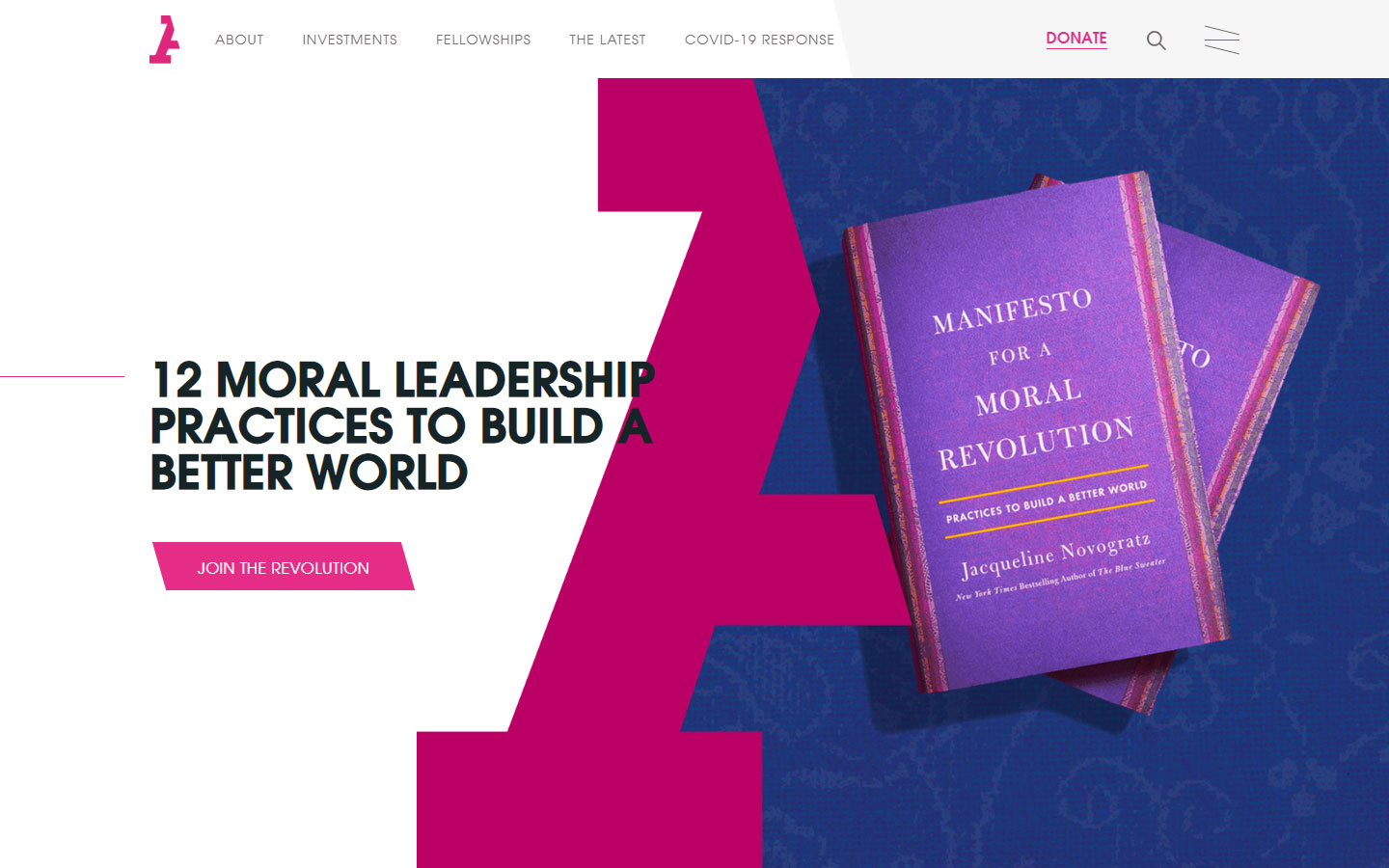 6. The Metropolitan Museum
Why it works: This web design is both elegant and sophisticated. It has a clean and simple layout with a compact navigation bar. The museum's interior was shown in a beautiful video. They accept online donations thru their easy-to-use donation page.
7. International Rescue Committee
Why it works: The clear and powerful gift-giving widget is seen above the fold of the site which makes the giving process easy and accessible. Gorgeous header and navigation. Texts are very easy to read in a nice yellow-black color scheme.
8. Memphis Zoo
Why it works: One of the most dynamic websites in this list of nonprofit website designs. A kid-friendly website without losing the best practices and functionalities. Bright colors, strong bold typefaces, and interesting and engaging images add appeal to the site.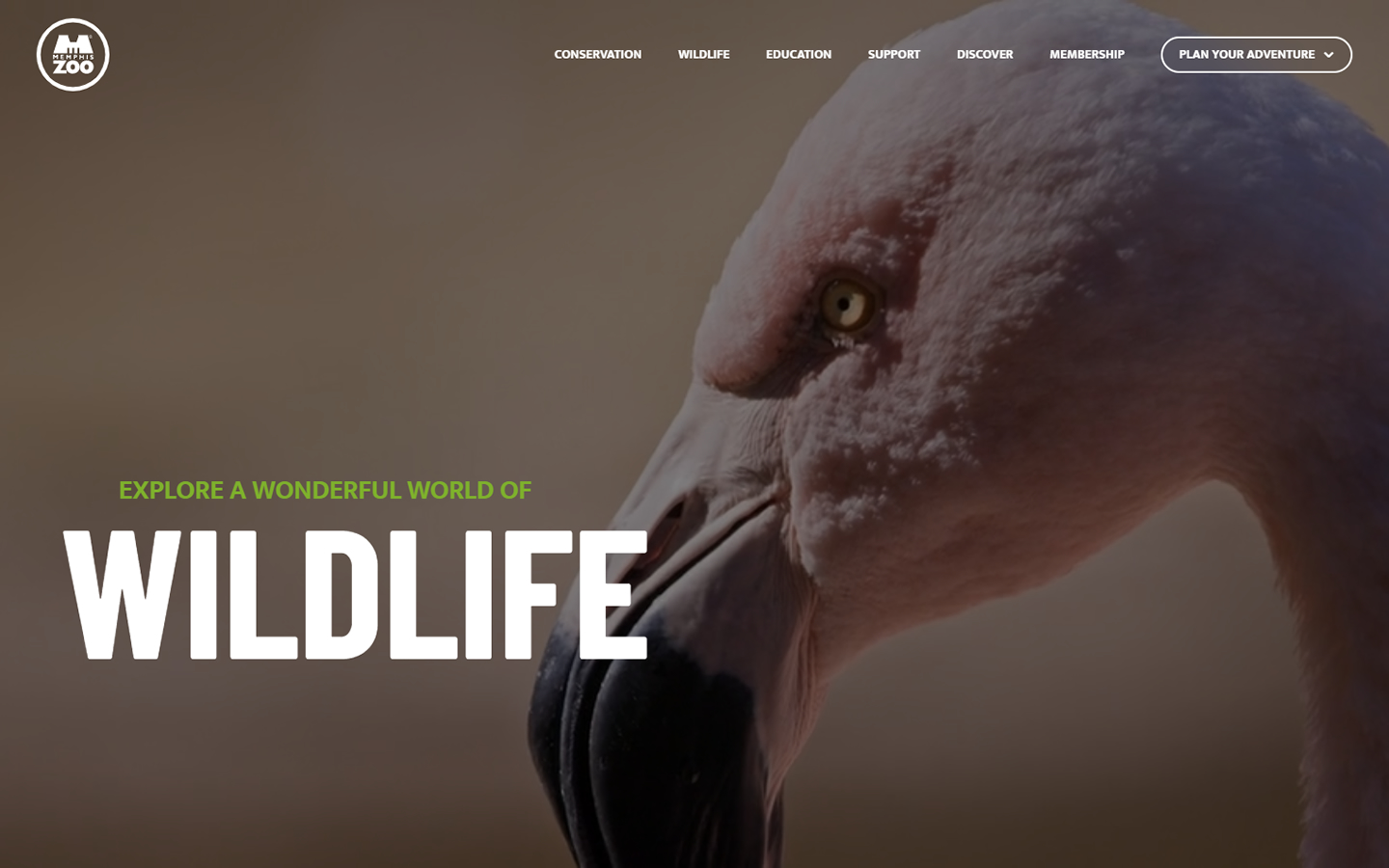 website design for nonprofit organization
9. Jedi Collaborative
Why it works: This nonprofit website design is colorful yet soothing. The site also has clean iconography and a simple layout to help users navigate it. The donation form of this website page is very well organized.
10. Zoo and Aquarium All Hazards Partnership
Why it works: A well-designed website that is both professional and clean. This non-profit site had great pictures of different kinds of animals to pique visitors' interest. The website has a responsive design making its digital presence available in mobile browsing.
11. Packaging Collaborative
Why it works: The optimistic goal of this nonprofit website is complemented by the organic curves and the green color palette. The website had a very upbeat, forward-thinking vibe. The "Join Our Collaborative" button is easily seen and accessible.
12. Adapt A Love Story
Why it works: Big bold custom fonts are used for maximum readability and usability. Each section of the homepage tells a different narrative, making the organization's story simple to understand for anybody.
13. ASPCA
Why it works: Through quality content, colors, and adorable pictures, one may feel the deep understanding, love, and passion behind this organization's goals.
nonprofit website design best practices
14. Room to Read
Why it works: Unlike the dreary, unhappy atmosphere characteristic of traditional charity websites, this bright, optimistic, and genuinely warm nonprofit website was lively, hopeful, and entirely welcoming.
15. Creative Commons
Why it works: This appealing nonprofit website has bright colors and big, bold texts. The fast donate button is strategically positioned. The explore area features icons that are very handy for locating specific niches quickly. The website has a responsive design.
16. Princeton Computational Imaging Lab
Why it works: Information is well-organized and bite-sized, and the typography is really clean. This nonprofit website has an interesting hero video that is subtle but effective.
17. Names for Change
Why it works: This non-profit website has a very evident brand identity and personality. A web design that is highly unusual yet unforgettable. Effects and functions are well coded by the web development team.
18. Greenpeace
Why it works: The donate panel is always accessible and not intrusive. This nonprofit website uses bright vivid colors.
website design for nonprofit organizations
19. American Heart Association
Why it works: Real clean web design with lots of breathing space with excellent use of red as an accent. Call to action buttons are strategically placed. Overall a very pleasing UX.
20. American Museum of Natural History
Why it works: Navigation menus that are well-designed. An excellent example of digital marketing is its use of stunning visuals and graphic design that are both attractive and informative.
21. AMI USA
Why it works: The website's text is nicely laid out in a clean light-themed website. For users' additional ease of access, the footer of this nonprofit website is well organized.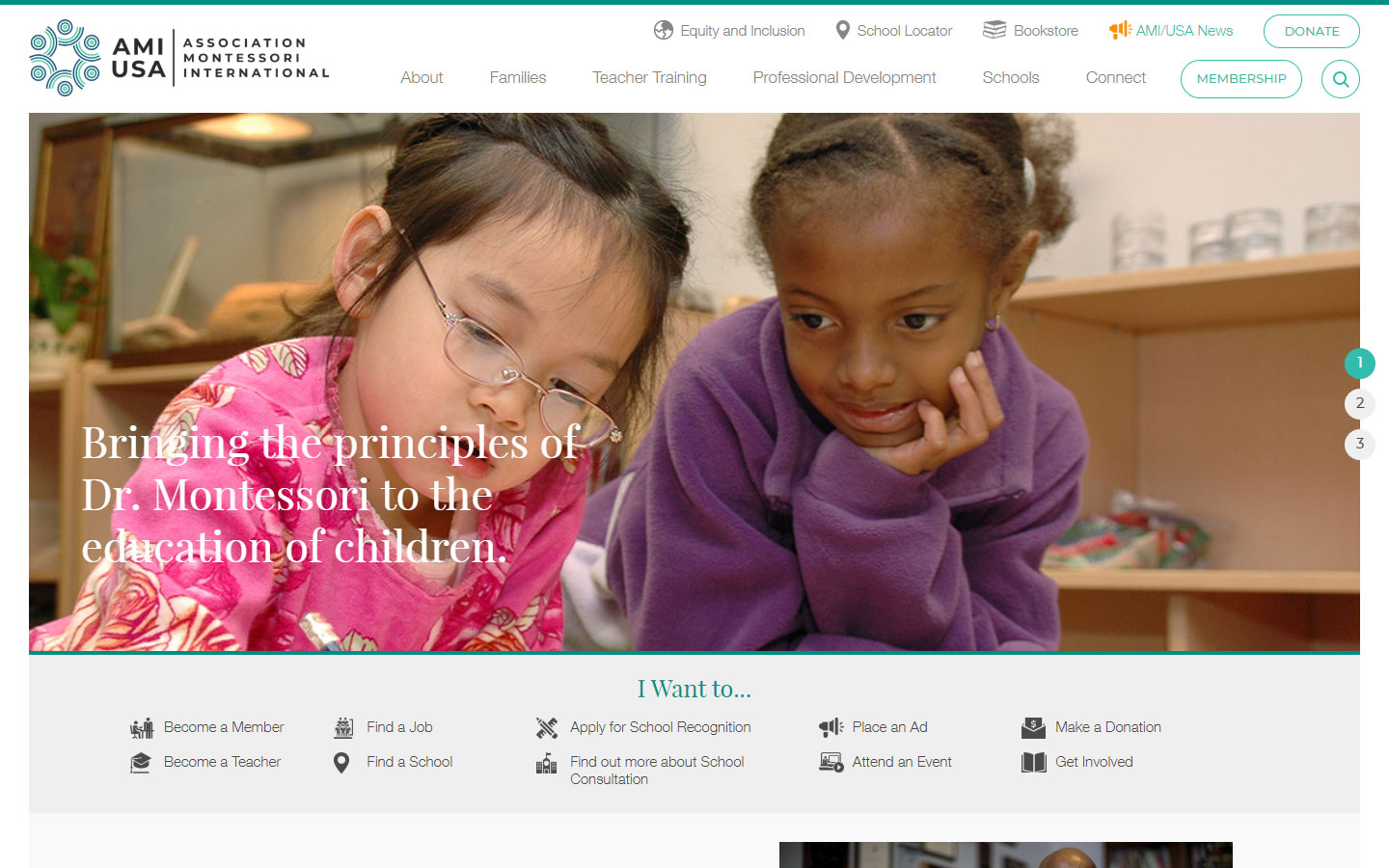 22. Paws Chicago
Why it works: The hero section contains several subsections that may be used as a portal to other pages of the site. The website's colors are pleasant, and the navigation bar is creative which are all helpful to up their web presence.
23. Wildlife Conservation Society
Why it works: The sidebar of this nonprofit organization's website is very straightforward to use. The key pages and calls to action buttons are easy to find. Beautiful imagery is used throughout the site while the footer is simple and clean.
website design nonprofit
24. NRDC
Why it works: On the header of this nonprofit website, there's a quick donate option. This website is very informative and uses a non-traditional layout. We appreciate the statistics area on this site.
25. NAWGJ
Why it works: This nonprofit website has bright graphics and colors for the hero image. Calls to action are prominent and clear. The center aligning of text makes it easy to read.
26. Care
Why it works: Adding a subtle touch of graphics to the engaging images is very smart. The large texts on several areas create intensity to this nonprofit's cause.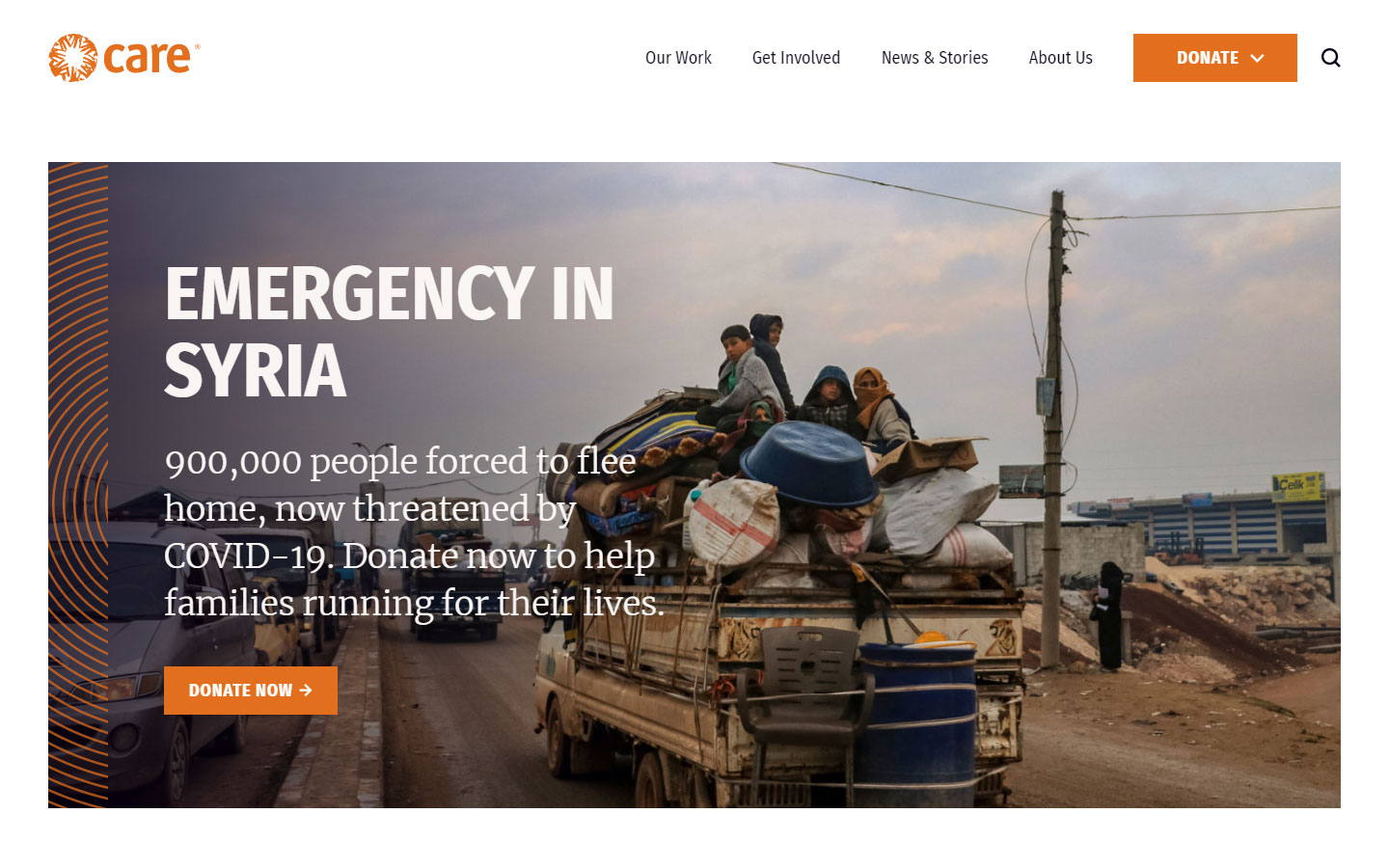 27. Rotary
Why it works: The website builder used amazing animations and transitions. The flowing line that follows the mouse as it scrolls is just genius for storytelling and content creation.
28. Open Society Foundations
Why it works: A simple web design that doesn't sacrifice quality. This nonprofit website is not image-heavy but looks modern. The interactive "where we work" section is fantastic.
nonprofit website design inspiration
29. Invisible Children
Why it works: The website builder used crystal-clear texts with a strong contrast between elements adding impact to this nonprofit website design. The sticky donate button isn't overwhelming but always accessible.
30. Philadelphia Museum of Art
Why it works: We love the minimalistic approach of this nonprofit website to showcase their articles online. This website is cozy, clean, and very appealing.
31. Witness
Why it works: One can immediately feel the seriousness of the field of this nonprofit website just by the web design alone. Provides a positive view of advocacy that is focused on community involvement.
32. Charity Water
Why it works: This nonprofit website is very quick and lightweight, with just the right amount of information delivered in the hero part. Great sign-up process animation in their online forms.
33. TED
Why it works: The entire homepage is focused on content delivery for a better user experience. Sections and thumbnails of this nonprofit website are beautifully organized without looking crowded or messy.
best nonprofit websites
34. Monterey Bay Aquarium
Why it works: The Monterey Bay Aquarium's website is a fantastic cocktail experience with beautiful photographs, moving images, texts, and information all on one page.
35. Convoy of Hope
Why it works: In the hero slider, there is a fantastic animation section. The animations creatively draw attention to the content. Also, the custom design iconography is excellent.
36. Terra Nova Church
Why it works: This non-profit website has a unique and creative approach to shapes and geometry, in contrast, to simply using photos. The bespoke icons complement the website's theme.
37. Nashville Zoo
Why it works: A beautiful harmony of web design, youthful typefaces, and imagery. Every corner has a splash of color. The web design of this website is suitable for all ages.
38. Petsmart Charities
Why it works: A white-themed website with just the right amount of color. The subtle animation adds life to the pages. Despite the amount of material on the site, it does not feel heavy and the page load time only takes a few seconds.
nonprofit website design examples
39. Valley of the Sun YMCA
Why it works: The upper right corner of this website has an ample amount of information. There is a nice blend of colors and pictures. Despite the compactness of this website, it is still effective.
40. Conservation International
Why it works: Form submissions of this website such as subscribing and donation are simple and straightforward. The subscription and donation buttons are clear. A clean web design with easy-to-read texts with an artistic footer design.