Fintech companies are on the rise, and with that comes some impressive website design. From the explosive world of fintech startups to fintech industry veterans, fintech companies like credit unions, private equity firms, open banking companies, challenger banks, and more are shaking up the financial industry with innovative financial services and products. And they need websites that reflect their cutting-edge approach to the finance sector.
So, what makes a good fintech website? First and foremost, a fintech website needs to be modern and fresh. after all, fintech companies are all about innovation. They also need to be user-friendly, since many fintech products and services are geared toward consumers rather than businesses. And last but not least, fintech websites need to be responsive and mobile-friendly, as fintech products are often accessed on the go.
From sleek, minimalist layouts to interactive infographics and bold illustrations, fintech website design is always at the forefront of the latest trends. There are many great fintech website designs out there, but here we've rounded up a comprehensive list of our favorites. Whether you're looking for inspiration for your fintech website or just want to see some creative financial institutions' website designs, these sites have something to offer to the worldwide financial technology community.
1. Betterment
Why it works: There's a lot to love about this first entry on our list of fintech companies. The website of Betterment is a very modern mix of bright solid colors, custom graphics that add interest to the rather-common niche in the industry, and interactive elements that seamlessly blend with the site design as a whole.


betterment.com
2. Stripe
Why it works: For every similar list of beautiful website designs, the one from Stripe is always a worthy addition. The homepage alone speaks so much of the skills behind the web development team. From its dynamic nature to its bright colors and gradients down to the tiniest details, Stripe gets the design job done.


stripe.com
3. Mint
Why it works: The green color, although it sounds fresh and airy, isn't always a designer's favorite in terms of a website design. But mint uses that color in the most fun way. We also love the splashes of graphics and images to further spark the already-interesting financial technology website design. The resources area also offers the latest fintech news which is great.


mint.intuit.com
4. Nerdwallet
Why it works: An ultra-modern website that's like a swiss knife to both nerds and finance professionals and enthusiasts. Each tool and section is carefully designed from the ground up to provide a very pleasing user experience.


nerdwallet.com
Fintech Web Design
5. Robinhood
Why it works: A very popular financial technology website with an out-of-the-box design. Designers come back and forth on this website because of the genius way this website is designed. The colors are also stellar, not to mention how they don't break the contrast between elements in every scroll. Their learn section is a basket of knowledge about the financial markets.


robinhood.com
6. PayIt
Why it works: Probably the most informative yet visually pleasing payments technology website on our list is that of PayIt. We love the highly professional feel from the colors down to the choice of typeface. Above all, each piece of content is turned into chunks in the most beautiful way possible.


payitgov.com
7. Cash App
Why it works: Perhaps the coolest financial technology website on our list is that of Cash App. We love the unique graphics and animations that add that specific crime-investigation feel to the site.

cash.app
8. Pennymac
Why it works: We love the original vector graphics throughout the site of Pennymac because they add colors and fun to the overall feel. The quick and easy CTAs also add a boost to conversions.


pennymac.com
Best Fintech Websites
9. Paystand
Why it works: There's a lot to love in this financial technology website, but probably one of the standout features of this site design is its mega menu. The animations and interactions of the elements throughout the site are also pleasing and snappy. Their resources page is a must-visit for fintech blogs, research reports, and research articles.


paystand.com
10. Albert
Why it works: One of the cleanest yet share the latest trends in website design is Albert's. We love the great amount of white that makes the term 'whitespace' literal. The blue accent is also spritely and adds a great hint of excitement to the financial products the company offers.


albert.com
11. Rocket
Why it works: Modern and catchy graphics, neat and organized navigation without too many links, clear buttons and interactive elements, and a row of 5-star reviews to boost the credentials of their financial brand.


rocketmoney.com
12. GiveCampus
Why it works: Aside from the very airy and clean feel to it, the website of GiveCampus is a straightforward showcase of a comprehensive range of what they offer and to whom the financial services are offered. We particularly love the idea of flooding a section with all the school logos they've assisted in the past.


go.givecampus.com
Fintech Websites Inspiration
13. Clyde
Why it works: A very powerful business website with tons of greatly coded effects and functions. On their resources page, you can find fintech blogs and content to both learn from and also apply to your financial decisions.


joinclyde.com
14. Clear
Why it works: Not all use of gradients look good for a financial services website design, but Clear's website is a good example of how well gradients can be implemented. Other than that, we love how the business tools and products are organized into cards for better grasping.


cleartax.in
15. Binance
Why it works: One of the most popular on our list is Binance's website design. Clean, stark, and sleek, this website design has all the elements working together most harmoniously and efficiently. They have low fees on transactions like global payments and up-to-date bank innovation.


binance.com
16. Unanet
Why it works: Very intuitive user experience. We love the variety of shapes that divide sections. Overall very interesting, functional, and promising to end-users. Their fintech blogs are informative and have the latest information on the banking sector.


unanet.com
Well-Designed Fintech Websites
17. Credit Karma
Why it works: The first noticeable aspect of this website design is the use of less saturated pastel colors, put against a very contrasting set of black fonts. This alone creates a unique feel to the website. We also love the cute and subtle graphics scattered all over the site. Their financial news or blogs shares an in-depth analysis of digital banking and financial markets.


creditkarma.com
18. Mantl
Why it works: Very elegant, sophisticated, yet catchy. Despite the many graphics and animations, the site didn't feel overbearing and still felt light and simple enough for the experience of the worldwide fintech community. Their customer stories add credibility to their various forms of financial services.


mantl.com
19. Brick
Why it works: This website is information-heavy, but you won't feel like it because of how the design contained the information well. We also love the unique illustrations and graphics without looking like they're afterthoughts. The wide range of financial services this business has to offer can easily be explored.


onebrick.io
20. Wealthfront
Why it works: A graphics-rich lending industry website design without the weight. We love how they manage to cramp a lot of information on the homepage alone without losing focus and without showing clutter. Their lending process is easy to understand because of the typography used.


wealthfront.com
Best Fintech Websites Near Me
21. Flywire
Why it works: One can easily tell the industry, the business, and the financial services they provide just by landing on their digital banking homepage. We also love how the sections are separated by proper boxes and whitespaces for better UX. Their digital publishing platform shares the latest fintech news on the global economy and capital markets.


flywire.com
22. GiftSoft
Why it works: Clean, contemporary, and very persuasive in telling everyone that they are one of the industry experts. This website is a direct hit for those who look for websites that just work out of the box. No-fuss, no distractions, just plain old harmony of function and aesthetics.


giftsoft.net
23. Western Union
Why it works: Bright and powerful contrasting colors of yellow and black for big impact. The texts are also sized well and very easy to read and friendly to visitors. The business and financial services of this famous financial brand in mobile banking are easily seen and understood.


westernunion.com
24. Acorns
Why it works: Another green banking industry website that does the color justice! We love how fresh and friendly the feel of this website brings. The subtle animations are also indeed welcome in adding life to the rather-boring niche of banking.


acorns.com
Professional Fintech Website Designs
25. Morty
Why it works: We love Morty's banking website because it's just simple yet beautiful, and it just works so well. The experience is very calm, smooth, and easy for users of all levels.


morty.com
26. TurboTax
Why it works: Turbotax is a very popular website, and luckily, its design is up to par with the quality of the financial services they provide. We love the generous amount of whitespace from one page to another, making the odd feeling of taxes be replaced with feelings of excitement.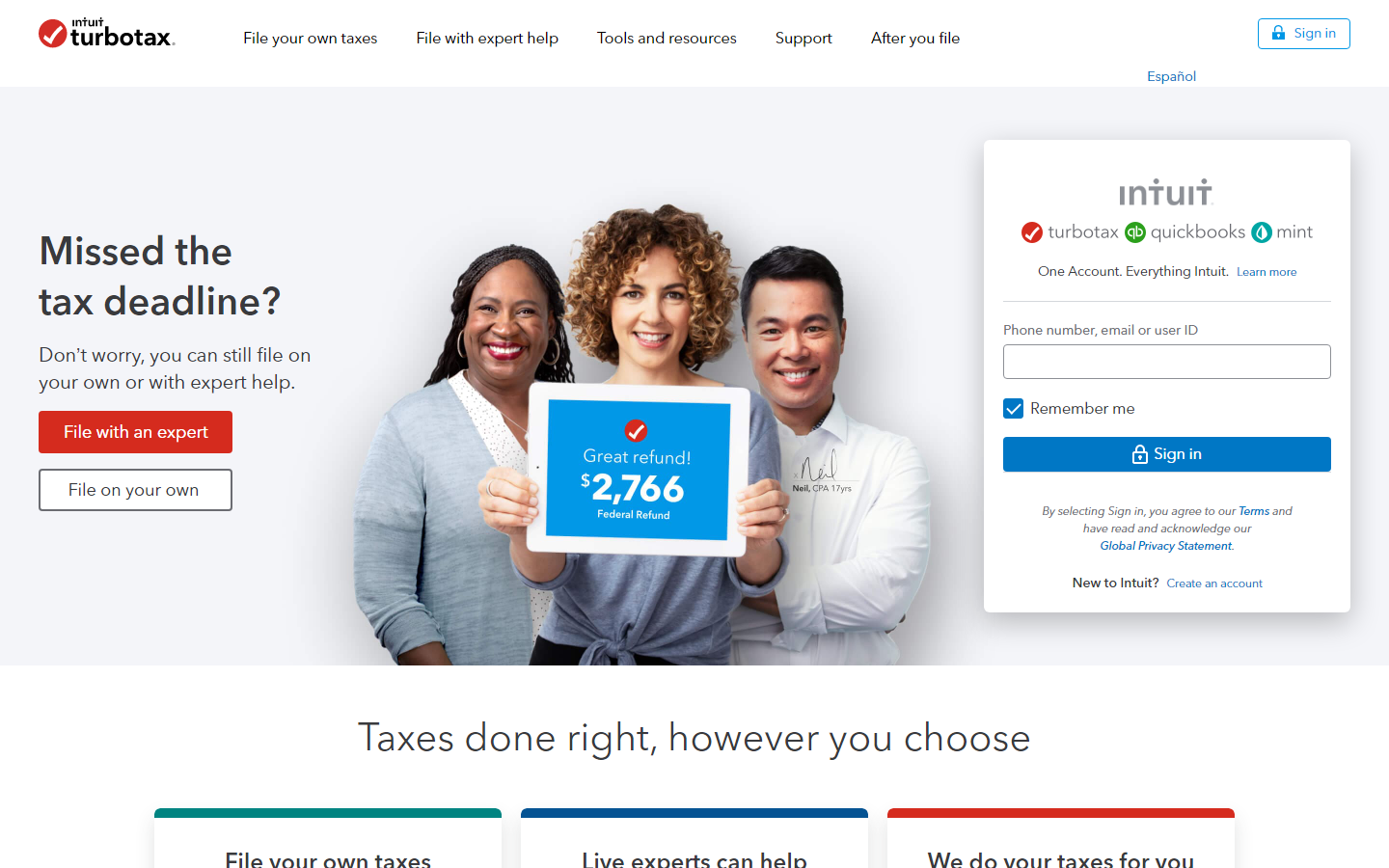 turbotax.intuit.com
27. Chime
Why it works: Many modern websites today don't use sliders much, but the website of Chime does it and it works very well. The overall theme also speaks well of the message the company tries to convey, and the financial services they offer, all in a very smooth fashion.


chime.com
28. Revolut
Why it works: One who's into the iOS devices will find the design familiar, but this ain't Apple! Nevertheless, we love how organized the website layout is, not to mention the beautiful colors that make the website feel modern and sleek.


revolut.com
Web Design for Fintech
29. Coinbase
Why it works: Super clean yet impactful website design. We love the live stats showing the latest developments of cryptocurrency readily visible above the fold. The navigation is also clean, predictable, and easy to find.


coinbase.com
30. InfoChoice
Why it works: Calculators are some of the most common tools that are overlooked, basically because they're too plain and simple. But InfoChoice is a website featuring a set of banking tools in the most appealing way. Each section in this banking industry site is planned and executed well, making it friendly for visitors of all ages.


infochoice.com.au
31. Spring Labs
Why it works: A monochromatic website design that speaks volumes of the competence of the company behind it. Each scroll brings a very distinct delight to the user experience. Each graphic is also custom-made for an added level of originality.


springlabs.com
32. Argyle
Why it works: Subtle yet very effective animations impart just the right amount of message about the financial services they offer, all without being distractive. We also love the intuitiveness of the website as a whole.


argyle.com
Fintech Best Websites
33. Wise
Why it works: Perhaps the best part of the banking website is their upfront declaration of the details when you make any transfers through their financial services. But regarding website design, Wise's website ticks way too many items on our list. The added subtle animations are surely a feature that brings the site design to life.


wise.com
34. N26
Why it works: Another great product from Intuit, Quickbooks also has a website that looks nice, feels nice, and just works very well function-wise. The layout may contain boxy elements, but still, the execution is top-notch.


n26.com
35. QuickBooks
Why it works: Another great product from Intuit, Quickbooks also has a website that looks nice, feels nice, and just works very well function-wise. The layout may contain boxy elements, but still, the execution is top-notch.


quickbooks.intuit.com
36. Riskified
Why it works: A great-looking fintech industry site with modern animations. We also love how the design has an organized layout that explains properly each idea in the financial sector in a very satisfying way. Their digital publication provides an in-depth analysis of the recent developments in e-commerce.


riskified.com
Top Fintech Websites
37. Kabbage
Why it works: Short and compact, but surprisingly fun! Kabbage's banking website is a great example of what less complication can mean more. This makes it stand out from the other fintech companies on the web.


kabbage.com
38. Digit
Why it works: Big bold texts that make a statement, figuratively. The subtle animations on each scroll work adding that tech feels to the site. We also love the sticky navigation with a strong CTA button.


digit.co
39. WePay
Why it works: Aside from the usual positive points, we also love the custom 3D graphics that make this website a standout. Each scroll on each page felt unique, original, and just beautiful.


go.wepay.com
40. Quantifacts, Inc.
Why it works: They have a well-structured and easy-to-navigate website, making it simple to find what you're looking for. The homepage provides visitors with immediate access to the most up-to-date information.


quantifacts.com
Conclusion
We provide fintech companies with a superb website design service with the best customer satisfaction in mind. We use a combination of modern techniques, new technologies, user-friendly layouts, and attractive graphics to create stunning fintech sites that will leave your clients impressed. So if you're ready to take your fintech business to the next level, let us help you.
With our expert team of web designers and developers, we can provide you with the best fintech website designs that are sure to impress your clients and help grow your fintech companies. Whether you need a simple, clean layout or an exciting animated design, we can create the perfect fintech site for you.
Let us design a custom mockup of your new website before you sign up for anything. We specialize in dealing with financial institutions and can help get this project off on the right foot with an awesome-looking site that will impress clients & bring more business into yours! Don't just take our word, see what others have said about working together below- there are no hard feelings or other obligations.
That's right. There is no hassle and no risk. What do you have to lose? To find out what's possible, just click below and learn more about our Free Mockup Offer.
Custom Fintech Websites