Church website design is a vital part of any outreach ministry. They provide a way for people to learn about your church, find out what events are coming up, and even donate online. But the best church websites can be tricky – you want them to be stylish and professional, but you also need them to be functional and easy to use.
There are many factors to consider when choosing great church websites for your congregation. The kind of church (city church, community church, Christian church, college park church, or hill city church). The size of your church, your budget, and your goals will all play a role in determining the best church website design for you. But, with so many beautiful and functional top church websites out there, it's definitely possible to find the perfect one.
In this post, we will take a look at 40 of the Best Church Websites from around the world. We'll examine their style, functionality, and how well they strike the perfect balance between beauty and usability.
1. Orthodox Churches of Estonia
Why it works: This is a good church website for the Estonian Orthodox Church, which has comprehensive information about all its many churches. This site is interesting because of the interactive spherical panoramas. The stunning photos that they utilized and the little planet pictures pique new visitors' interest.

www.hramy.ee
2. Passion City Church
Why it works: The Passion City Church's website uses a full-screen video background to capture the attention of website visitors. The church website directs users' attention to other opportunities to get involved by registering for an event, looking at their church locations and upcoming church activities, and signing up for social media updates.

www.passioncitychurch.com
3. Mosaic Church
Why it works: This church's website is unlike any other traditional church website that you've seen. They utilized an unusual color scheme and texture for the background. Using the grid content section, new visitors may quickly find the resources they need.


www.mosaicva.com
4. Highpoint Church
Why it works: The hero banner will capture your attention as soon as you arrive on this church's website. The banner is followed by a list of church locations that are easily reached. Sunday gathering and service time may be found at the footer of the page.
www.highpoint.church
Best Church Websites
5. Saddleback Church
Why it works: This particular church has a website that is easy to navigate, yet it contains a wealth of information and features excellent photographs. The Select a Campus button allows visitors to go to their local community church.

www.saddleback.com
6. Grace
Why it works: Grace church's website showed excellent graphics that are vivid and professional. Photographs of exceptional quality elevate a website to new heights. It is simple to navigate throughout the site. The banners with strong headlines and a large number of CTA (Call To Action) buttons encourage people to interact with the site.


www.netgrace.org
7. Journey Church
Why it works: The Journey Church website has a great home page video with watch online call to action and high-quality, welcoming pictures. This church successfully engages new visitors by identifying where to go from their home page: Small Groups, which brings people together; Next Steps, which helps individuals discover their purpose; and Worship Team, which helps people discover teams or areas where they may volunteer.

www.journeyorl.com
8. Fairhaven Church
Why it works: Fairhaven is one of the unique church website examples. The use of the animated gradient background with a still high-resolution picture really makes this website stand out. Additionally, the subtle animations used in the entire site help a lot.
www.fairhaven.church
Top Church Websites
9. Renewal
Why it works: Renewal's homepage banner is an excellent example of how to use color and movement to pique potential visitors' interest and get them engaged on their site immediately. The website shows one CTA at a time in an animated slider. Each of these headlines is represented by a bright CTA button that changes color as the user hovers it.
www.renewalcc.com
10. Radiant Church
Why it works: Radiant Church is one of the most straightforward church websites that focus on worship that site visitors can watch online and upcoming events. Their website has high-resolution and bold images that focus on community service and a simple layout structure.
www.radiantchurch.com
11. Grace Church
Why it works: We appreciate the use of Grace Church's icons rather than just plain navigation text. This is not something you come across on traditional church websites, and it provides a unique perspective on exploring their church Sunday services.
www.gracechurch.us
12. Children in the Church
Why it works: Certainly one of the best church website, Children in the Church features beautiful hand-drawn images throughout the entire site that really catches multiple audiences' eyes. This great church website subdivided its youth ministry into small groups. Site visitors can easily understand the church's mission and the importance of each children's ministry.
www.bornikirken.dk
Websites for Churches
13. Vestry
Why it works: Vestry has a great church website that features a clean layout, great color theme contrast, modern typography, high-resolution images, and a simple and easy-to-navigate top menu. This church effectively achieves its objectives by having a clear call to action and an excellent user interface.
www.n.foxdsgn.com
14. Christ's Church of the Valley
Why it works: With great homepage video backgrounds, Christ's Church of the Valley's wonderful website effectively attracts old and new visitors alike. Site visitors can easily navigate the most important part of the site through its home page section. Each campus on this multi-location church can easily be located through the map section.
www.ccv.church
15. Aloma Church
Why it works: Aloma Church has a friendly, modern-looking church that is easy to navigate, and certainly among one of the best church websites. This good church website features a great homepage video background with beautiful images and a well-planned layout. The entire site uses youthful colors. New visitors can easily navigate and ministries can easily find, including the really nice children's ministry, thanks to the well-organized navigation.
www.alomachurch.org
16. Bayview Church San Diego
Why it works: Bayview church, a modern bayside church website that emphasizes visuals for site visitor engagement, uses great home page video backgrounds, and compelling photographs across its website. The use of grid-type thumbnails aids in user convenience; new visitors can easily find what they're looking for. Also, the church effectively uses its color theme to its advantage.
www.bayviewbc.org
The Best Church Websites
17. ADA Bible Church
Why it works: The amazing home page video backgrounds and high-quality photos of ADA Bible Church captivate site visitors. The main focus of this uncomplicated church's website is the ease of use, which is achieved by the simple layout, superb menu, and grid-style thumbnails.
www.adabible.org
18. The Oaks Fellowship
Why it works: One of the contemporary church websites, Oaks Church features a black and white website that lets its images and great videos bring life and color to the entire site, it also uses modern typography, a well-placed call to action, and social media icons. Evidently, this church website aims to introduce their senior pastor, the upcoming events, and their church app.
www.oaks.church
19. Loft City Church
Why it works: Loft City Church uses parallax scrolling and pops of bright orange to capture visitors' attention and keep it as they scroll. The site provides all the information visitors need right away, explaining what the church's mission is and when they hold church services. If visitors are looking for additional information or ways to take action, they can explore the options in the navigation menu. This menu is sticky so it stays at the top of the screen as visitors scroll down the page, making it easy for them to navigate the site.
www.loftcitychurch.com
20. One Church
Why it works: Using parallax video and image sections, bold typography, and a sticky navigation menu, One Church provides a simple but engaging user experience to its visitors. As they scroll down the homepage, visitors can check out the church's four locations, learn more about its art school and community outreach program, sign up for its newsletter, and follow One Church on social media. If they're interested in other actions or information, then they can hover over the different navigation options at the top of the page. Some have sub-navigation menus that display the multiple ways to get involved or "go deeper." This provides an easy and decluttered interface for visitors to explore the site.
www.onechurch.net
Churches Websites
21. Bay Area Christian Church
Why it works: Bay Area Christian Church is one of the contemporary and minimal city church websites that uses white spaces very well, the use of large-high-quality images contributes to how clean and appealing the entire site is to all web visitors. Besides their worship service, they also emphasize the importance of the streams and clips you can watch online.
www.bacc.cc
22. Pine Street Presbyterian Church
Why it works: Pine Street Presbyterian Church is one of the most straightforward church websites, focusing on the church community, past sermons, worship that site visitors can watch online, and upcoming events. Their website has high-resolution photos as well as a single aqua color that contrasts with the airy white background.
www.pinestreet.org
23. Faith Community Church
Why it works: Faith Community Church offers an excellent example of visual hierarchy. Visual hierarchy refers to how website elements are arranged and organized so that visitors naturally gravitate first toward the most important elements. On FCCH.org, the visitor's attention is drawn to the mission statement first due to its size and center position on the page. This is followed by a colorful "Connect Here" CTA, which prompts visitors to fill out a contact form. Users can click this CTA if they're ready — or scan the menu items at the top of the page to learn more or take another action (like donate).
www.faithma.org
24. Good News Church
Why it works: The website is easy for first-time visitors to find their next step. The hero video banner and each homepage section are clear, engaging, and informative – everything you want in a website.
www.goodnews.church
Church Web Design
25. Grace Christian Church
Why it works: Grace Christian Church is a great example of how to make a compelling video background. The background does a great job of capturing people living out the values of the church. Their missions page does a fantastic job introducing dozens of missionaries that the church partners with, as well, as demonstrating this organization's wide reach.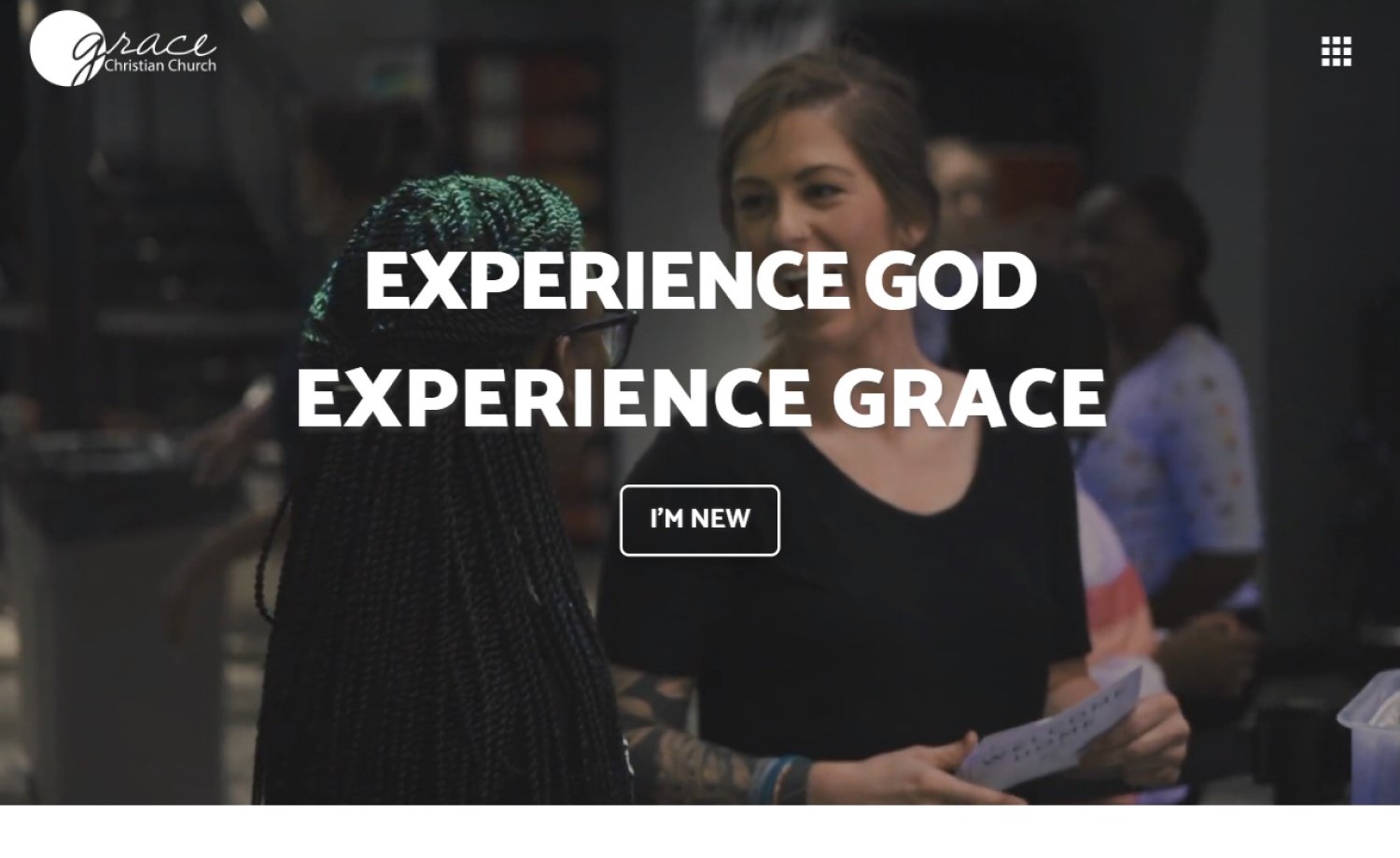 www.gracesterling.com
26. Cornerstone Community Church
Why it works: If you can't already tell, churches with dynamic websites are really tapping into professionally real-life shot video footage of parishioners, sermons, and activities. If a picture is worth a thousand words, the video can be arguably worth a million, and Cornerstone Community Church is that and more.
www.go2cornerstone.com
27. Sonship Ministries
Why it works: Sonship features parallax homepage sections that focus on their worship and a section for their upcoming events and past sermons. This church's website is well structured and every page is well-thought that including past sermons you can watch online.
www.sonshipbayridge.church
28. Hope Church of Sparta
Why it works: A straightforward church site, HOPE Church of Sparta focuses on featuring its Senior Pastor, church members, their upcoming events, and worship services. The entire site is simple with church life as its main purpose.
www.hopeofsparta.org
Websites for Church
29. Granger Community Church
Why it works: An engaging, modern church website that entices the interest of web visitors within seconds of visiting. Granger Community Church is a meaningful visual design that catches the eye while also providing a fantastic user experience.
www.grangerchurch.com
30. Second Baptist Church
Why it works: Second Baptist Church employs full-screen entertaining videos to grab web visitors' attention, as well as grid thumbnails to highlight vital content and direct people to it. A well-thought-out, well-planned layout that prioritizes usability throughout the entire site.
www.second.org
31. Lancaster County Bible Church
Why it works: A simple easy to navigate Church site, LCBC church features a video background, large images, and a straightforward call to action throughout its website. Visitors can easily find the information they are looking for thanks to its well-planned layout.
www.lcbcchurch.com
32. Citizens Church
Why it works: An unusual church website, Citizen's church is far from the majority of church websites but not in a bad way. Its contemporary web design is not using traditional section blocks but still, disseminates important information effectively. It may be different but it is still appealing and functional.
www.citizens.church
Church Website Design
33. New Vintage
Why it works: New Vintage Church evidently gives importance to their social proof as seen on their website. A user-friendly church website, it uses clear, high-quality, welcoming pictures to captivate first-time visitors.
www.newvintage.org
34. Legacy Church
Why it works: The website of Legacy Church can simply be described as appealing, functional, and simple to navigate. This church website may appear simple, but it is far from it; it is well-organized, the user interface is simple, and all pertinent information is prominently displayed on the home page.
www.legacychurchnm.com
35. NewSpring Church
Why it works: Newspring Church mesmerizes visitors with an intriguing, high-quality, full-screen video background. For user engagement and ease of use, this church website makes excellent use of bold, high-resolution images across the site. A contemporary church website that is both attractive and functional.
www.newspring.cc
36. Cornerstone Church
Why it works: The simple, unique, contemporary but effective website of Cornerstone Community Church features a captivating video, high-quality images, and a well-placed call to action. Visitors can easily navigate by using their simple but straightforward menu.
www.go2cornerstone.com
Great Church Websites
37. Mercy Hill Church
Why it works: Mercy Hill Church captivates visitors with their captivating hero banner video and a clear and concise home page. Every page on this church's website has a consistent and cohesive design; each has a consistent structure and design components, indicating that the website has been well-planned.
www.mercyhillchurch.com
38. 3Circle Church
Why it works: 3Circle Church, a modern church website that emphasizes visuals for visitor engagement, uses large, high-resolution, compelling photographs across its website. The use of sticky top navigation aids in user convenience; visitors can easily find what they're looking for.
www.3circlechurch.com
39. Definition Church
Why it works: The Definition Church website has a great structure and serves its goal brilliantly. This is a simple but effective church website, with a clear and captivating hero video banner, high-quality graphics, and a well-placed call to action.
www.definition.church
40. Radiant Church
Why it works: Radiant Church's website is simple yet immersive, Its hero video banner is clear and engaging, and each homepage section is concise and has a clear call to action. This church website's structure is on-point and it serves its purpose well.
www.radiant.church
Conclusion
Creating church websites is no easy feat. But with the help of our expert tips and examples, you'll be well on your way to creating a site that's both appealing and functional. Keep these design principles in mind as you create your own site, and you'll be sure to create a site that's sure to engage existing members, another life group, a new life church, or young families who have a strong focus on shaping themselves to love Church and their real-life Sunday message.
If you're ready to invest in a top-quality church website design. All you need is to provide us with some basic information about your practice and what you're looking for in a website. Our team will take it from there. You can focus on your church services and various ministries while we design the church website of your dreams. When we're done, we'll show it to you and make changes until you are satisfied.
Our website builder will create a custom mockup of your new website before you sign or pay for anything. If you like our design for your business we can move forward working together. If not, there are no hard feelings and no other obligations. Get started today and see the difference a well-designed church website can make in your business!
That's right. There is no hassle and no risk. What do you have to lose? To find out what's possible, just click below and learn more about our Free Mockup Offer.
Custom Church Websites