Custom Design
All of our work is 100% custom. Designed for you in Figma. We never use pre-made templates. Ever.
We start with a Website Questionnaire, where we learn more about you, your company and customers. You will share other websites you like the look and feel of along with any fonts, colors or any other design directions you have.
We will then create a fully custom design, for free, based on your specifications.
Once we start working together you can take the design in any direction you would like. You will have plenty of rounds of revision to get the design exactly as you need.
Figma Mockups
Your site will be fully custom designed in Figma according to your needs and specifications. We never use pre-made templates. Ever.
Multiple Mockups
You will receive multiple mockup concepts from multiple designers. You will be able to mix and match elements you like from each concept into your final design.
Multiple Rounds of Revisions
Each project comes with a minimum of 4 rounds of revision per page template and can include additional rounds depending on the scope of your project. This is more rounds of revision than most other designers offer and more than enough to get the design just the way you want.
Custom Graphics
Our professional graphic design team will help create vivid, unique and original graphics for your website project that will help illustrate your business uniquely.
Custom Iconography
We will design custom iconography for your website, creating unique and original concepts not seen on other websites.
Branding & Style Guide
Your website will include a Branding and Styleguide which will include your website's fonts and color palette.
see less
Custom WordPress Development
We specialize in designing and developing custom WordPress websites. What this means is that not only is the design custom but the backend development is as well. Our sites are developed to require no technical knowledge to edit and update. You will be able to hand over the website to anyone within your organization and they will be able to easily update and edit the site. If you can update your Facebook profile you will be able to update this site.
Custom WordPress
Your site will be developed into a custom WordPress theme. This is NOT a pre-made template but a fully custom theme, developed just for you.
100% Ownership
WordPress is an open source Content Management System. This means you will have 100% ownership of the site, with no licensing fees. You can do with the site as you want. Forever.
Easy To Update
Your site will be extremely easy to update and edit on your own. If you can update your Facebook profile you'll be able to update this website.
Easy To Add Pages
You will be able to add as many new pages as you want without having to know how to code and without ever having to pay a developer for help.
Fast
WordPress is great IF you know what you're doing. Sometimes WordPress websites can run slow if you don't configure them properly. We develop our sites in such a way that they are optimized for speed.
Responsive
Your site will be fully mobile responsive, adapting for the iPhone, iPad and all other mobile devices.
Secure
If you don't know what you're doing a WordPress website can be vulnerable to attack, but don't worry we've got you covered. We will configure your site to be safe and secure.
1 Year Warranty
We stand behind our work and all of our sites come with a 1 year warranty, where if there are any bugs or breaks on the site we will fix it at no additional cost.
Training
You will receive a series of personally produced video tutorial on how to edit and update the website. You will be able to hand this off to anyone on your team and they will be able to edit and update the website with no previous coding knowledge.
3rd Party Integration
We can integrate your website with a wide array of third party integrations. This can include CRM applications such as Salesforce or Hubspot or other types of applications such as chat plugins, booking integration and more.
Social Media Integration
We will integrate your site with any of your Social Media channels. This can include Social Media buttons or displaying Social Media feeds directly on your website.
Custom Forms
We're great with forms. Any kind of form integration or form setup you need, we will probably be able to accommodate you.
Newsletter Integration
Your site can include an Newsletter capture form and we will integrate your form with any 3rd party newsletter provider such as MailChimp, Constant Contact, etc…
see less
Search Engine Optimization
We provide on-page Search Engine Optimization as part of our services. This means getting your site to rank well on Google to get free traffic. Many people like to talk about SEO (Search Engine Optimization) but we can actually prove that we know what we're doing. If you Google 'San Francisco Web Design' or 'Hire a Web Designer' we're the number #1 result. Here is what we will do for you:
Identify the keywords you should be ranking for
Provide you with a detailed spreadsheet of the keywords, title tags and meta descriptions for each page of the site
Properly structure and tag your site to rank for the recommended keywords
Configure your site with the Yoast SEO plugin
Submit your site to all of the search engines
Setup and submit and XML sitemap of your website
We Are Ranked #1
When it comes to SEO most people are all talk. If you Google 'San Francisco Web Design' we're the #1 result. We get most of our traffic and business from SEO, so we know what we're doing.
Our Client Rank Well Too
Many of our clients rank on page 1 of Google with just the on-page SEO work we have done for them. Ask us and we'll show you examples.
Maintain Current SEO
WARNING – If you have an existing website that already ranks well on Google be VERY careful who you hire. If you find someone who doesn't know what they are doing they can really screw up your website. We have a proven process for maintaining SEO ranking and not screwing things up.
Keyword Research
We will research what keywords you should be ranking for. This includes keywords you might already rank for as well as new, relevant keywords you have a real shot at ranking for.
On-Page Tagging
We will tag and structure your website to rank for the keywords we suggest to you . We use the Yoast SEO plugin for your site, which is the exact same plugin we use to rank #1 on Google.
301 Redirect
A great way to screw up your SEO ranking is to not have your old website links point to your new site. But don't worry, we've got you covered. We setup 301 redirects on all of your previous website's pages.
Google Analytics
We will configure your site with Google Analytics so that you can track all visitor activity, pages views, traffic sources and so much more.
Google Web Master Tools
We will register your site with Google Webmaster Tools to make sure your site is properly registered with Google.
Conversion Tracking
We will setup conversion tracking within Google Analytics to see how many visitors convert into contact form entries.
Sitemap Submission
We will create an XML sitemap of your website and submit it to Google to make sure your site is properly indexed in the search engines.
see less
Personalized Project Management
You will have a dedicated project manager who will take ownership of your project until its completion. You and your project manager will be in constant communication via email. You will also collaborate with your project manager via Zoom meetings to provide feedback on the design.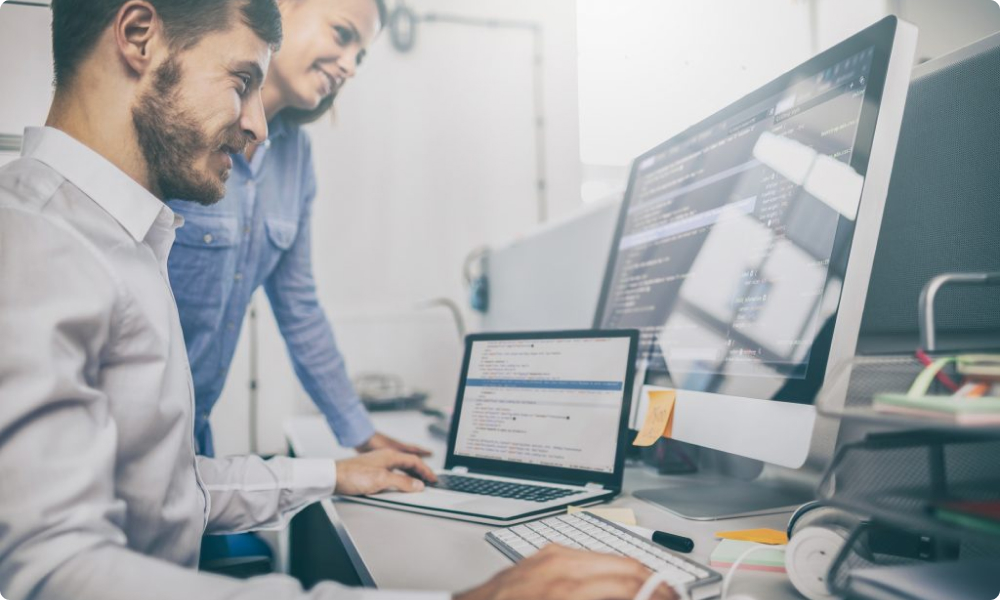 Dedicated Project Manager
You will have a dedicated project manager who will take ownership of your project until its completion.
Continual Telephone Access
Any time you want you can schedule a call to talk to your project manager on the phone and talk to a live, caring human being about your website project.
Interactive Design Feedback
We use a tool called Notable to give feedback on the design mockups. You and your project manager will be able to go over the feedback together using Notable to make sure we are always on the same page.
Weekly Progress Report
You will receive a weekly progress report about the status of your website project; what's been done, what needs to be done and who is responsible for what.
Sitemap Restructuring
Your project manager will work with you to structure your website's new sitemap. We review your Google Analytics data and give you recommendations on how to best structure your website's sitemap for optimal visitor flow.
Content Pull
This is where most website projects run into trouble and we've found a great solution. We pull all of the content from your existing website into a series of Google Docs, giving you easy access to edit and update your existing website content.
Content Population
Once you've edited the website content as needed we will add it for you to the newly developed website. We try to make the process as easy as possible by doing all of the heavy lifting for you.
Personalize Design Review
You will work with your project manager directly to go over each design review to make sure we have a full understanding of your feedback and vision for the website.
see less
Branding and Styleguide
As part of our services we will provide you with a detailed Branding and Styleguide which you will be able to use within your marketing collateral throughout your organization. This will include:
Typography Sheet – Outlining the font styles and sizing used throughout the website
Colors – All colors used on the site along with their exact pantone color
Color Pallet
All projects include a custom color pallet which establishes your brands colors and also provides the exact hexadecimal colors you can implement across all of your collateral.
Typograph Sheet
All projects include a typography sheet, which includes your primary and secondary fonts as well as the sizing hierarchy to be used for all headings. You can use these fonts across all of your marketing collateral for brand consistency.
Mood Board
Your project can include a mood board which is a series of images, graphics and other design elements to set the tone for visual display of the website.
Brand Book
For some projects we can include a full brand book which is a more comprehensive guide to implementing your visual design element
Design System
Some projects can include a complete design system which is a formalized structure for implementing your logo, fonts, colors and imagery throughout all of your marketing collateral.
see less
Training
We will provide you with detailed tutorial videos that provide step by step instructions on how to update, edit and maintain the new website using the WordPress interface. This will include an online repository of screen-cast videos detailing all of the steps needed to maintain and update the website. Click this link to see a sample of the tutorial videos we offer.
Detailed Tutorial Videos
You will receive 10-15 custom screencast recordings on how to edit and update the backend of your site. You can hand these over to someone with no technical knowledge and they will easily be able to edit and update the website.
Custom Backend
A website is a lot like an iceberg, most of it lies beneath the surface. We pride ourselves on having backends that are just as beautiful as our front ends.
Easy to Use
You will find our websites a joy to use and highly intuitive. We like to say, if you can update your facebook profile you can update this website.
No Technical Knowledge
You will be able to update all text and imagery on your site with zero technical knowledge.
Easy to Update
Gone are the days of being handcuffed to a designer and having to pay them exorbitant amounts of money to update your website for you.
Easy as Facebook
If you can update your facebook profile you can update this website!
see less
Why Us?
Our projects are priced on a flat fee basis. We hate it when projects go over budget as much as you do, that's why over 95% of projects stay on budget.
But don't just take our word for it. Check out our 50+ Five Star reviews on places like Google Reviews and Yelp. We've been in business for over 10 years and have no negative reviews to show for it. The reason is, we really care about our clients and their experience with us.
Great Reviews
We have close to 100 five star reviews across Yelp and Google Reviews.
In Business since 2010
After 10 years in business, we have no negative reviews.
Best Pricing
We're not the cheapest option out there but for the value of what you receive there is no better option available.
No Surprises
What you see is what you get. We pride ourselves on giving our clients a great experience and to do that we don't give any bad surprises such as hidden fees and the like.
Great Portfolio
At the end of the day when making a decision about who to work with you should lean heavily on the portfolio of the company you are selecting. We're proud of our work and hope you feel the same way.
Free Mockup
But don't take our word for it. See for yourself. The best part of working with us is you get to see exactly what your new website can look like without having to sign or pay anything. There truly is nothing to lose.
We Care
This may sound corny, but we actually do care. About our clients, our team members, and making a difference in people's lives. If there is an X factor to working with us is that we strive to add humanity and care to the work that we do.
see less