Seeking inspiration for your new nonprofit website design project? We've got your back. We've searched far and wide to bring you the most beautiful, modern and original examples of nonprofit websites out there. Plus we've also put together our thoughts on the best practices of designing a nonprofit website. Onward!
Nonprofit Website Design Inspirations
1. Bill & Melinda Gates Foundation
Why it works: Strong yet striking statement on the hero section, clean execution of graphics, each section narrates a different mood to match corresponding story
https://www.gatesfoundation.org/
2. WWF
Why it works: Buttons for donating and adopting quickly seen upfront, elegant use of masonry grid on showcasing content
https://www.worldwildlife.org/
3. Scientist Spotlights Initiative
Why it works: Catchy and creative hero image showcasing people, qucik search function above the fold, bright calm colors shows hope and trust
https://scientistspotlights.org/
4. Upstream International
Why it works: Popular photo filters properly and beautifully applied as a theme to this website design, great photography, colorful yet clean
5. Acumen
Why it works: Striking pink/magenta color scheme, gorgeous sans-serif typography for the whole site, spacious layout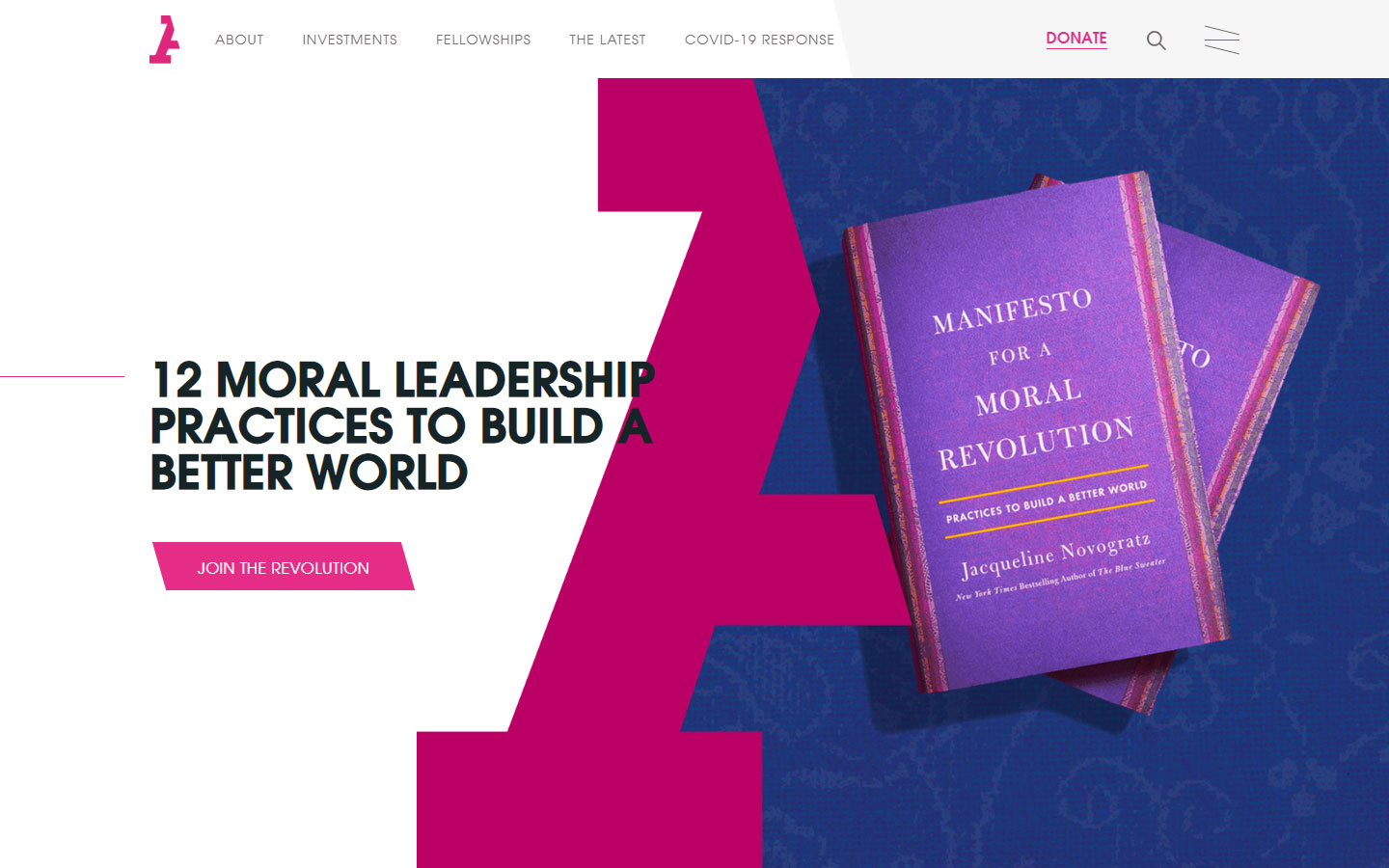 6. The Metropolitan Museum
Why it works: Minimal navigation area, gorgeous video showcasing the museum interior, very modern and organized layout
7. International Rescue Committee
Why it works: Clear and strong gift-giving widget above the fold, gorgeous header and navigation, texts very easy to read, nice yellow-black color scheme
8. Memphis Zoo
Why it works: Kid-friendly website without losing the best practices and functionalities, strong bold typography, colorful graphics
9. Jedi Collaborative
Why it works: Calm yet colorful design, clean iconography, intuitive website layout
https://jedicollaborative.com/
10. Michael J. Fox Foundation
Why it works: Outside-the-box layout design, minimal yet consistent design, subtle/soft animations create a feeling of sincerity
11. Message of Hope Foundation
Why it works: Organic shapes and strong colors complement the 'sunny' feel of the website very well. Website felt very positive and forward-moving
https://messageofhopefoundation.org/
12. Adapt A Love Story
Why it works: Big bold fonts used for extra legibility and usability, each section tells a different story, easy to use for everyone
https://www.adoptalovestory.com/
13. ASPCA
Why it works: One can really feel the love and passion behind this organization through colors and cute images
14. Room to Read
Why it works: Unlike the usual gloomy/sad feel of charity websites, this colorful website felt lively, hopeful, and utterly friendly
15. Creative Commons
Why it works: Big bold texts against strong colors, quick donate section, 'explore' section with icons works very well for quickly finding specific niches
16. Princeton Computational Imaging Lab
Why it works: Super clean typography, subtle but interesting hero video, information properly organized and bite-sized
17. Names for Change
Why it works: Very evident branding and personality, highly unusual but very memorable design, clean coding of effects and functions
https://www.namesforchange.org/
18. Greenpeace
Why it works: Quickly donate panel that's not intrusive while remaining quickly visible, bright vivid colors, animated dotted lines make the static website feel alive
https://www.greenpeace.org/usa/
19. American Heart Association
Why it works: Real clean design with lots of breathing space, great use of red color without hurting the eyes, overall a very pleasing UX
20. American Museum of Natural History
Why it works: Well-thought menus for navigation, gorgeous and eye-catching graphics and images, not crowded with too much information
21. AMI USA
Why it works: Clean light-themed website, texts beautifully laid out, organized footer for extra ease of navigation for users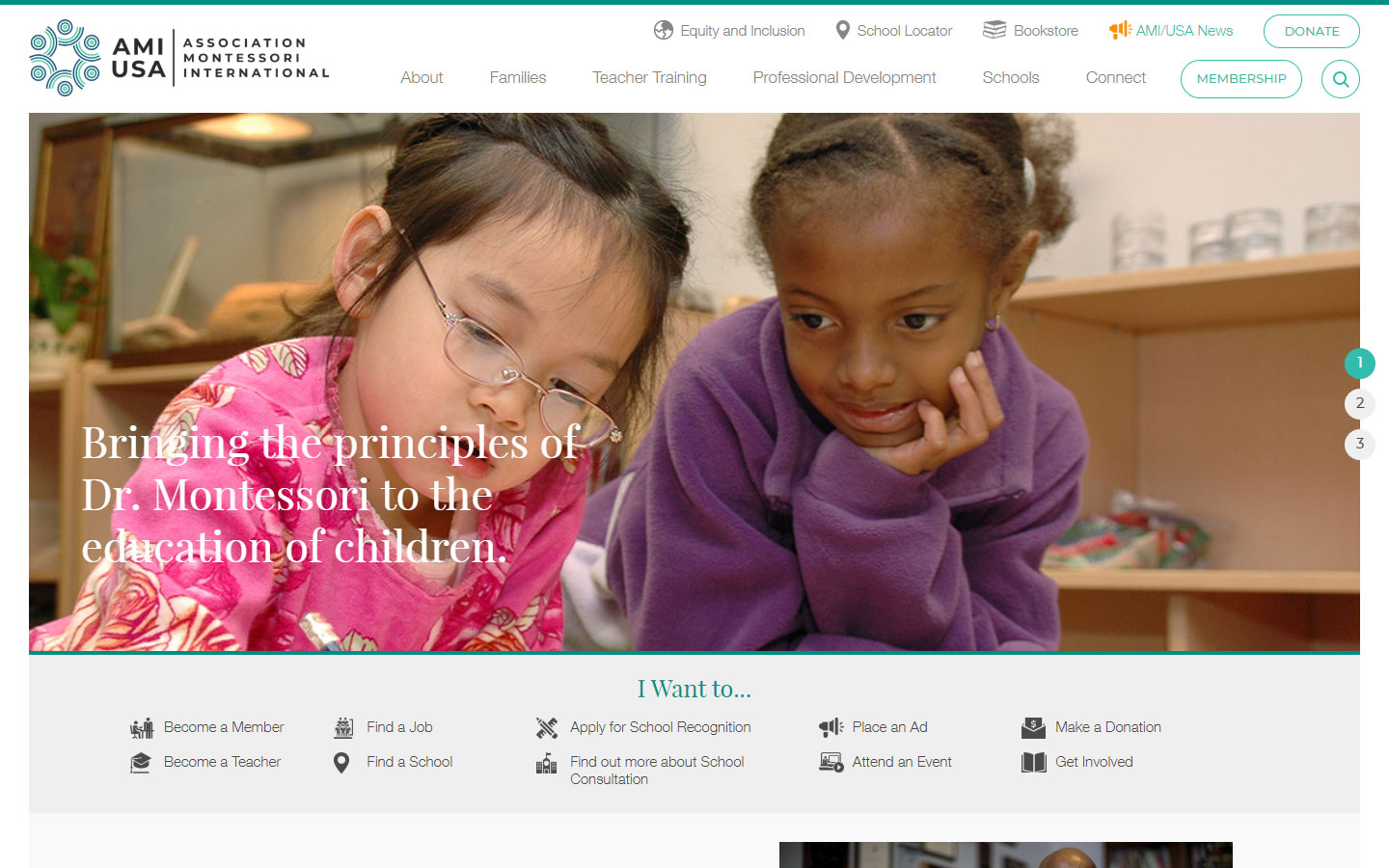 22. Paws Chicago
Why it works: Interesting hero section with subsections, website colors are pleasing, artistic navigation bar
23. Wildlife Conservation Society
Why it works: Sidebar serves very well for ease of navigation, beautiful imagery, the footer is beautiful and clean
24. NRDC
Why it works: Quick donate function on header, non-traditional layout, love the stats section
25. NAWGJ
Why it works: Bold shapes with strong colors, content for each page properly organized with sidebar
26. Care
Why it works: Adding a subtle touch of graphics to images is very smart, big texts on several areas create intensity to their cause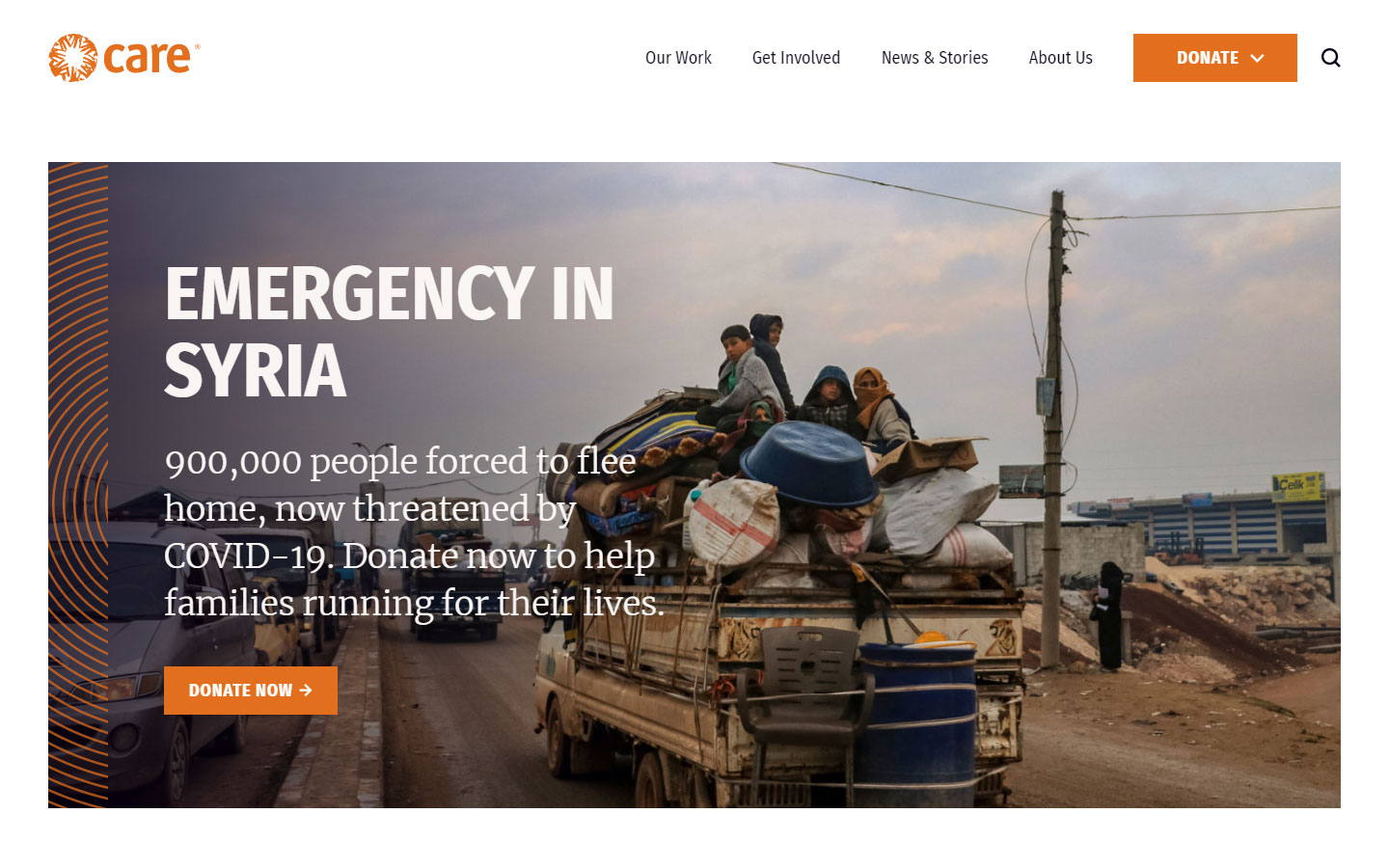 27. Rotary
Why it works: Amazing animations and transitions, the flowing line that follows mouse scroll is just genius for storytelling
28. Open Society Foundations
Why it works: Clean simply design without sacrificing quality, not image heavy while remaining modern-looking, love the 'where we work' section
https://www.opensocietyfoundations.org/
29. Invisible Children
Why it works: Crystal-clear texts with strong contrast between elements, sticky donate button that isn't overwhelming, accordion is a must-see
https://invisiblechildren.com/
30. Philadelphia Museum of Art
Why it works: Love the minimalistic approach of the website to showcase their articles online. Cozy, clean, and very appealing
31. Witness
Why it works: One can immediately feel the seriousness of the field they're in just by the design alone.
32. Charity Water
Why it works: Super speedy and lightweight website with just the right amount of message delivered on the hero section
33. TED
Why it works: Entire homepage focused on delivery content for better user experience, sections and thumbnails beautifully organized without looking crowded or messy
34. Monterey Bay Aquarium
Why it works: A great cocktail experience of great photography, moving images, texts, and info, all in one page
https://www.montereybayaquarium.org/
35. Convoy of Hope
Why it works: Awesome animation part in hero slider, animations creatively push content to viewer's attention, custom iconography
36. Terra Nova Church
Why it works: Highly creative use of shapes and geometry compared to simply using photos, great typography too
37. Nashville Zoo
Why it works: A great harmony of graphics, youthful typography, and images. Splashes of colors everywhere. Design matches all ages
38. Petsmart Charities
Why it works: White-themed website with just the right splash of colors, subtle animations bring content to life, site doesn't feel heavy despite the amount of content
https://petsmartcharities.org/
39. Valley of the Sun YMCA
Why it works: Ample contact info on the upper right, good mix of contrasting colors and images, compact yet meaningful
40. Conservation International
Why it works: Clear buttons for subscribing and donating, clean layout with texts very easy on the eyes, artful footer design