Looking for inspiration for your next recruitment website design project? Then look no further! We've scoured the web so you don't have to. And we've compiled a promising list of website candidates for you to look over. We also share with you the best practices that go into a web design project for a staffing and recruitment agency. So kick back and enjoy!
Table of Contents
Recruitment Website Design Inspirations
1. Salt Digital Recruitment
Why it works: Mesmerizing custom background video animations, quick job search area above the fold, very assistive layout
2. The Ford Agency
Why it works: Very iconic hero image used, minimal website, very straightforward
3. United Talent Agency
Why it works: Big bold texts support a strong branding, very minimal content, clean and interactive design
4. Domann
Why it works: Clean minimalistic design, good use of graphics and imagery
5. Artisan Talent
Why it works: Cute youthful animations and graphics, clean and lively design without the need for bright colors
6. 24 Seven
Why it works: Colorful design, website felt alive and warm, big bold buttons upfront. Very helpful sticky navigation
7. Yoh
Why it works: Excellent modern design and choice of colors, futuristic graphics, clean execution of animations
8. Biotech Connection
Why it works: Clear and easy to read texts, company and intuitive layout and navigation
https://biotechconnectionbay.org
9. Echo Gravity
Why it works: Worthwhile effort of the company to be a one-stop shop offering a range of solutions, logically laid out in this website
10. Addison Group
Why it works: Floating panel for jobseekers and employers is a welcome feature, interesting color scheme, 'multiple verticals' section is unique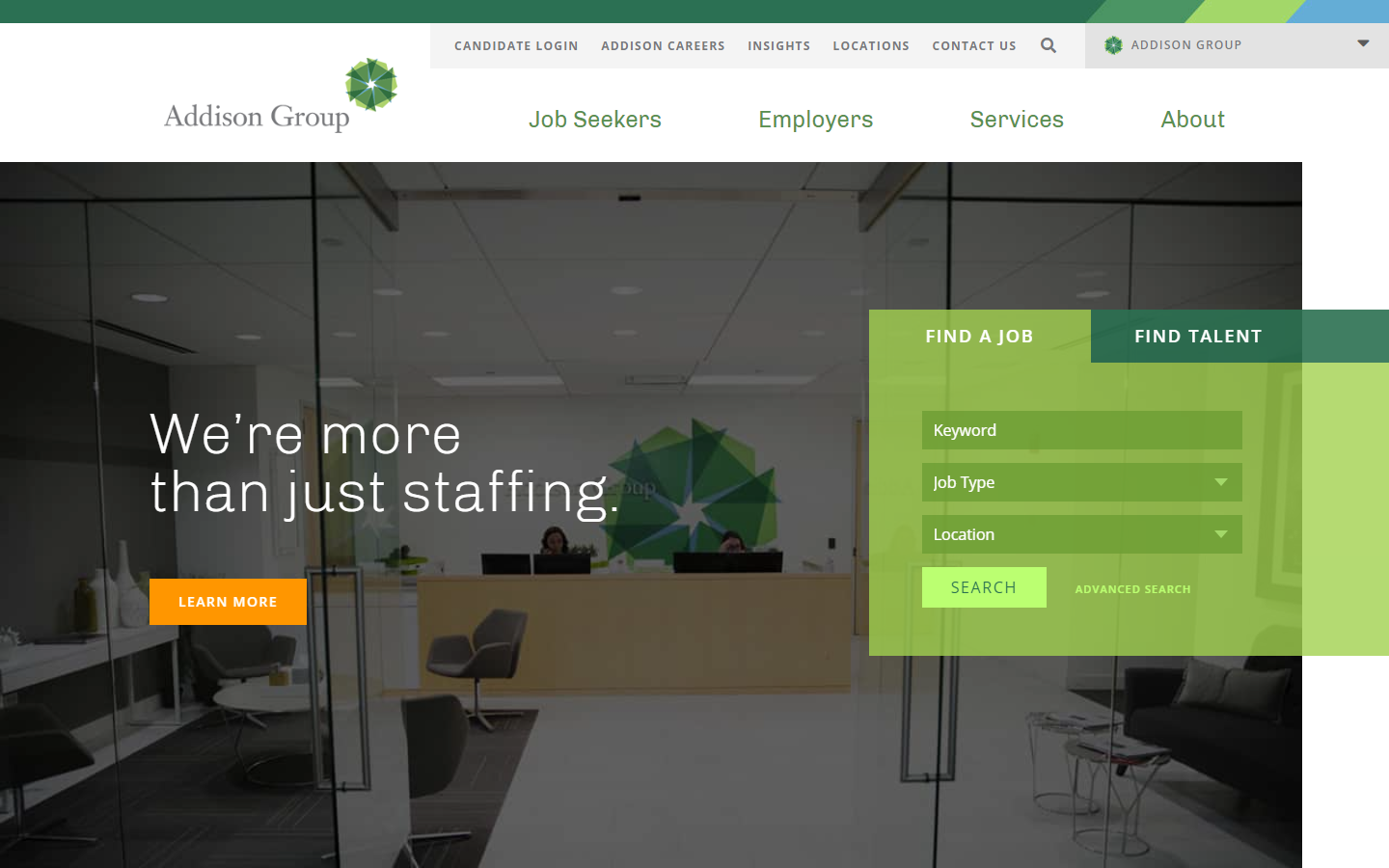 The Crucial Elements of Recruitment Web Design
If you run a staffing or recruiting company, then your website is a critical part of your marketing strategy. An excellent recruiting website design needs to draw both candidates and clients. You should be able to update positions quickly and easily. At Thomas Digital Design we create recruitment web designs explicitly tailored for your clientele.
The Job Navigation Page
One of the more critical elements of recruitment web design is the Job Navigation Page. We believe in UX Design, and the user experience is never more critical than in the recruitment industry. Both job seekers and employers need to navigate job postings quickly. We can help you set up filters and an interactive landing page that can handle large numbers of queries, fast.
The Position Page
The candidates are the bread and butter of the recruitment industry, and you need to attract good ones. Our custom web designs display the aspects of each job and even allow candidates to apply online.
Whether you want a short and simple contact form or want to give your candidate the ability to upload a full resume, we can design the interface.
Your recruitment website design will also have Social Media integration tools that can automatically publish your jobs on social media sites. Potential clients can share jobs on social media sites with just a click of a button.
But that's not all! Once they submit their application, our recruitment web design can generate follow-up emails to update the candidate on the status of their application.
Secure Transmissions
Recruiters handle a lot of sensitive information. You need password protected pages and secure transmissions. We establish your needs during the initial consultation and then help you meet those needs with our most secure recruitment web design.
Driving Traffic to Your Website
Thomas Digital Design has several proven strategies for getting your website to rank in the top spots on Google. We can say "proven" because our company ranks #1 for "San Francisco web design" and "hire a web designer." Ranking #1 out of 20 million competing sites, says a lot about what we can do.
To help your recruitment web design draw the most traffic, we often use a combined strategy of SEO and paid advertisements. Together, they put your website at the top of the search results.
Each of our recruitment web designs is filled with SEO content designed to move you to the top of the organic search results. AdWord campaigns are intended to reach a targeted group of potential clients and maximize conversions. With SEO and PPC we build recruitment web designs designed to attract both customers and the search engines.
Mobile-Friendly Web Design
Every day more and more people are searching using their mobile devices. Currently, over 30% of all Google searches occur on smartphones or tablets, and this includes those hunting for jobs.
All our recruitment web designs come fully optimized for mobile devices. We make them fast, and mobile-friendly.
Stand Out from the Crowd!
At Thomas Digital Design, every website we build is 100% unique. This difference goes way beyond surface presentation. To see the difference, look at our portfolio. We never use pre-made templates – EVER! If you think that all websites look the same these days, it's because they are all using generic templates. If you want to set yourself apart, then you need a custom designed website.
Our recruitment web design changes with each of our customers. However, our goal to achieve maximum results applies to all the sites we design.
Why Recruitment Companies Choose Us as Their Web Design Agency
Clients rave about our recruitment websites. We hold over 50 5-star reviews on Yelp. Let us shoulder the burden of programming and web design. There is no risk. Unlike with other web design firms, you see a Free Mock-Up of what your website will look like before you ever commit to spending a dime.
This Free Mock-Up is what makes us unique. We offer a no-hassle, risk-free experience. What do you have to lose? To see what your recruitment website design could look like just accept our Free Mockup Offer.