Medical websites are important for many reasons. Medical professionals need them to share information with patients and other doctors. Patients need them to find the right doctor, read about their condition, or learn more about a certain procedure they may be interested in undergoing. This list of 40 Best Medical Website Designs is going help you learn more about what makes a good medical website design!
1. Zocdoc
Why it works: One finds a lot of good items in this medical website design: modern interface and typography, easy-to-use interactive elements, and eye-catching icons.
2. Michigan Avenue Primary Care
Why it works: In order to provide the best care for their patients, this facility has designed an easy-to-navigate website that provides all necessary information like contact details and appointment scheduling, all while looking professional and pleasing to the eyes.
https://www.michiganavenueprimarycare.com
3. Nicklaus Children's Hospital
Why it works: The website is crafted beautifully, starting from logo to those moving blobs. We admire how friendly and easy-to-use the site is.
https://www.nicklauschildrens.org/home
medical web design
4. Olathe Health
Why it works: What makes this website so effective is the four sections on the hero image. Current and potential patients can find help here in answering their needs.
5. Rest Assured
Why it works: For a website offering services for seniors and PWD, this design features top-notch accessibility features such as strong clean contrasts between texts and elements, highly-visible buttons, and a basic but intuitive user experience.
6. Vidant Health
Why it works: The sidebar in the hero section contains helpful links for faster browsing. Header navigation easy to the eyes. Colorful graphics and icons on clean interface.
7. Mercy Health
Why it works: This website does a great job of breaking things up and using various layouts and colors, which makes the experience more dynamic.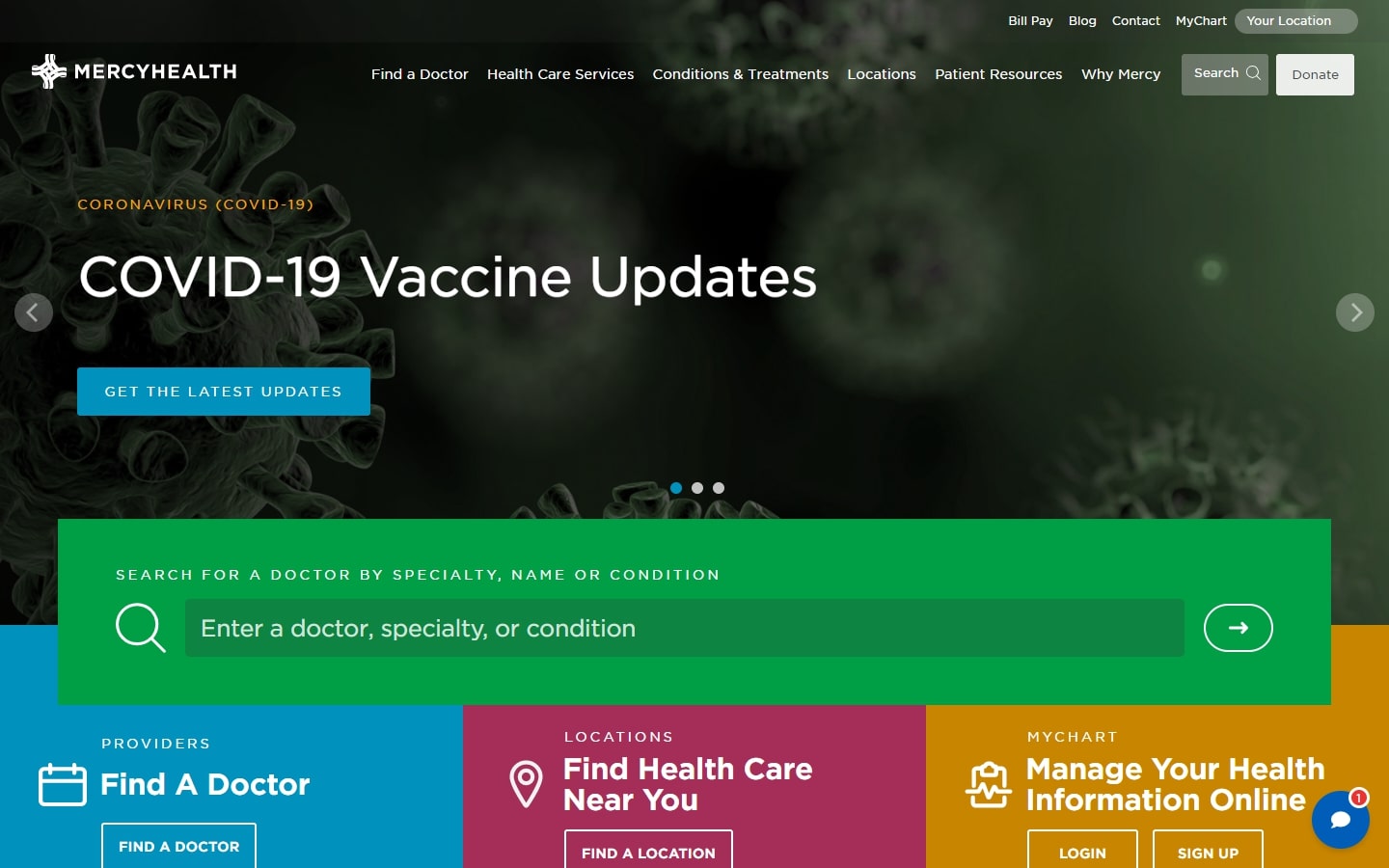 8. One Medical
Why it works: One Medical has a website that has an unfamiliar yet very modern look and feel. The use of chic iconography makes a unique personality to their branding.
healthcare website design
9. Mayo Clinic
Why it works: With a sleek and clean design, Mayo Clinic's website focuses on providing quality information to visitors and patients. Their move of stripping away unnecessary elements pushes the website's content to the front.
10. Nicholson Center
Why it works: A simple website design that packs a lot of punch. We love the subtle animations that brings the website to life. The accordion section on the homepage is a unique and modern touch to the overall design.
https://www.nicholsoncenter.com
11.
Weber Facial Plastic Surgery
Why it works: The breathtaking website design features eye catching animations and transitions. One cannot miss the gorgeous imagery they used throughout the site.
12. SR Psychological Services
Why it works: With the right choice of typeface and soft colors, this website has a specific mood that makes visitors feel welcome and at ease.
https://srpsychologicalservices.com
13. GMED
Why it works: An innovative website design with flashy animations and graphics. GMED is really trying to shake the ground here with this out-of-the-box design.
medical web design inspiration
14. Genentech
Why it works: Winning some prestigious awards, this website landing page features a timeline with animations and graphics splattered all over. What's also surprising is how it manages to work on mobile phones!
15. North Shore Pediatrics
Why it works: This website is perfect for those who are interested into pediatrics. The navigation is very easy to use and the colors are appealing to both children and adults.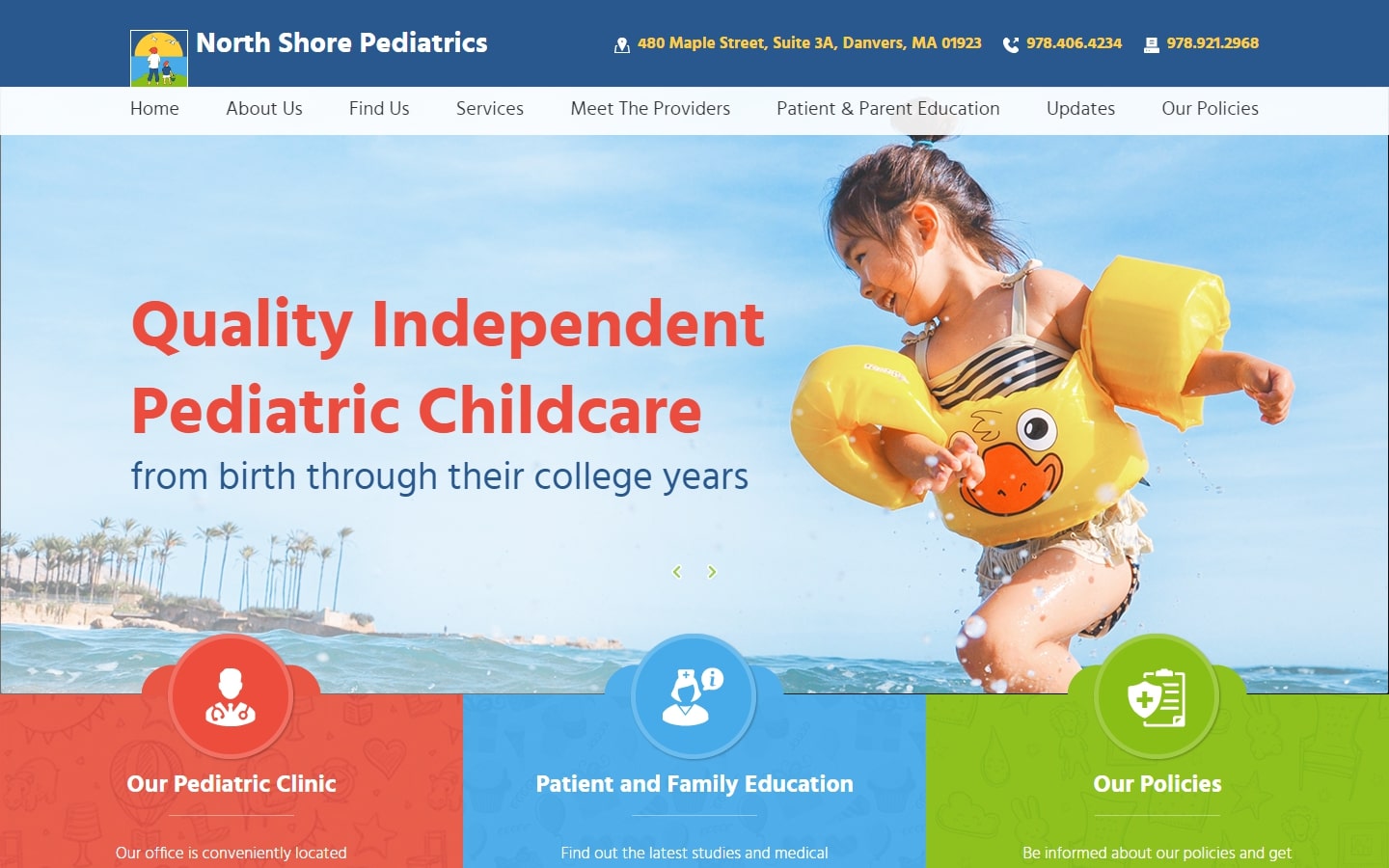 16. The Downtown Sports Clinics
Why it works: The site uses refreshing colors and design to draw the user in, link to their services are beautifully displayed upfront with clear and comprehensive navigation.
https://thedowntownsportsclinics.com
17. Cerveau Technologies
Why it works: Despite the mysterious yet interesting hero area, this website design looks very professional. We also love how the design managed to make the big chunks of texts into blocks of useful information that don't get in the way of user experience.
https://cerveautechnologies.com
18. PRA Health Sciences
Why it works: The homepage has a sleek and trendy slider design. The layout is simple yet very modern thanks to its vivid colors.
best healthcare website design
19. Source of Health
Why it works: The use of unique and modern graphics, along with colored gradients makes this website design both original and memorable.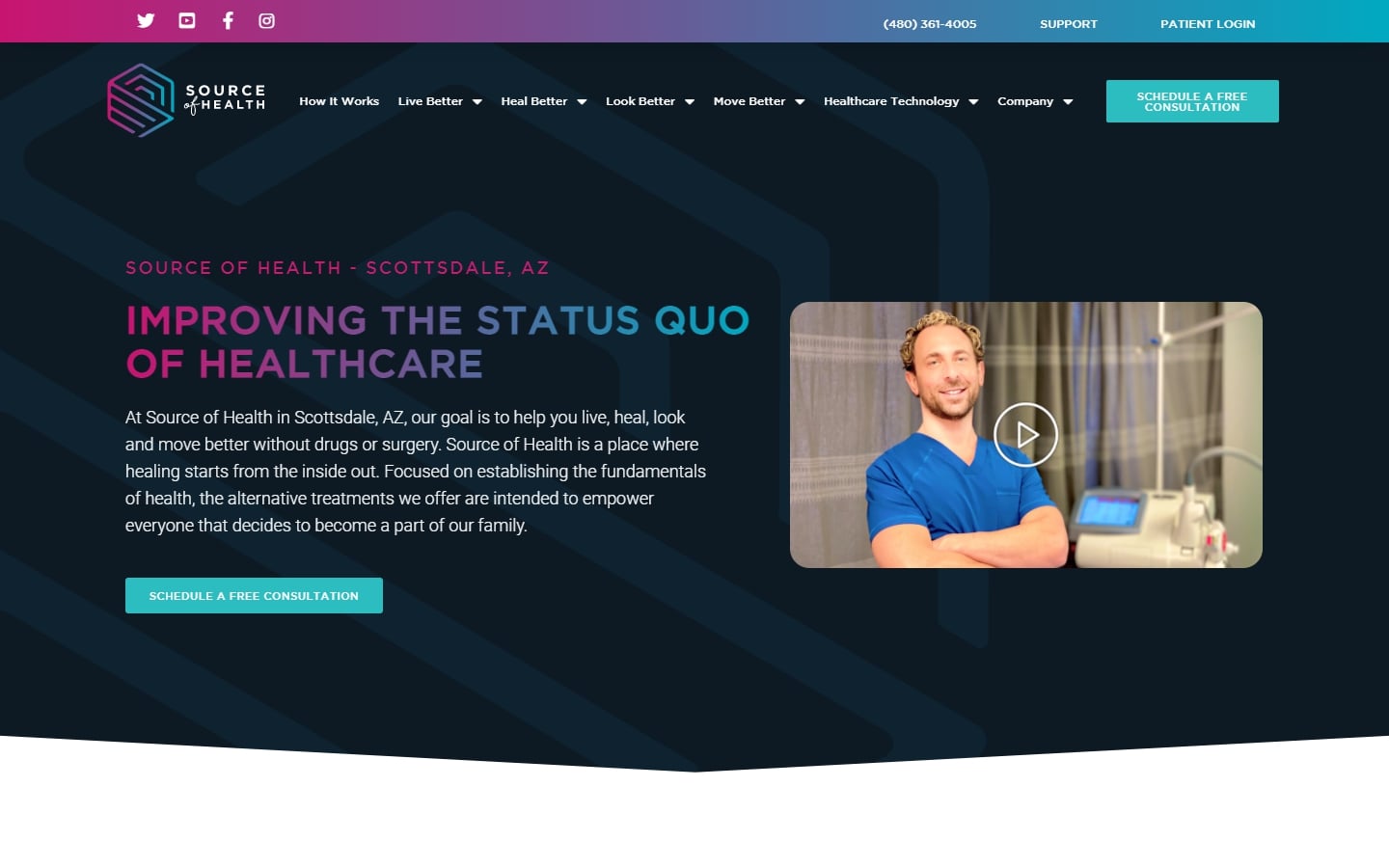 20. Intermountain Healthcare
Why it works: The homepage design for this website is true to be a well laid out cradle of every page visitors might need. All contents are arranged in a way that they can quickly find what they seek with ease.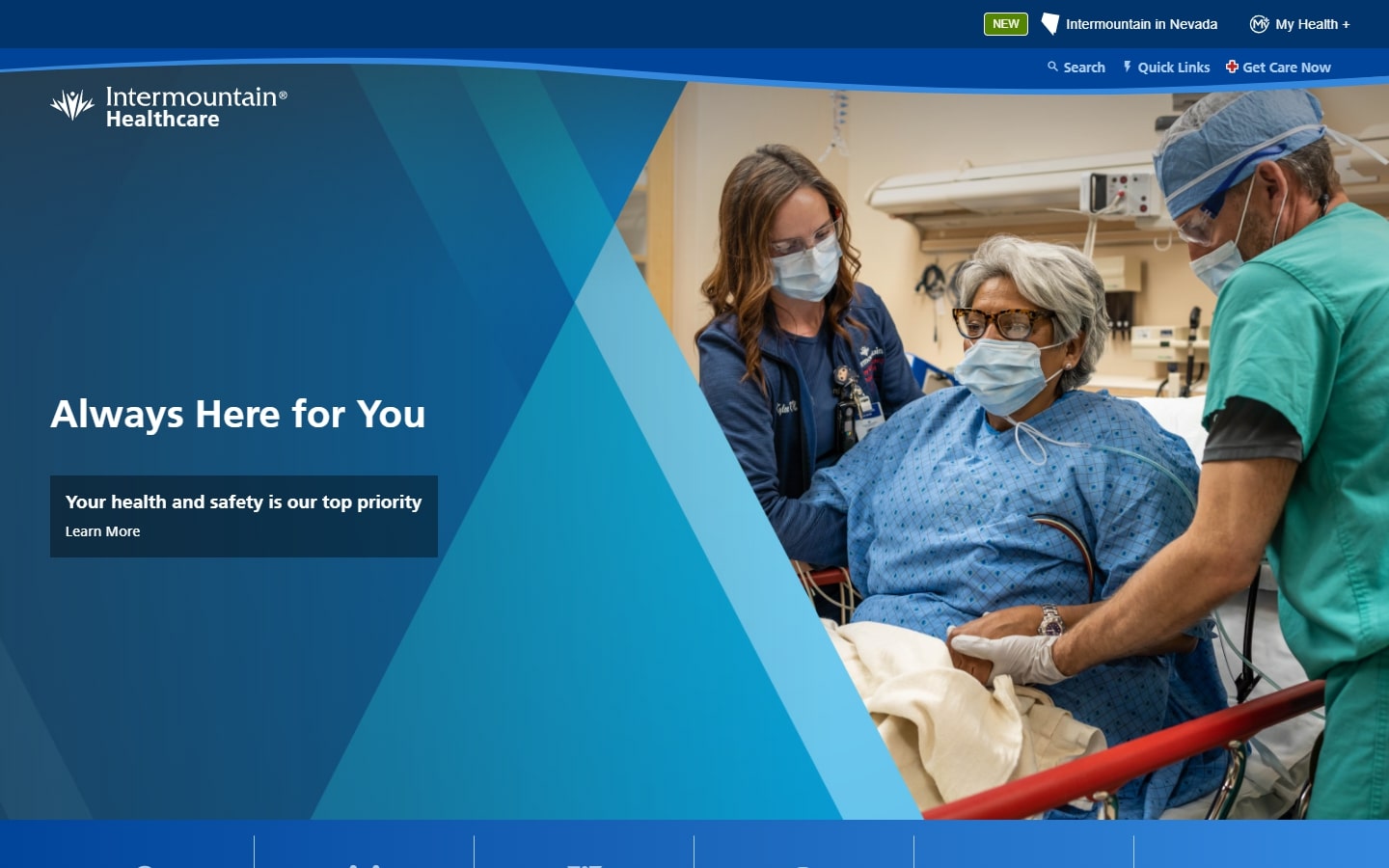 https://intermountainhealthcare.org
21. Spartanburg Regional Healthcare System
Why it works: One of the friendliest-looking website designs in this set. A nice choice of typeface makes it very easy on the eyes.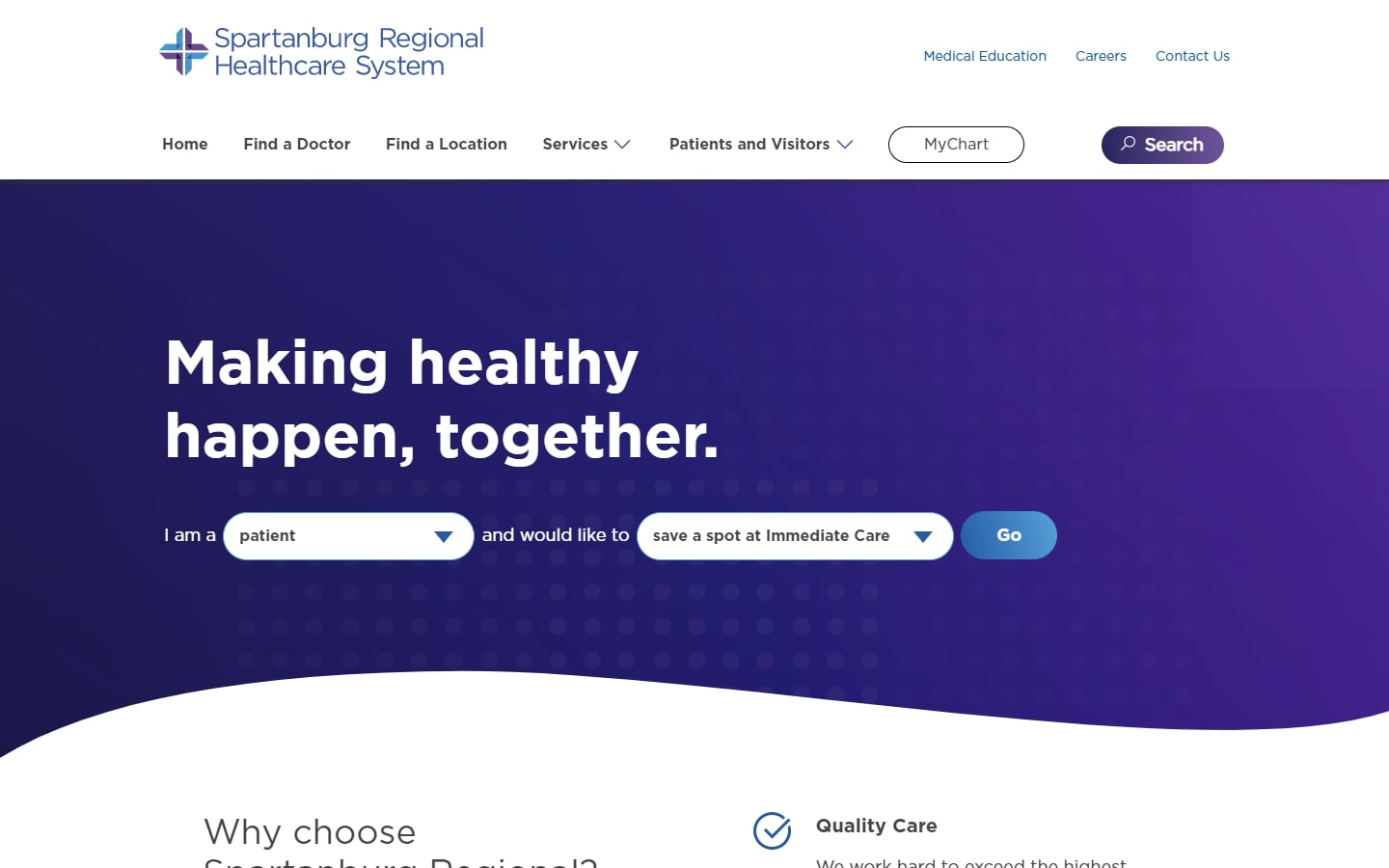 https://www.spartanburgregional.com
22. TPC Systems
Why it works: If you are looking for Safety Solutions, one huge item in your checklist would be the trustworthiness pictured in a company's website. Trust is the #1 impression one can easily derive from this website design.
23. Synergy
Why it works: Physical therapy can be depressing, so its very helpful when your doctor's office has a motivating website design.
medical website design
24. Cleveland Clinic
Why it works: High-quality images, clean navigation and header. There's a quick link for 'patients' and 'doctors'.
https://my.clevelandclinic.org
25. Northwestern Medicine
Why it works: This website has a user-focused functionality that is easy to navigate.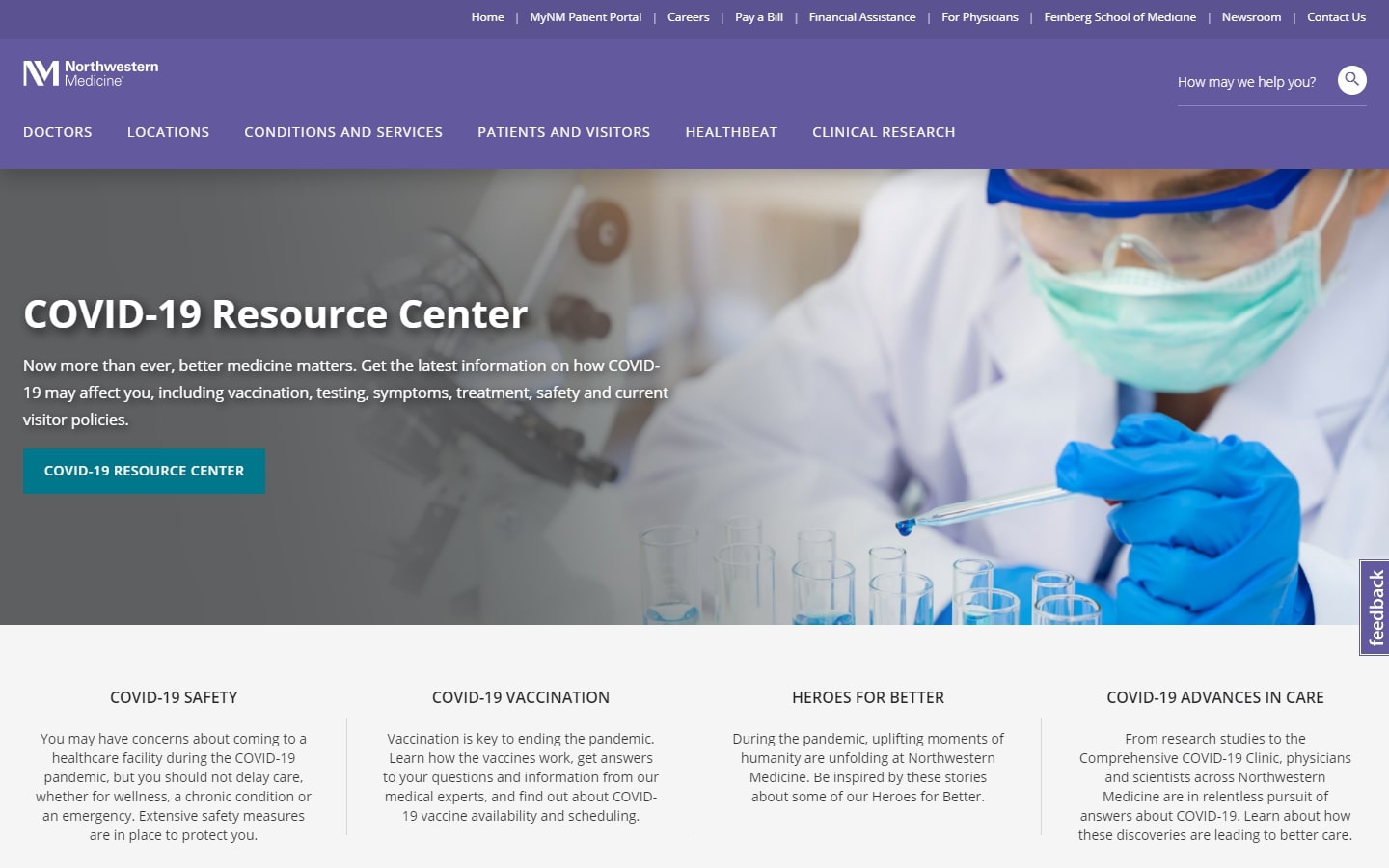 26. Emkiro
Why it works: This website design is notable for their creative use of icons and other graphics to further promote the facilities brand.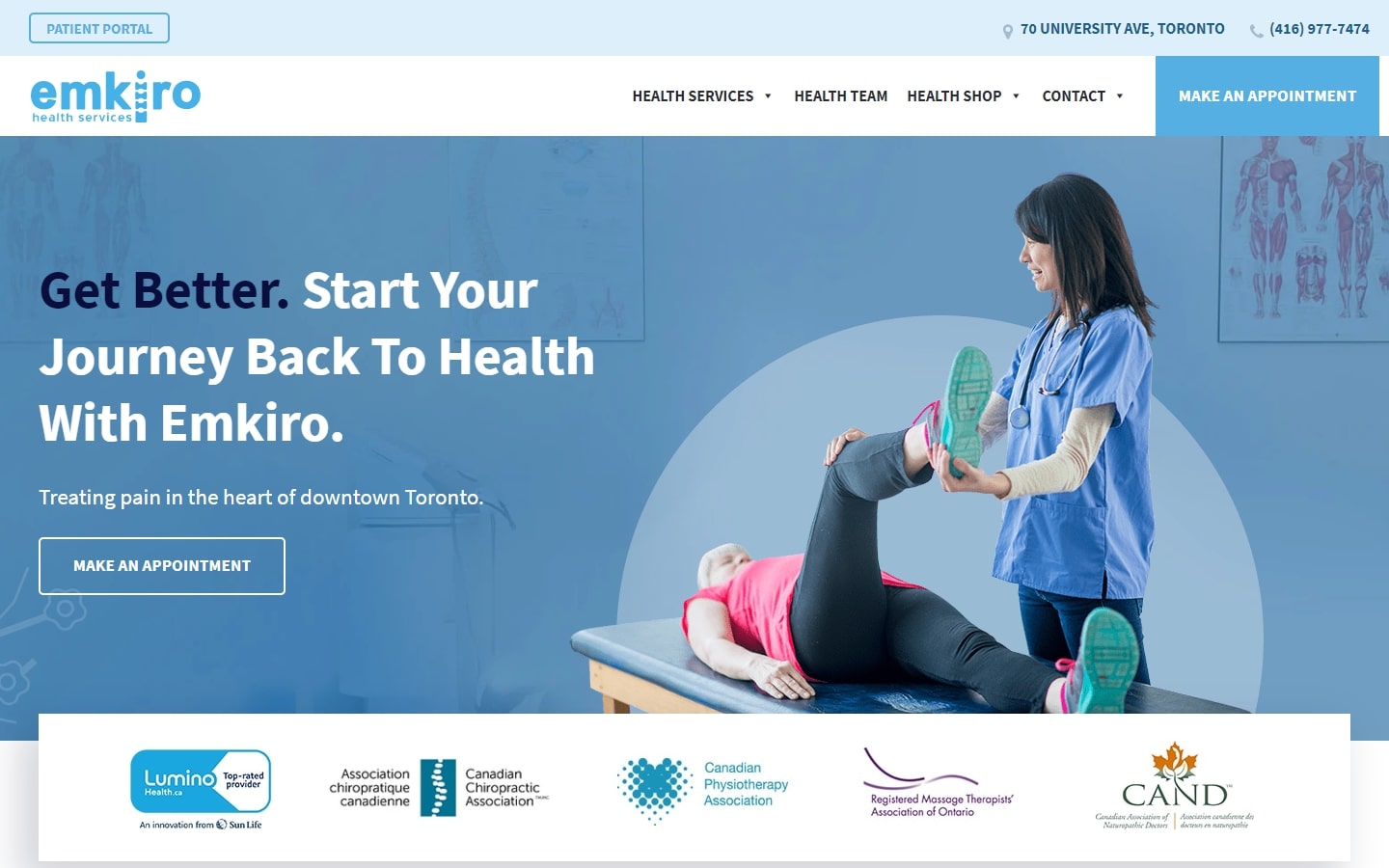 27. Mount Sinai
Why it works: This medical website features a lot of tools and interactive elements to quickly aid visitors and patients, all in an easy-to-navigate layout.
28. JC Medical
Why it works: The design of this site was very authentic, despite the typical layout. It's clear that a lot of thought and care went into how products are displayed at the homepage without viewers needing to get too deep in-page.
best medical web design
29. NextCare
Why it works: This modern website design uses quality illustrations and graphics to portray what they do or offer. The site also makes very expressive use of whitespace.
30. Children's Hospital and Medical Center
Why it works: This site's design shatters the cliché that children's websites need to be entirely in bright colors. The large icons above-the-fold are attractively spaced out without feeling crowded.
https://www.childrensomaha.org
31. Ascension
Why it works: The homepage has a very clean and minimal design, with a focus on CTAs, particularly the 'schedule an appointment' button. Long paragraphs are also put into sections for easier reading.
https://healthcare.ascension.org
32. West-Com
Why it works: A lot of medical websites are forgettable and use the same color scheme over and over, but West-Com's website injects creativity by using different splashes of colors to create intrigue.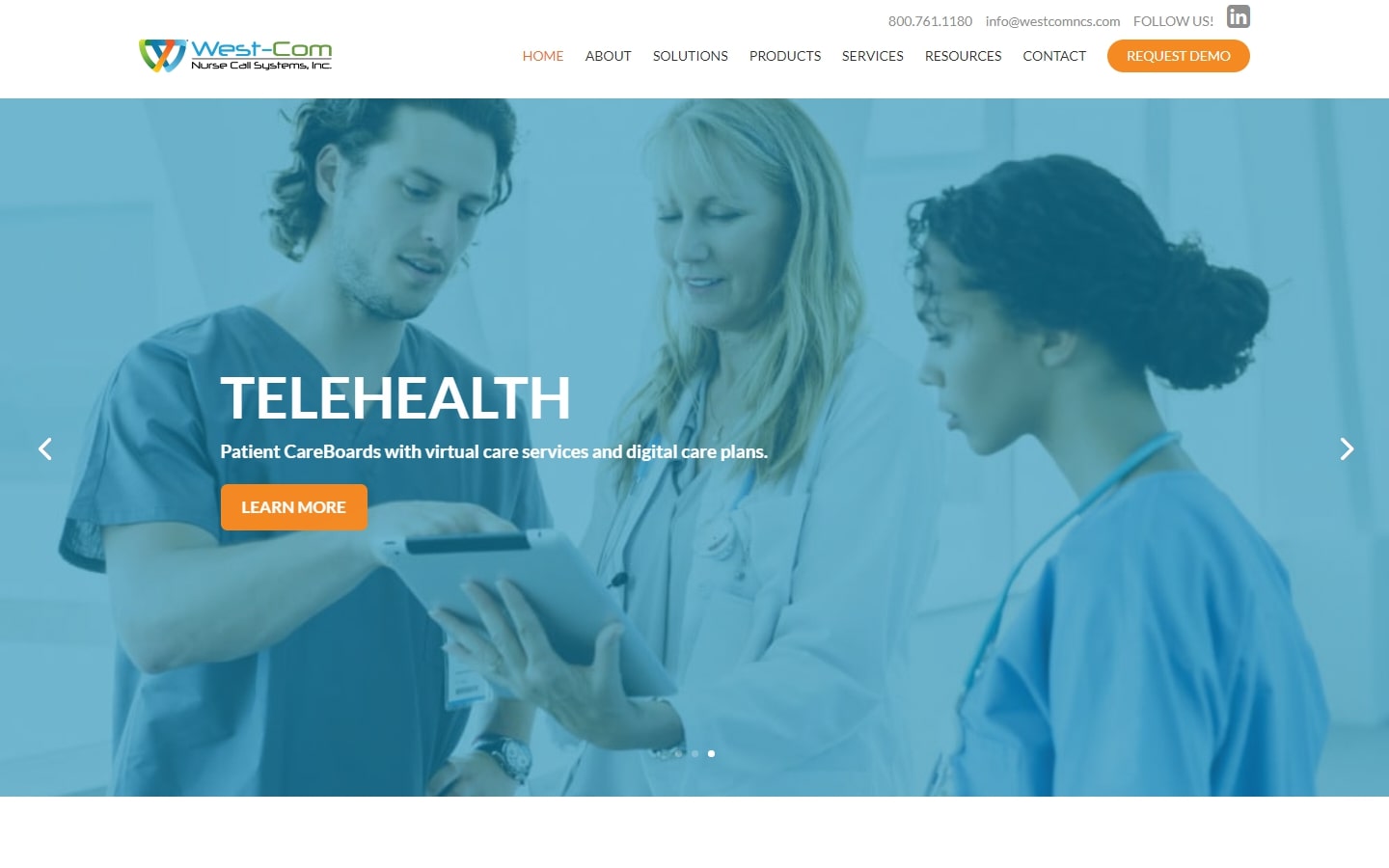 33. Upswing Health
Why it works: Minimal, simple elegance describes the design of this website.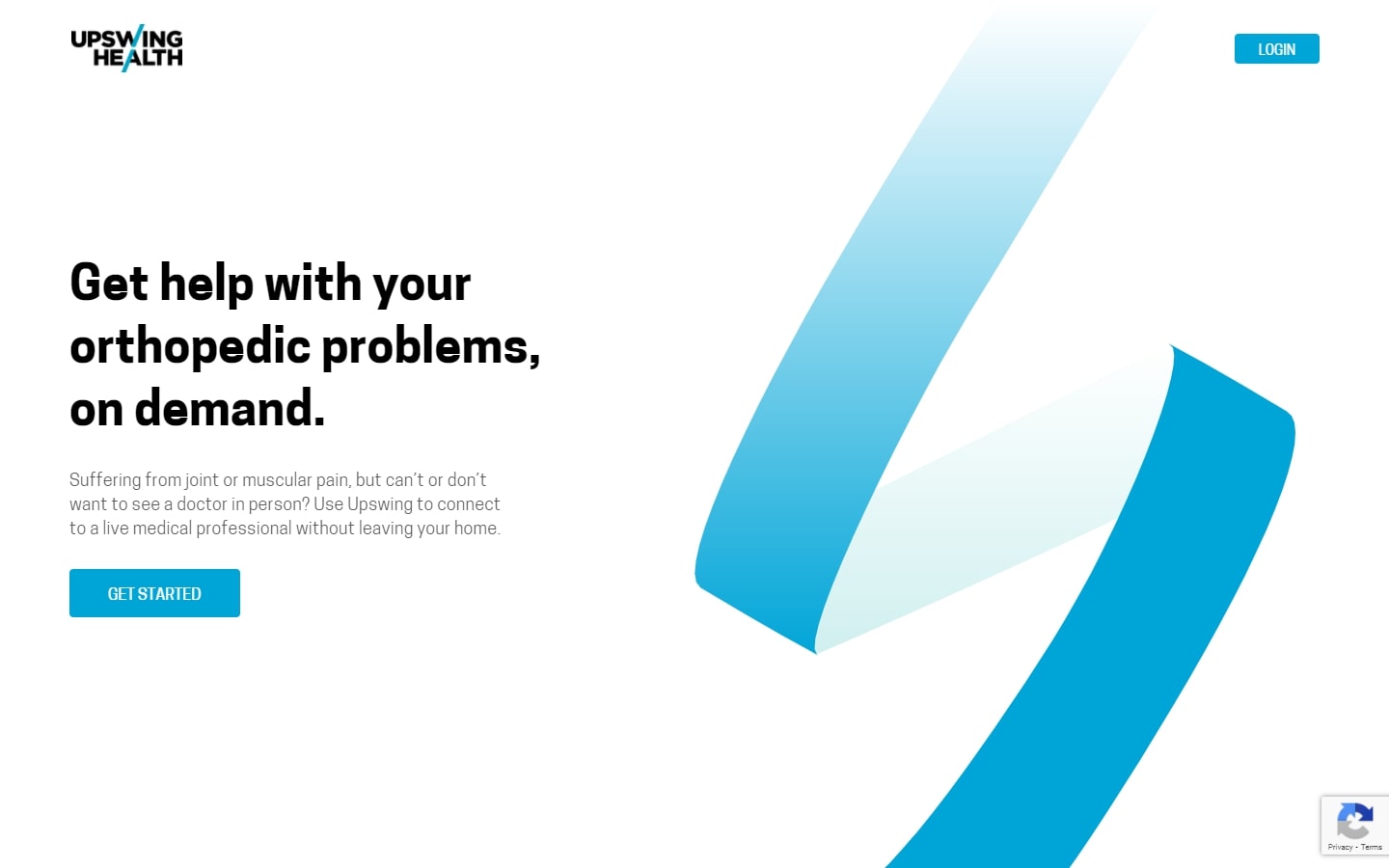 https://upswinghealth.com/main/#/
medical website inspiration
34. NY Group for Plastic Surgery
Why it works: High-quality images, a modern layout with paragraphs and headings make the website easy to read. A sticky 'contact us' button is located in the bottom right corner of the screen.
https://www.nygplasticsurgery.com
35. NYU Langone Health
Why it works: A clean, professional-looking website design with a prominent 'emergency care wait times' feature. Images used are high quality.
36. Falmouth Pediatric Associates
Why it works: This medical website maintains a clean, compact design without sacrificing content or authenticity.
37. Baptist Health
Why it works: High-quality and interesting images. Fantastic header with essentials and urgent care tools are easily available.
38. Memorial Sloan Kettering Cancer Center
Why it works: Indeed, this design has lots of helpful tools to help you find a doctor or make an appointment. The clean interface creates a calming and trustworthy feeling to their brand.
healthcare web design
39. The Oaks Plastic Surgery
Why it works: The minimalist black-and-white medical website design is really cool and pairs well with the blue accents/highlights. We also love the small video clips used to better portray the results of their services.
https://theoaksplasticsurgery.com
40. Rush University Medical Center
Why it works: This design makes us think of TripAdvisor because they share some similarities in look and feel. They are both pleasing to visit and easy to navigate.
Conclusion
We hope you've enjoyed this list of the 40 best medical website designs. It's a great resource for anyone who is looking to build or redesign their own site, as well as an inspiration for those in the healthcare industry. If you would like more information on how we can help with your digital marketing needs, please contact us!
We will design a custom mockup of your new website before you sign or pay for anything. There is nothing to sign and no payment information will be taken. If you like our design for your business we can move forward working together. If not, there are no hard feelings and no other obligations. Click the button below to learn more.